PENGARUH FREKUENSI PENCELUPAN DAN LAMA PEREBUSAN TERHADAP KADAR LOGAM BERAT DAN MUTU SENSORIS SAWI HIJAU (Brassica rapa I. Subsp. Perviridis Bayley)
Dewa Ayu Trisna Budiari

JURUSAN TEKNOLOGI INDUSTRI PERTANIAN FAKULTAS TEKNOLOGI PERTANIAN UNIVERSITAS UDAYANA

I G.A. Lani Triani

JURUSAN TEKNOLOGI INDUSTRI PERTANIAN FAKULTAS TEKNOLOGI PERTANIAN UNIVERSITAS UDAYANA

Amna Hartiati

JURUSAN TEKNOLOGI INDUSTRI PERTANIAN FAKULTAS TEKNOLOGI PERTANIAN UNIVERSITAS UDAYANA
Abstract
This research were aimed to 1) investigate the effect of washing frequency and boiling time to the heavy metal levels of Pb and Cd as well as sensory quality of green mustard 2) to determine an appropriate washing frequency and boiling time to reduce heavy metal levels and to produce the preferable green mustard characteristic. This experiment used randomized block design with 2 factors. The first factor was the washing frequency consists of 3 levels namely once, twice, 3 times washing. The second factor was boiling time consists of 3 levels namely 1 minute, 2 minutes and 3 minutes. Each treatment conducted twice based on implementation time so that obtained 18 units experiment.The objective and subjective data analyzed using ANOVA followed by Duncan test. The results of this research showed that washing frequency, boiling time and its interaction had high significant effect to the heavy metal levels Pb and Cd as well as hedonic level on color, texture and overall acceptance of green mustard. Treatment combination of 3 time washing frequency with 3 minutes boiling time(C3R3) was the best treatment with 0.4717 ppm Pb content and 0.4223 ppm Cd content, with sensory values on color 4.65 (green to old green), 3.50 (quite soft to hard) and overall accaptence 3,80 (average to great) Keywords : Brassica rapa I. Subsp. Perviridis Bayley, green mustard, heavy metal, washing and boiling.
Downloads
Download data is not yet available.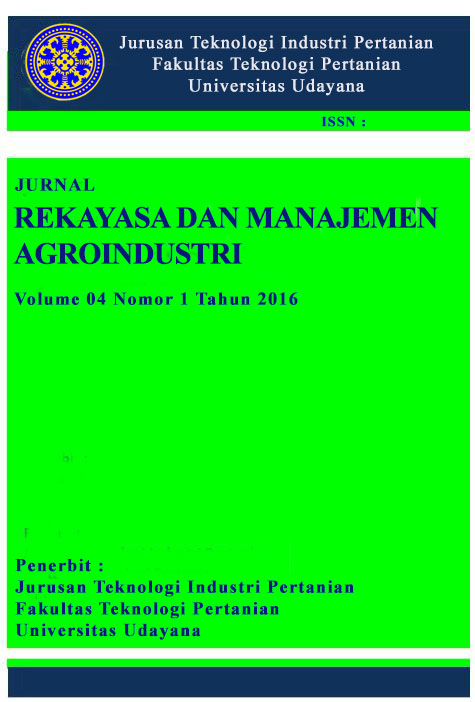 How to Cite
TRISNA BUDIARI, Dewa Ayu; LANI TRIANI, I G.A.; HARTIATI, Amna. PENGARUH FREKUENSI PENCELUPAN DAN LAMA PEREBUSAN TERHADAP KADAR LOGAM BERAT DAN MUTU SENSORIS SAWI HIJAU (Brassica rapa I. Subsp. Perviridis Bayley).
JURNAL REKAYASA DAN MANAJEMEN AGROINDUSTRI
, [S.l.], v. 4, n. 1, p. 52-61, mar. 2016. ISSN 2503-488X. Available at: <
https://ojs.unud.ac.id/index.php/jtip/article/view/19585
>. Date accessed: 21 june 2021.

Ciptaan disebarluaskan di bawah Lisensi Creative Commons Atribusi-BerbagiSerupa 4.0 Internasional.
Seluruh artikel di Jurnal ini dapat disebarluaskan atas tetap mencantumkan sumber yang syah. Identitas judul artikel tidak boleh dihilangkan. Penerbit tidak bertangggung jawab terhadap naskah yang dipublikasikan. Isi artikel menjadi tanggung jawab Penulis.