Editorial
Ni Ketut Supasti Dharmawan

Fakultas Hukum Universitas Udayana
Abstract
Om Swastiastu,
 Puja dan puji kehadapan Tuhan Yang Maha Esa/Ida Sang Hyang Widhi Wasa, Jurnal    Magister    Hukum  Udayana    (Udayana  Master    Law    Journal) dapat kembali hadir kehadapan sidang pembaca dalam edisi akhir tahun 2018 Volume 7 Nomor 4.
 Diantara kesibukan di akhir tahun 2018 ini, pengelola sangat dibantu oleh Board  of  Editor baik  internal  maupun  eksternal, demikian juga   didukung penuh Reviewer internal maupun  eksternal    sangat  berkontribusi  dalam  penyempurnaan  artikel yang masuk dalam dapur redaksi edisi ini.
 Atas kontribusi dan semangat dalam suasana bahu membahu tersebut, demi peningkatan kualitas jurnal hukum di Indonesia, pengelola menghaturkan banyak terima kasih, demikian pula kepada para penulis yang dengan tekun dan disiplin melakukan penyempurnaan artikelnya sesuai bimbingan dari para reviewer.
 Sesuai dengan focus & scope jurnal ini, pengelola menyajikan 10 topik yang menarik, dari penanganan narkotika, mediasi terkait penyelesaian perkara perdata, lingkungan hidup, peranan BUMDES, serta artikel yang terkait hukum masyarakat adat dan partai politik dalam sistem ketatanegaraan Indonesia.
 Sebentar lagi kita memasuki tahun baru 2019, tentunya pengelola berharap Jurnal    Magister    Hukum  Udayana    (Udayana  Master    Law    Journal) dapat kembali menghadirkan artikel-artikel yang lebih menarik dan lebih memberikan manfaat bagi kita semua, serta memberikan warna bagi perkembangan hukum di Indonesia.
 Happy New Year 2019.
 Board of Editor
Downloads
Download data is not yet available.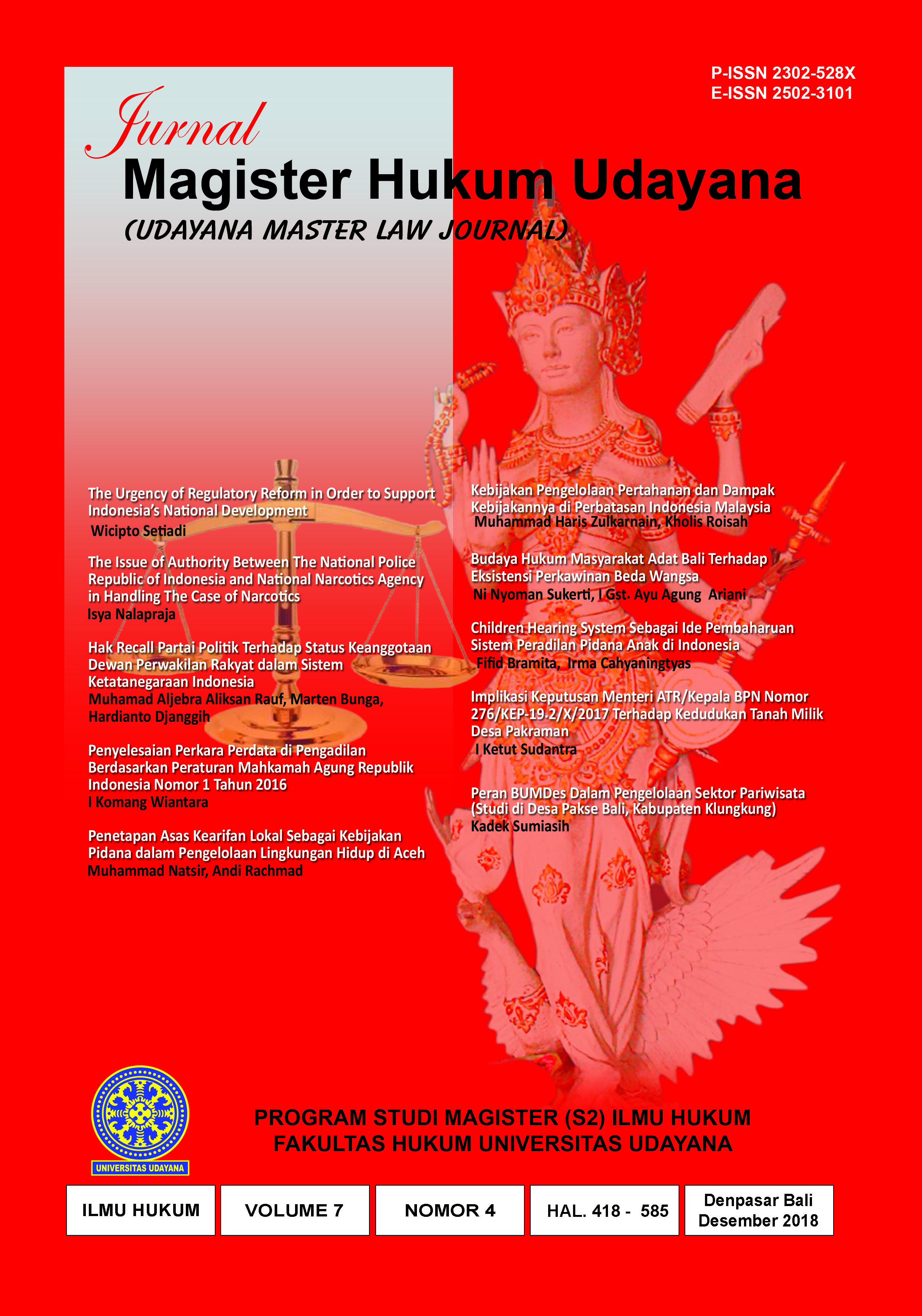 This work is licensed under a Creative Commons Attribution 4.0 International License