Karakteristik Komposit Bioplastik pada Variasi Rasio Pati Ubi Talas Belitung (Xanthosoma sagittifolium) dan Karagenan
Devi Hagelia Aritonang

Mahasiswa Program Studi Teknologi Industri Pertanian, Fakultas Teknologi Pertanian, Unud

Amna Hartiati

Dosen Program Studi Teknologi Industri Pertanian, Fakultas Teknologi Pertanian, Unud

Bambang Admadi Harsojuwono

Dosen Program Studi Teknologi Industri Pertanian, Fakultas Teknologi Pertanian, Unud
Abstract
This research was an effort to repair and strengthen the bioplastic pull using Ratio Variations Taro Tuber Starch (Xanthosoma sagittifolium) and Carrageenan. The purposes of the research was to know the effect of the ratio variations of taro tuber starch and carrageenan with glycerol and shakes the bioplastic composites of ratio variation which produces the best characteristics. This research uses factorial random block designs with ratio variations of taro tuber starch and carrageenan with a total 6 grams which consists of 6 levels were 5.5:0.5 ; 5:1 ; 4.5:1.5 ; 4:2 ; 3.5:2.5 and 3:3. The observed variables include mechanical test consisting of tensile strength, elongation at break, modulus young, swelling, biodegradation, and FTIR. The data were analyzed of variant and continued with the HSD Tukey. The result of the research showed that ratio variations of taro starch and carrageenan had significant to elongation at break, very significant effects on tensile strength and modulus young but ratio variations in taro starch and carrageenan non significant to sweeling and biodegradation. The best characteristic with moderate properties standart tensile strength (3.210±0.125) MPa, degradation with ASTM 5336 standart have time 6-7 days, elongation at break (20.7±0.038) %, modulus young (15.912±3.157) MPa, sweeling (43,695 ± 1,151) %, and contain hydrocarbon functional groups -(CH2)n, alkenes (CH), amines and amides (CN), alkohols, ethers, carboxylic acids and esters (CO), aldehydes, ketones, esters (C=O ), alkyne (C?C), monomer alkohol (OH), nitro compound (NO2), aromatic ring (C=C), hydrogen bonding carboxylic acid (OH).
Keywords: Taro tuber starch, carrageenan, bioplastic composites, tensile strength
Downloads
Download data is not yet available.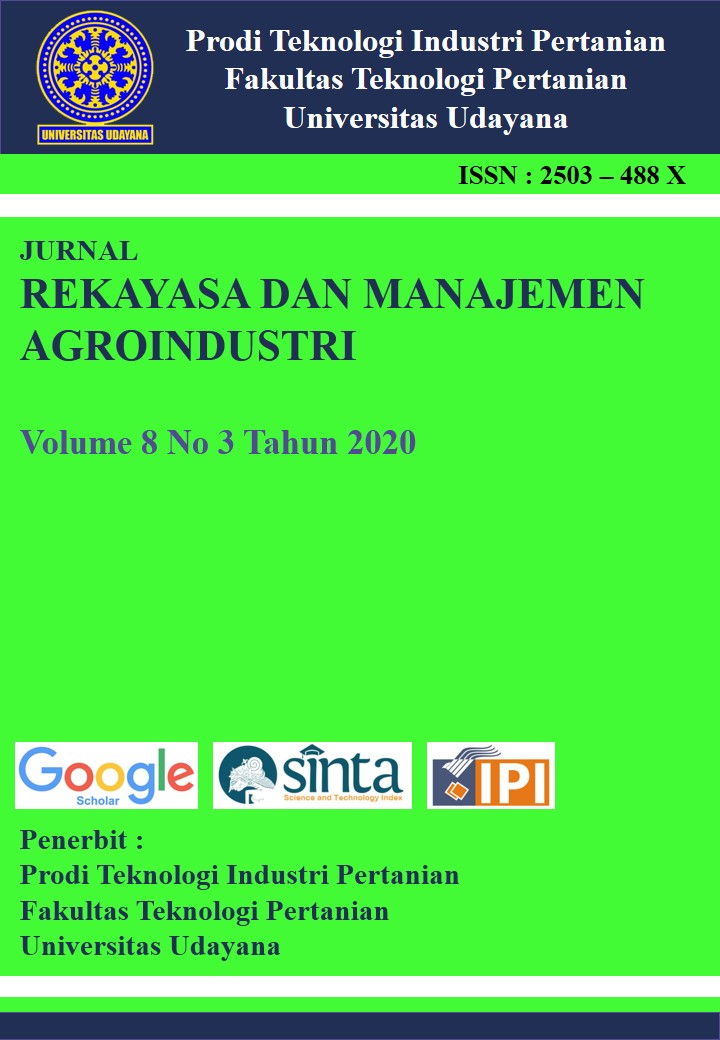 Ciptaan disebarluaskan di bawah Lisensi Creative Commons Atribusi-BerbagiSerupa 4.0 Internasional.
Seluruh artikel di Jurnal ini dapat disebarluaskan atas tetap mencantumkan sumber yang syah. Identitas judul artikel tidak boleh dihilangkan. Penerbit tidak bertangggung jawab terhadap naskah yang dipublikasikan. Isi artikel menjadi tanggung jawab Penulis.