STUDI PENGARUH pH AWAL MEDIA DAN LAMA FERMENTASI PADA PROSES PRODUKSI ETANOL DARI HIDROLISAT TEPUNG BIJI NANGKA DENGAN MENGGUNAKAN Saccharomycess cerevisiae
Umi Fadilah

Mahasiswa Jurusan Teknologi Industri Pertanian, Fakultas Teknologi Pertanian Unud

I Made Mahaputra Wijaya

Dosen Jurusan Teknologi Industri Pertanian, Fakultas Teknologi Pertanian Unud

N. Semadi Antara

Dosen Jurusan Teknologi Industri Pertanian, Fakultas Teknologi Pertanian Unud
Abstract
Jackfruit seed (Artocarpus heterophyllus) flour is a substrate used in ethanol production research.The purpose of this study was to determine the effect of the media initial pH and the time length of fermentation on the ethanol fermentation process from the jackfruit seed starch hydrolyzate using Saccharomyces cerevisiae and to obtain optimum initial pH of the medium and the optimum fermentation length in order to obtain the highest ethanol concentration. This research was designed with 2 factors. The first factor is the initial pH of the media consisting of 3 levels, namely 4, 4,5, and 5. The second factor is the fermentation length consisting of three levels, ie 5, 6, and 7 days. Data obtained from the research are analyzed and presented descriptively. The results showed that the initial pH of the media had an effect on ethanol content and final pH, but had no effect on total soluble solids. Hydrolyzate of jackfruit flour, fermentation length has an effect on total ethanol, final pH, and total dissolved solids. The interaction of the two treatments had an effect on total ethanol of fermented jackfruit seed flour. The best treatment to produce ethanol hydrolyzate of jackfruit seed flour is the initial pH of medium 4.5 and the duration of fermentation of 6 days to produce total ethanol of 3.67 mL. 
Key words: Artocarpus heterophyllus, ethanol, fermentation, initial pH of medium
Downloads
Download data is not yet available.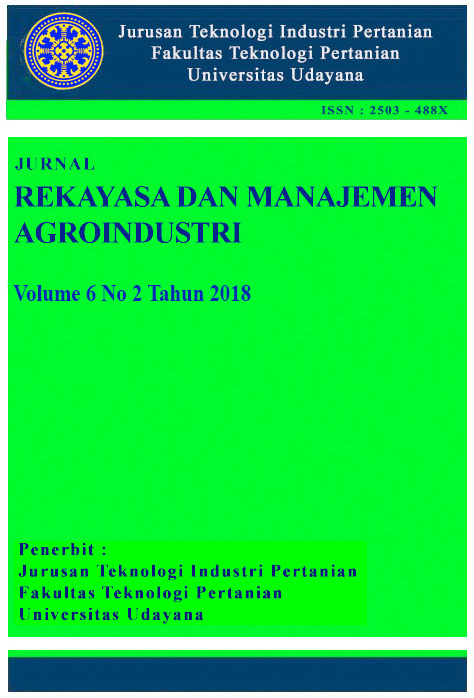 Ciptaan disebarluaskan di bawah Lisensi Creative Commons Atribusi-BerbagiSerupa 4.0 Internasional.
Seluruh artikel di Jurnal ini dapat disebarluaskan atas tetap mencantumkan sumber yang syah. Identitas judul artikel tidak boleh dihilangkan. Penerbit tidak bertangggung jawab terhadap naskah yang dipublikasikan. Isi artikel menjadi tanggung jawab Penulis.