PENGATURAN HUKUM TERHADAP ADVOKAT ASING YANG BERACARA DI INDONESIA DITINJAU DARI UNDANG-UNDANG NO 18 TAHUN 2003 TENTANG ADVOKAT
Putu Ngurah Bagus Robin Cahaya Putra

Program Studi Magister (S2) Ilmu Hukum Universitas Udayana

Putu Tuni Cakabawa Landra

Fakultas Hukum Universitas Udayana
Abstract
Advocate profession has an important role for law enforcement in the State Indonesia. Advocate profession is currently being confused by their international agreements MEA and GATS in the State Indonesia with other ASEAN countries, one of which regulates the profession of advocate, who make arrangements in Law No. 18 Year 2003 concerning Advocates become unclear, especially to Article 23 of Law No. 18 Year 2003 concerning Advocates stipulates that foreign lawyers are prohibited in court proceedings, practice andor open a legal services office or representative in Indonesia. Based on these two issues can be raised is how the setting of norms on foreign lawyers who want to proceedings in Indonesia in relation with the MEA and how preparedness advocates Indonesia in the era of globalization and asean economic community. Types of Research in this paper is a normative legal research conducted through an analysis of the norms of the legislation. The results of this study can be explained procedural authority of a foreign advocate in the State Indonesia obstructed by Article 23 of Law No. 18 Year 2003 is causing confusion when they see their International agreements that have been agreed State Indonesia on MEA and GATS governing trade in services within international scope. The setting of an ideal advocate for the State of Indonesia as not to be confused with the International agreement both GATS and the MEA is the revision of Law No.18 of 2003 concerning Advocates, in particular on Article 23 in order to be able to advocate foreign proceedings in Indonesia is on condition and stages which must be passed so that later obtained the minutes of the oath from the high court and a member's card PERADI advocate of advocate organizations. As for the readiness advocates in Indonesia in the face of this MEA has readiness much when compared with foreign advocates for excess advocates Indonesia is knowing the legal regulations in Indonesia and the Indonesian communications were good compared to foreign lawyers who want proceedings in Indonesia.
Profesi advokat mempunyai peranan penting bagi penegakan hukum di Negara Indonesia. Profesi advokat saat ini sedang dibingungkan oleh adanya kesepakatan internasional MEA dan GATS di Negara Indonesia dengan Negara Asean lainya yang salah satunya mengatur tentang profesi advokat, yang membuat pengaturan dalam Undang-Undang No 18 Tahun 2003 tentang Advokat menjadi rancu, khususnya pada Pasal 23 Undang-Undang No. 18 Tahun 2003 tentang Advokat menetapkan bahwa advokat asing dilarang beracara di pengadilan, berpraktik dan/atau membuka kantor jasa hukum atau perwakilannya di Indonesia.  Berdasarkan hal tersebut dapat diangkat dua permasalahan yaitu bagaimana pengaturan norma tentang advokat asing yang ingin beracara di Indonesia dalam kaitannya dengan MEA dan bagaimana kesiapan advokat Indonesia dalam menghadapi era globalisasi dan masyarakat ekonomi asean. Jenis Penelitian pada penulisan ini adalah penelitian hukum normatif yang dilakukan melalui analisis terhadap norma dalam peraturan perundang-undangan. Hasil penelitian ini dapat dijelaskan kewenangan beracara dari advokat asing di Negara Indonesia dihalangi oleh Pasal 23 Undang-Undang No. 18 Tahun 2003 tersebut sehingga menimbulkan kerancuan bila melihat adanya kesepakatan Internasional yang telah disepakati Negara Indonesia tentang MEA dan GATS yang mengatur tentang perdagangan jasa dalam ruang lingkup internasional. Pengaturan tentang advokat yang ideal untuk Negara Indonesia karena agar tidak rancu dengan perjanjian internasional baik GATS maupun MEA adalah dengan merevisi Undang-Undang No.18 Tahun 2003 tentang Advokat, khususnya pada Pasal 23 agar advokat Asing agar dapat beracara di Indonesia tentunya dengan syarat dan tahapan yang harus dilalui sehingga nantinya memperoleh berita acara sumpah dari pengadilan tinggi dan memiliki kartu anggota advokat dari organisasi advokat PERADI. Sedangkan untuk kesiapan advokat di Indonesia dalam menghadapi MEA ini memiliki kesiapan yang jauh jika dibandingkan dengan advokat asing karena kelebihan advokat Indonesia adalah mengetahui regulasi hukum di Indonesia dan komunikasi bahasa Indonesia yang baik dibandingkan dengan advokat asing yang hendak beracara di Indonesia.
Downloads
Download data is not yet available.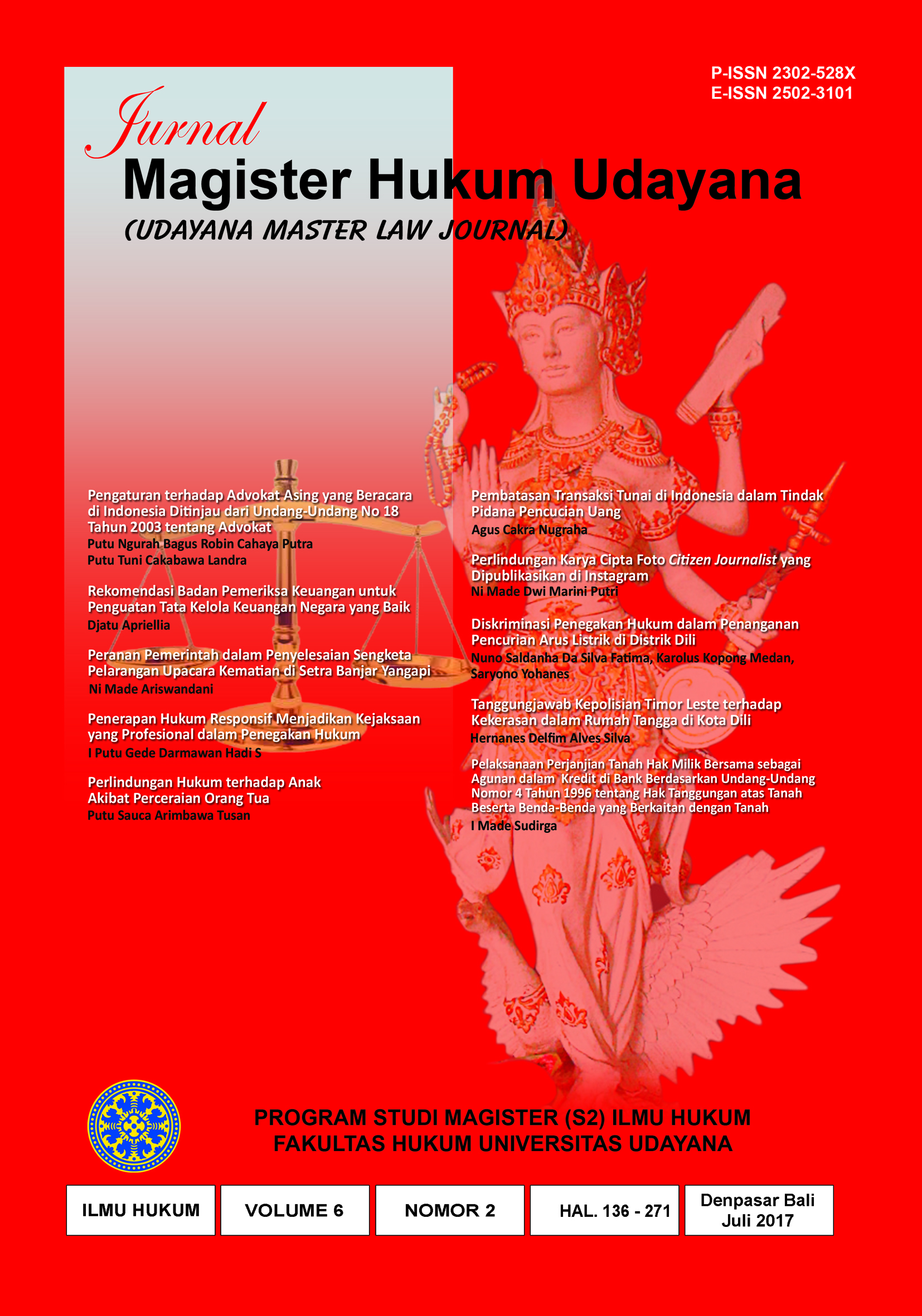 Jurnal Magister Hukum Udayana (Udayana Master Law of Journal) by Faculty of Law Udayana University is licensed under a Creative Commons Attribution-NonCommercial 4.0 International License.