Legenda Pura Goa Gong Di Desa Jimbaran Kecamatan Kuta Selatan: Analisis Struktur Dan Fungsi
Ni Made Alit Sutarini

Udayana University

I Ketut Ngurah Sulibra

Udayana University

I Wayan Suteja

Udayana University
Abstract
Research into the Pura Goa Gong legend is about the analysis of the structure and function. This analysis has the objective to reveal the structure and disclosure functions ??embodied in the legend of Pura Goa Gong. This study used the theory of structural, and  functional theory. The methods and techniques used in this study were divided into three stages, namely: (1) Methods and techniques providing data using the method of observation and interview techniques aided by purposive sampling, recording techniques, recording techniques, and translation techniques. (2) Methods and techniques of data analysis using qualitative and descriptive analytic techniques. (3) Methods and techniques of presentation of the results of data analysis using informal methods supported by deductive and inductive techniques. The results obtained from this study, that forms the structure that includes: a variety of language and style. Narrative structure includes: three incidents using advanced groove and the groove is divided into five stages, namely stage situation, circumstances generating stage, the stage of rising action, climax stage, and the stage denoument. Character and characterization are divided into three, namely the main characters, secondary characters, and complementary figures. Background is divided into three, namely the background of the place, time setting, and background ambience. Mandate comprising: an implicit mandate, namely moral teaching, explicit mandate, namely the advice, warnings and restrictions. In addition this study reveal the functions contained in the legend Pura Goa Gong, include: historical function, function of religion, namely tattwa, decency, ceremonies, magical function and aesthetics fuction.
Downloads
Download data is not yet available.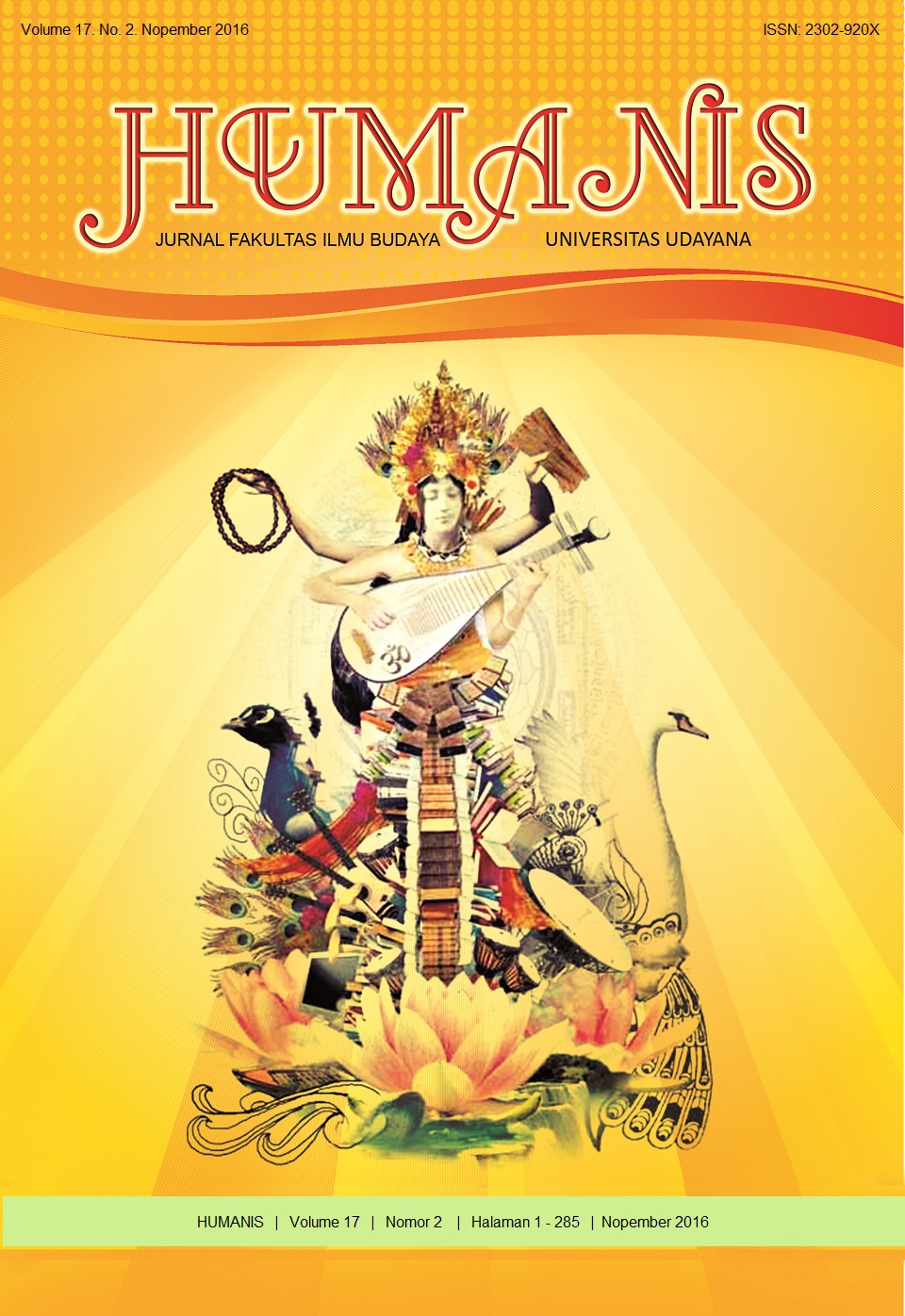 How to Cite
ALIT SUTARINI, Ni Made; NGURAH SULIBRA, I Ketut; SUTEJA, I Wayan. Legenda Pura Goa Gong Di Desa Jimbaran Kecamatan Kuta Selatan: Analisis Struktur Dan Fungsi.
Humanis
, [S.l.], p. 156-164, nov. 2016. ISSN 2302-920X. Available at: <
https://ojs.unud.ac.id/index.php/sastra/article/view/34476
>. Date accessed: 09 feb. 2023.
This work is licensed under a
Creative Commons Attribution 4.0 International License
.