Criminal Sanction for Users of Pornographic Content on Internet Sites: A Pornographic Law Perspecive
Ferry Irawan Febriansyah

Fakultas Hukum, Universitas Muhammadiyah Ponorogo
Abstract
Inside the internet, information becomes something very important and really life. Mobility is so fast and can be downloaded, produced, and then uploaded again. The internet network is one of the most popular information sources today. Many internet users access pornographic websites because these pornographic websites supported by the development of rapid internet. The purpose of this study is to review Pornographic Law related to cyberporn.  This criminal act is called Cyberporn. Given the enormous impact that is caused by the act of pornography, especially on the internet site, the government legalized the bill against pornography into pornography law with clear criminal provisions. This research method using normative law research method, with a normative juridical approach related to pornography. In relation to this type of research is a normative legal research, then the source of legal material used is the legislation. In accordance with this type of research, the analysis used is a normative juridical analysis that relies on the ability of legal argumentation, legal interpretation, and legal reasoning related to criminal provisions in pornography law. From the results of research have found that criminal provisions in the law number 44 of 2008 on pornography is quite clear that everyone who access on porn sites on the internet threatened with criminal sanctions. Juridically, criminal provisions in pornography law provide legal certainty is quite clear.
Downloads
Download data is not yet available.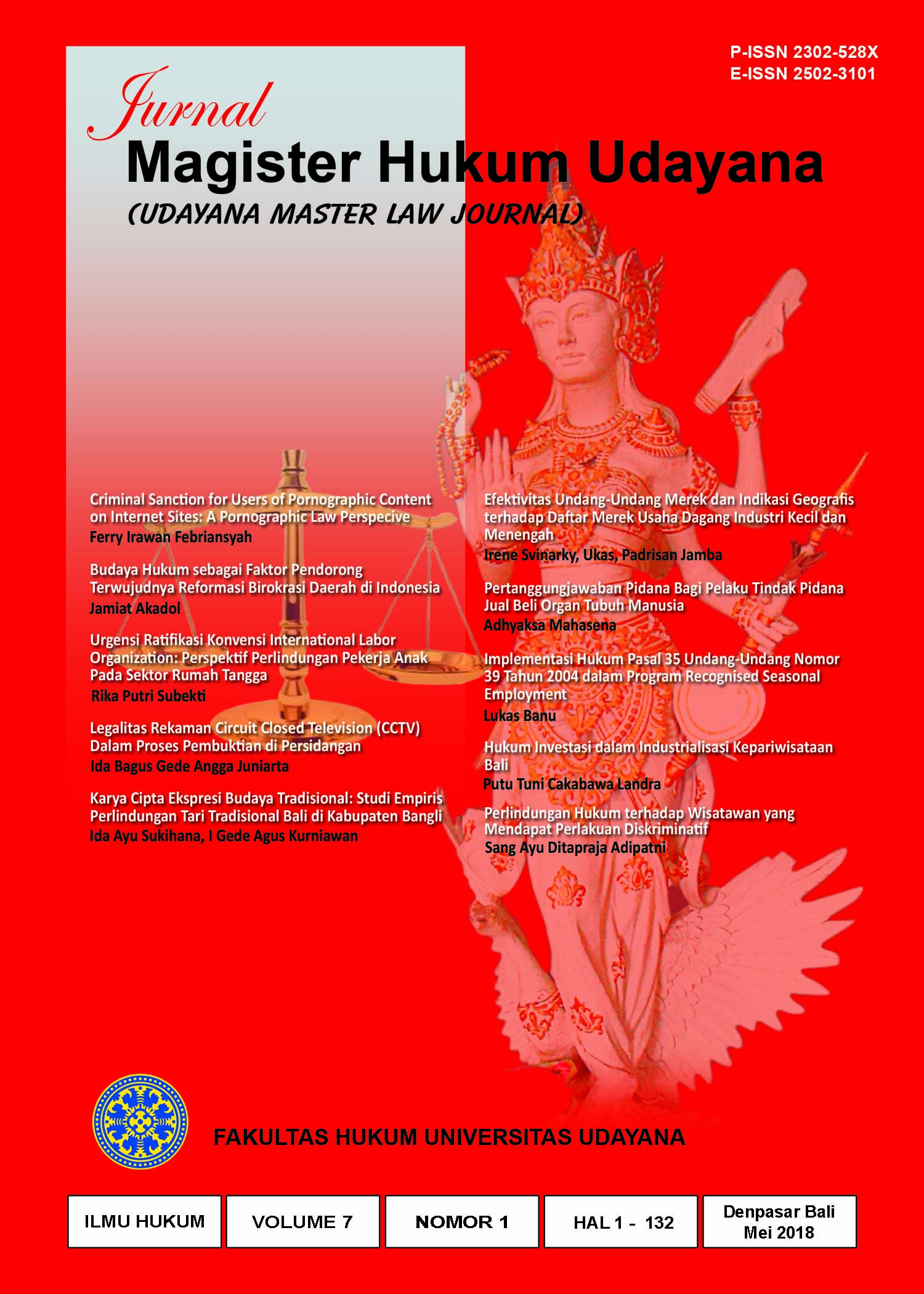 Jurnal Magister Hukum Udayana (Udayana Master Law of Journal) by Faculty of Law Udayana University is licensed under a Creative Commons Attribution-NonCommercial 4.0 International License.