MODUS OPERANDI YANG MENJADIKAN PERBANKAN SEBAGAI SASARAN SUATU KEJAHATAN
I Gusti Ngurah Krisnadi Yudiantara

Program Studi Magister Ilmu Hukum Universitas Udayana
Abstract
Transnational crime related to financial, mostly done through the banking sector. The banking sector is one of the most widely used mode by the perpetrators of money laundering. It certainly can not be released with the development and progress of science and technology, especially in the field of communications that impact the financial system, including the integration of the banking system that offers traffic mekanmisme funds between countries which can be done in a very short time.
Kejahatan transnasional yang berhubungan dengan finansial, banyak dilakukan melalui sektor perbankan. Sektor perbankan merupakan salah satu modus yang paling banyak dimanfaatkan oleh pelaku tindak pidana pencucian uang. Hal ini tentunya tidak dapat dilepaskan dengan perkembangan serta kemajuan ilmu pengetahuan dan teknologi khususnya di bidang komunikasi yang berdampak pula pada  terintegerasinya sistem keuangan termasuk sistem perbankan yang menawarkan mekanmisme lalu lintas dana antar negara yang dapat dilakukan dalam waktu yang sangat singkat.
Downloads
Download data is not yet available.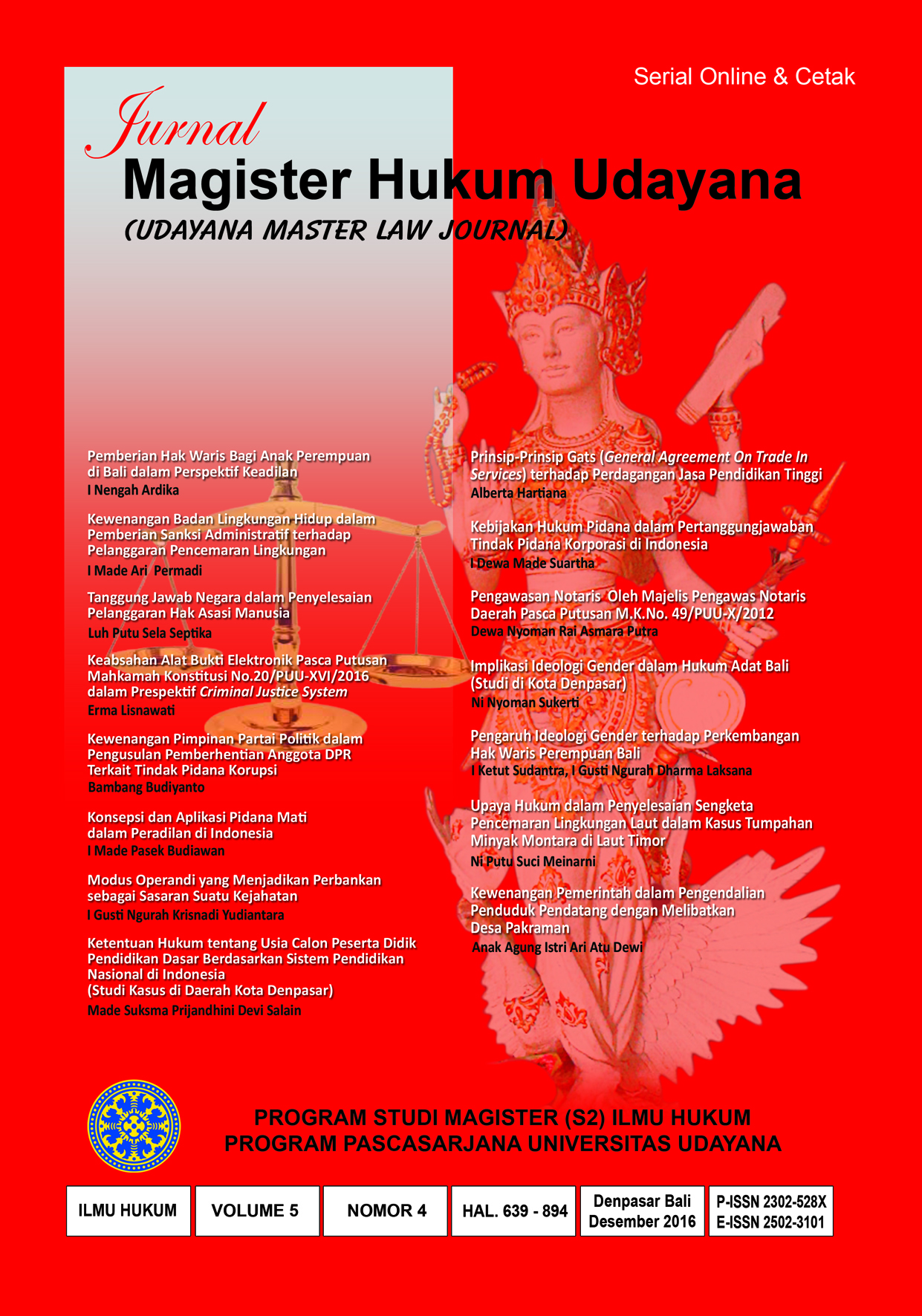 Keywords
Transnational crime; The banking sector; The financial system Integration; Kejahatan transnasional; Sektor perbankan; Terintegrasinya sistem keuangan
Jurnal Magister Hukum Udayana (Udayana Master Law of Journal) by Faculty of Law Udayana University is licensed under a Creative Commons Attribution-NonCommercial 4.0 International License.