KEABSAHAN ALAT BUKTI ELEKTRONIK PASCA PUTUSAN MAHKAMAH KONSTITUSI NO.20/PUU-XVI/2016 DALAM PRESPEKTIF CRIMINAL JUSTICE SYSTEM
erma lisnawati

Program Studi Magister Ilmu Hukum Universitas Udayana
Abstract
Indonesia is a state of law that upholds of human rights. In the state of law, there is a human rights protection by the state including the privacy of rights. It is referred judicial review of Act No. 11 of 2008 on Information and Electronic Transactions, of Article 5 Paragraph (2). To protect the privacy of recording and wiretapping conducted illegally. The Constitutional Court has been issued a ruling of the Constitutional Court No.20/PUU-XVI/2016 which imposes limits on how electronic evidence retrieval and also who is allowed to submit as an evidence in court. The court ruling was appropriate given the absence of norms regulating the procedures for the acquisition and delivery of electronic evidence. In a special lex such as criminal acts Corruption, Money Laundering and Terrorism Crime and Crime and Electronic Information only governs the kinds of electronic evidence alone, as well as the Code of Criminal Law.
Indonesia adalah Negara hukum yang menjunjung tinggi hak asasi manusia. dalam Negara hukum, ada perlindungan hak asasi manusia oleh Negara, termasuk hak pribadi. Undang-undang Nomor 11 tahun 2008 tentang Informasi dan Transaksi Elektrokni, Pasal 5 Ayat (2) telah diajukan judisial review pada Mahkamah Konstitusi. Mahkamah Konstitusi telah mengeluarkan putusan Mahkamah Konstitusi Nomor 20/PUU-XVI/2016, yang memberikan batasan tentang cara pengambilan alat bukti elektronik yang diperkenankan untuk diajukan dalam proses persidangan. Hal ini, sudah tepat mengingat tidak adanya norma yang mengatur tentang cara perolehan alat bukti elektronik dan siapa yang berhak mengajukan alat bukti elektronik tersebut ke pengadilan. Dalam beberapa undang-undang khusus pedoman tentang alat bukti elektronik hanya mengatur mengenai tindak pidana khusus saja seperti pada Tindak Pidana Korupsi, Tindak Pidana Pencucian Uang, Tindak Pidana Terorisme dan Tindak Pidana Informasi dan Transaksi Elektronik.
Downloads
Download data is not yet available.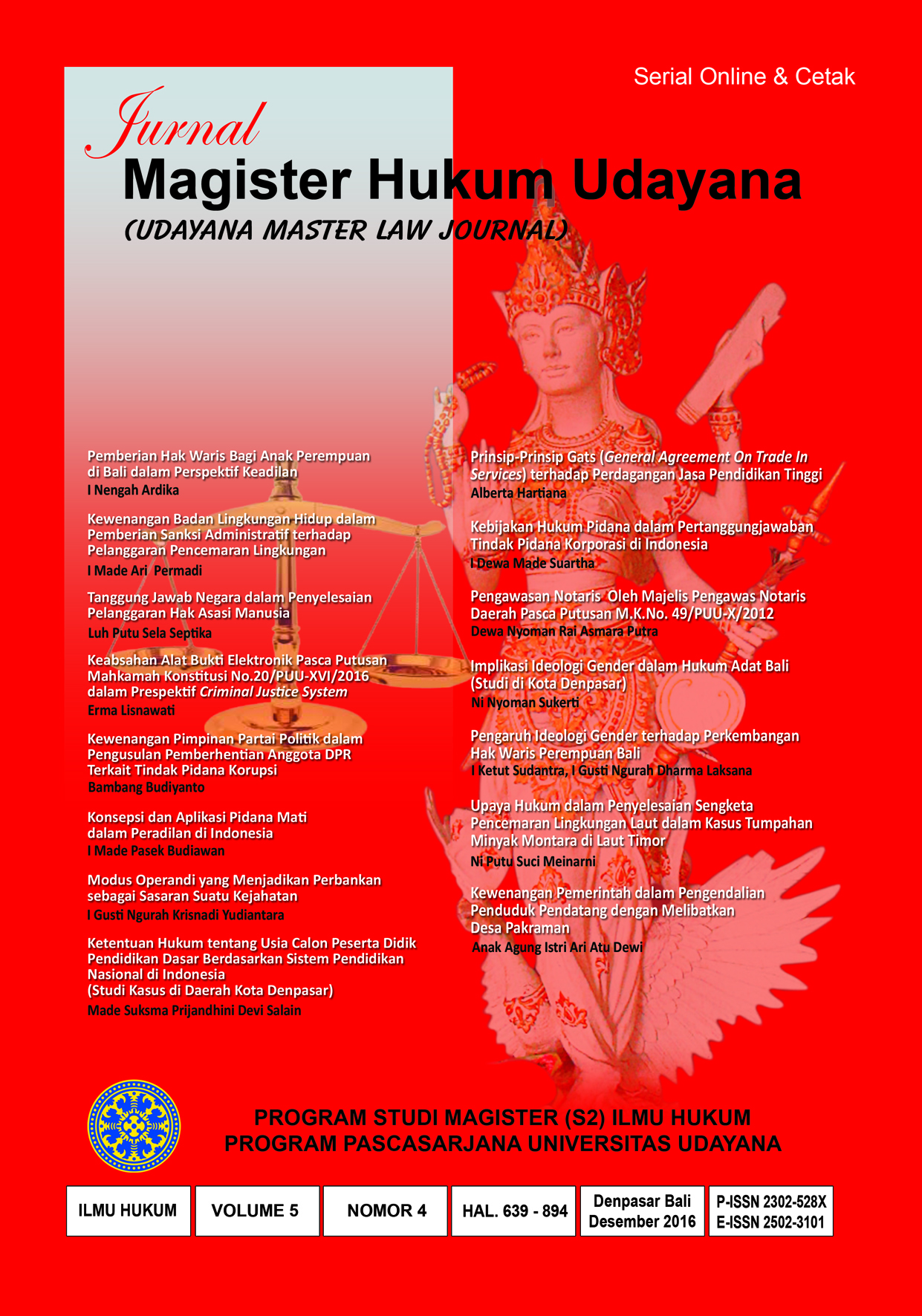 Keywords
Evidence of Electronic; the Constitutional Court; Criminal Justice System; Alat Bukti Elektronik; Mahkamah Konstitusi; Sistem Preadilan Pidana
Jurnal Magister Hukum Udayana (Udayana Master Law of Journal) by Faculty of Law Udayana University is licensed under a Creative Commons Attribution-NonCommercial 4.0 International License.