PELAKSANAAN PERATURAN DAERAH PROVINSI BALI NO 5 TAHUN 2008 TENTANG PRAMUWISATA DI KABUPATEN BADUNG
Ni Made Anggia Paramesthi Fajar

Program Studi Magister (S2) Ilmu Hukum Program Pascasarjana Universitas Udayana
Abstract
Tour guide has an important role toward the tourism business in Bali, they take care the guests since they arrive until they depart from Bali. Therefore a tour guide should be able to give the best quality of service and also improve it if to provide better service in the future. In order to achieve the best quality of service, the government should create a rule which regulate how a tour guide can be a profession in order to provide a better quality of service to the guests who visit Bali. Bali Regional Rule no 5 year 2008 about Tour Guides is a kind of regulation established by Bali Government as a foundation for a Tour Guide in doing their profession. However, in fact there are so many irrelevant services given by a Tour Guide and it was not based on the regulation and it caused the problems in this thesis. Are there any factors that generate a specific license for a tour guide based on Bali Regional Rule no 5 year 2008 about Tour Guides could not be released? How is the application of punishment ofthose tour guides who did not obey the regulation based on Bali Regional Rule no 5 year 2008 about Tour Guides?
This research used empiric approach which means that we are doing an approach by solving the problem that we face during the research. In relation with the regulations and law and also the law theories which relevant applied in this research e.g. theory of obeying the law, theory of authority and theory of product quality. In order to show the government's authority to apply the law and how the regulation is able to guarantee the law and also to ensure that the government regulation can guarantee the tour guide quality to provide the best quality of services.
Downloads
Download data is not yet available.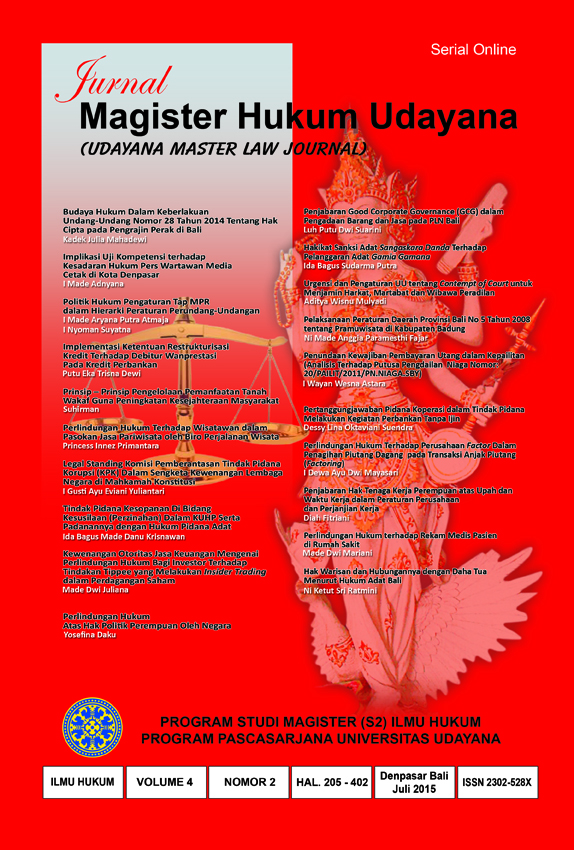 Keywords
tour guide; cultural tourism; Tourism Perda application; law punishment
Jurnal Magister Hukum Udayana (Udayana Master Law of Journal) by Faculty of Law Udayana University is licensed under a Creative Commons Attribution-NonCommercial 4.0 International License.