DAMPAK FORTIFIKASI UBI UNGU (Ipomoeabatatas) PADAPROSES FERMENTASI SUSU KEFIRTERHADAPSIFAT-SIFAT ANTIOKSIDAN SELAMA PENYIMPANAN
Rumapea D. K.

Fakultas Peternakan, Universitas Udayana, JL. P.B. Sudirman Denpasar

I N. S. Miwada

Fakultas Peternakan, Universitas Udayana, JL. P.B. Sudirman Denpasar

S. A. Lindawati

Fakultas Peternakan, Universitas Udayana, JL. P.B. Sudirman Denpasar
Abstract
Kefir fortified with purple sweet potato can be a health daily drink. The research is aimed to determine was to identify the best storage period kefir product, to identify antioxidant capacity, and to evaluate the quality of kefir product at different storage. This research was conducted for 3 months from 21 February to 21 May 2015 in Technology and Microbiology Laboratory, Faculty of Animal Husbandry and Biochemistry and Food and Science Technology Laboratory, Faculty of Technology Agriculture, Udayana University. Methods use in this study was completely randomized design (CRD), using 5 treatments (0, 1, 3, 5, and 7 days) during storage and 4 replication. Variables observed were pH, percentage of total acid, phenol, antioxidant capacity, and IC50. Storage period were non significantly affected the content of pH, and total acid. Storage period were significantly affected the content of phenol, antioxidant capacity, and IC50. Based of this research it could be concluded that the best storage period of kefir fortified with purple sweet potato was at 3 days with total value of phenol 37.5798 mg/100 ml GAE, antioxidant capacity 11.3800 mg/L.GAEAC, and IC50 246.81 mg/ml.
Downloads
Download data is not yet available.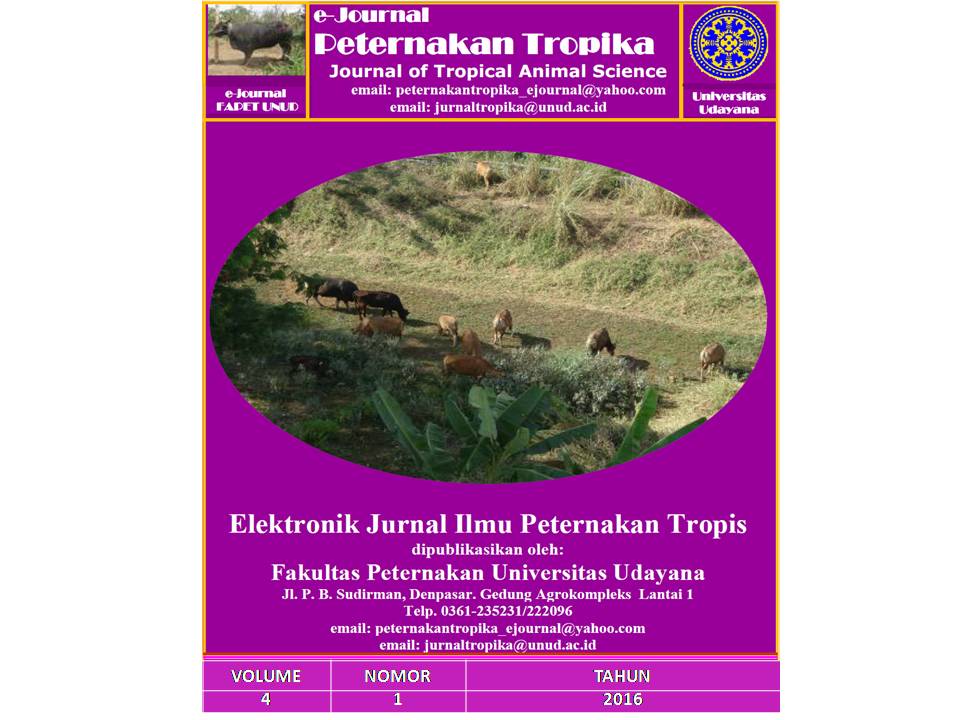 How to Cite
D. K., Rumapea; MIWADA, I N. S.; LINDAWATI, S. A.. DAMPAK FORTIFIKASI UBI UNGU (Ipomoeabatatas) PADAPROSES FERMENTASI SUSU KEFIRTERHADAPSIFAT-SIFAT ANTIOKSIDAN SELAMA PENYIMPANAN.
Jurnal Peternakan Tropika
, [S.l.], v. 4, n. 1, p. 7-21, apr. 2016. ISSN 2722-7286. Available at: <
https://ojs.unud.ac.id/index.php/tropika/article/view/20736
>. Date accessed: 03 feb. 2023.
Keywords
kefir, purple sweet potato, antioxidant, ic50