POSITIONAL RELEASE TECHNIQUE AND INFRARED INTERVENTION HAS NO SIGNIFICANT DIFFERENCE AS CONTRACT RELAX STRETCHING AND INFRARED INTERVENTION TO REDUCE PAIN IN HEADACHE DUE TO UPPER TRAPEZIUS MUSCLE TENSION ON EMPLOYEES
Made Kristira Yanti

Ni Luh Nopi Andayani

I Putu Adiartha Griadhi
Abstract
ABSTRACT
Headache can be caused by increased tension in upper trapezius muscle. This headache is characterized by
trigger point and upper trapezius muscle tautband. The purpose of this study was to compare the positional release
technique and infrared interventions with contract relax stretching and infrared on the reduction of headache due to
upper trapezius muscle tension. This study was experimental with pre and post-test group design designs of 24 people
divided into two groups. Group 1 received positional release technique and infrared, while Group 2 received contract
relax stretching and infrared. The result of data analysis with paired sample t-test in Group 1 showed the average 2,242
± 0,329 and p = 0,001, while Group 2 showed the average 2,225 ± 0,201 and p = 0,001. From the results of the analysis
showed in each group there is a significant reduction of pain. Based on independent samples test t-test between groups
1 and 2 obtained p value = 0.882 (p> 0.05). It can be concluded that the positional release technique and infrared
intervention has no significant difference as contract relax stretching and infrared to decreased headache due to upper
trapezius muscle tension.
Keywords: Headache, upper trapezius muscle, positional release technique, contract relax stretching, infrared, VAS
Downloads
Download data is not yet available.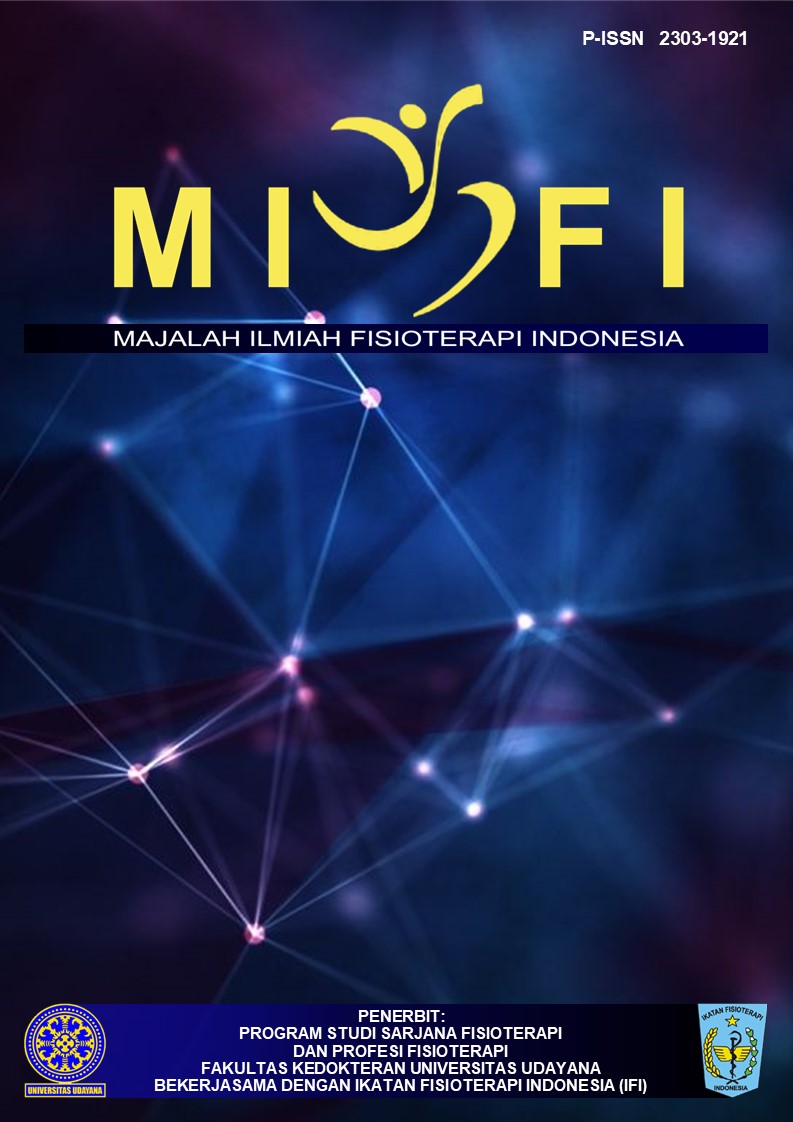 How to Cite
YANTI, Made Kristira; ANDAYANI, Ni Luh Nopi; GRIADHI, I Putu Adiartha. POSITIONAL RELEASE TECHNIQUE AND INFRARED INTERVENTION HAS NO SIGNIFICANT DIFFERENCE AS CONTRACT RELAX STRETCHING AND INFRARED INTERVENTION TO REDUCE PAIN IN HEADACHE DUE TO UPPER TRAPEZIUS MUSCLE TENSION ON EMPLOYEES.
Majalah Ilmiah Fisioterapi Indonesia
, [S.l.], v. 6, n. 2, p. 37-41, may 2018. ISSN 2303-1921. Available at: <
https://ojs.unud.ac.id/index.php/mifi/article/view/43398
>. Date accessed: 30 mar. 2020.