Pergolakan Elite dalam Panggung Politik di Bali 1945-1950
Abstract
Abstract
The political violence in Bali period 1946-1950, due to the differences of ideology, tactic, and the goal of struggle, betweentraditional elite against republican elites. The traditional elites (the monarch in Bali) who adopted cooperative-federalism aimed to establish The United Indonesia Republic accord to Dutch commonwealth. Involving Bali as part of East Indonesia State`s territory could maintain the status quo of Bali`smonarchy as traditional monarch. Otherwise, the republicanelites who adopt the unitary state and non-cooperative aimthat Bali tied together with The Republic of Indonesia`sterritory, because East Indonesia State was establised by Dutch government.The signatory to the Linggarjati treaty caused for theexistence of Republic of Indonesia`s territory beyond Java ,such as, Madura and Sumatra became uncertain. This moment is exploited by Dutch government (Van Mook) to conduct Denpasar Conference that succeeded to formulate the establishment of the regulation of East Indonesia State. Since, Bali had belonged to the territory of East Indonesia State has changed the situation that caused difficulties for armament battle in Bali. Therefore the Commander of The General HeadQuarter of The Indonesian People Struggle`s Council of Small Sundanese Area (Pimpinan Markas Besar Umum IndonesiaSunda Kecil) changed the strategy of struggle from military passive to diplomatic active through East Indonesia State`s Parliament and General Assembly, as well.By the speech of East Indonesian State Parliament member swho came from Bali, claimed that Bali to become consistently as part of Republic of Indonesia`s territory. As the Dutch government transferred the sovereignty to United Indonesia Republic, the people coming from all over of East Indonesian Republic demanded to dissolve United Indonesia Republic.Accordingly, the Balinese warrior youth claimed to dissolveBali`s Monarch Council (Dewan Raja Raja) and Bali`s GeneralAssembly (Paruman Agung) changed to be more democratic.In order to revert to unity and integrity of Indonesia, the government of United Indonesia Republic issued the Emergency Regulation Number 44/1950 that changed government system from monarchy system to be more democratic system. That change is indicated by circulated the Republican elite to be Bali`s Governor replaced the institution of Bali`s Monarch Assembly (Dewan  Raja Raja) and TheTemporary Parliament of Bali`s Province (Dewan Perwakilan Rakyat Sementara) replacing the Bali`s General Assembly (Paruman Agung). The representative of political party whocame from republican elite became the member of Temporary Parliament of Bali`s Province.
Downloads
Download data is not yet available.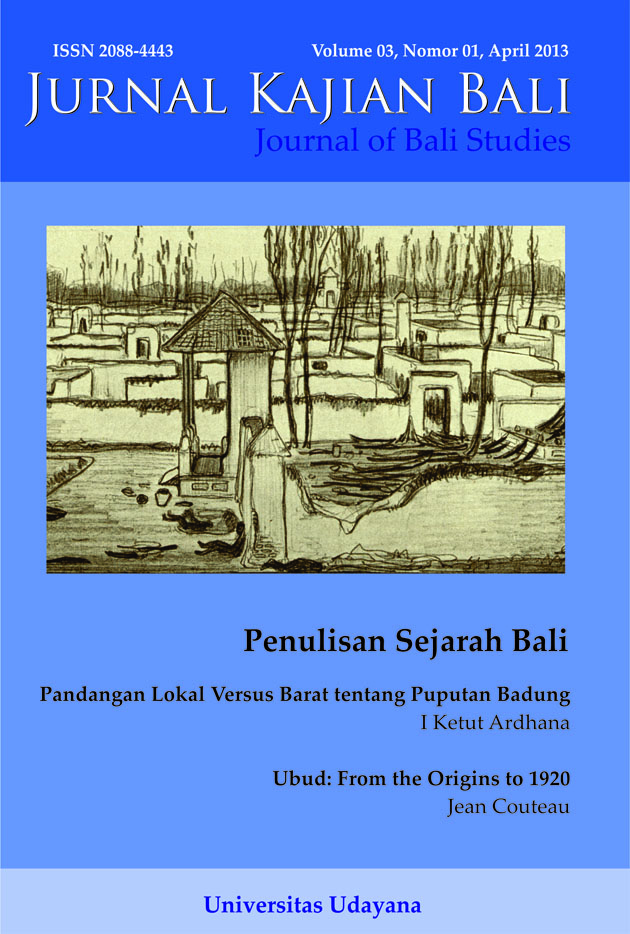 Keywords
Traditional elite, republican elites, federalism, cooperative, commonwealth, non-cooperative, Monarch Assembly, General Assembly

This work is licensed under a Creative Commons Attribution 4.0 International License.