Securitization, Belonging and Politics of Belonging in Bali
Abstract
Abstrak
Artikel ini membahas kemunculan keamanan lokal (kelompok) dalam menanggapiotonomi daerah, dalam konteks globalisasi di Bali, Indonesia. Perkembanganotonomi daerah di Indonesia pasca reformasi telah mempengaruhi kondisisosial, politik dan budaya daerah-daerah dan kabupaten-kabupaten di Indonesia,termasuk Provinsi Bali. Otonomi daerah saat ini diidentifikasi sebagai faktoryang mendorong perubahan sosial, politik dan budaya pada masyarakat Bali.Hal tersebut mengakibatkan peningkatan isu-isu keamanan lokal dalam kontekspelestarian budaya, ketegangan antar-kelompok etnis dan keamanan pariwisata.Berangkat dari situasi tersebut, artikel ini membahas bagaimana isu-isu otonomidaerah diinterpretasikan oleh aktor-aktor lokal dalam isu-isu keamanan bersamapada masyarakat Bali; dan melihat bagaimana kesadaran politik dan politikkepemilikan yang dikembangkan oleh aktor-aktor lokal untuk merekonstruksiidentitas kebalian orang Bali. Politik kepemilikan adalah bentuk denaturalisasiperan aktor-aktor lokal untuk mengkonstruksi apa yang mereka sebut "rumah"dan rasa aman dari sudut pandang orang Bali.
Downloads
Download data is not yet available.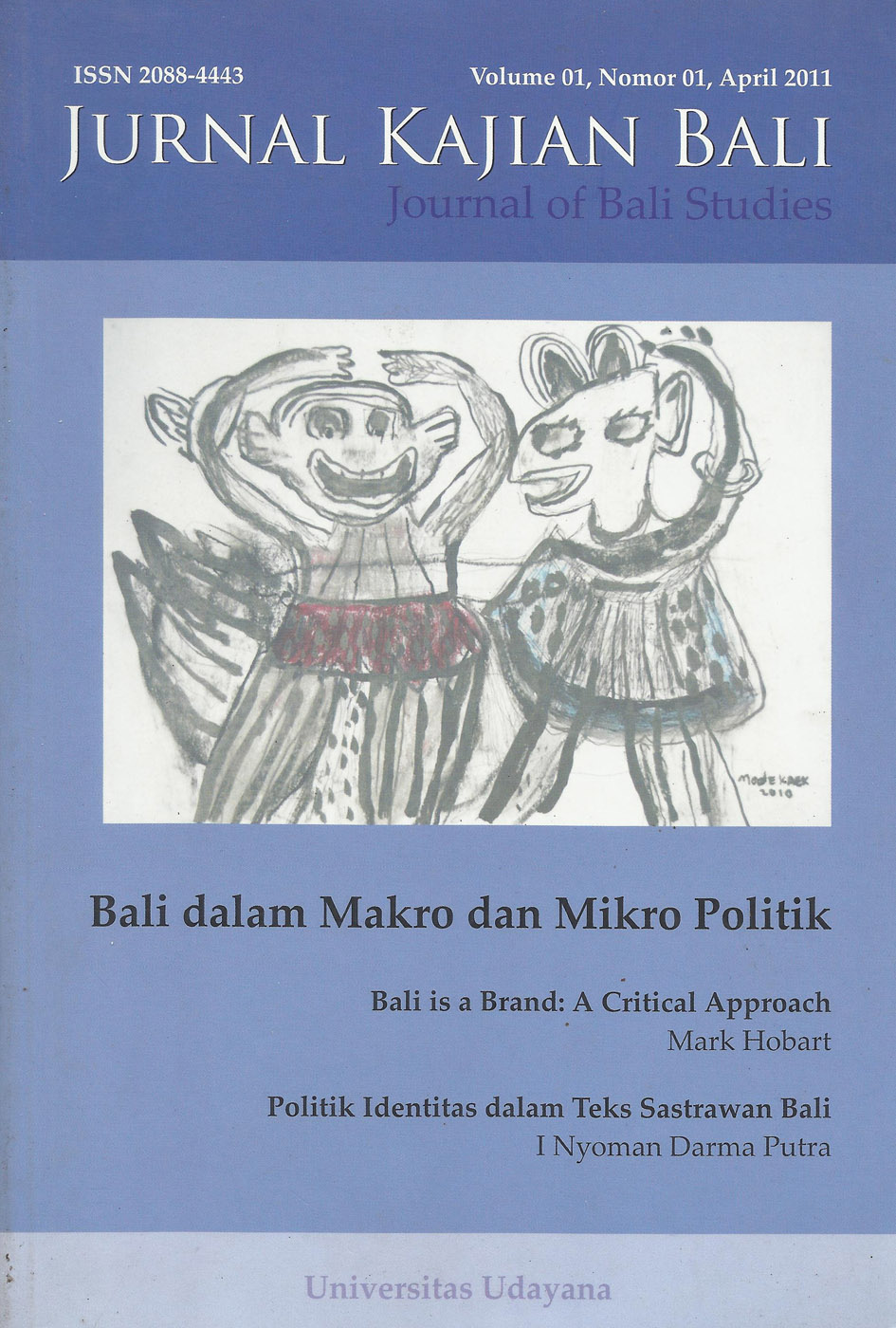 Keywords
regional Autonomy (otoda), securitization, migration, politics of belonging, Globalization and Bali

This work is licensed under a Creative Commons Attribution 4.0 International License.