Pemenuhan Pelayanan Kesehatan dan Konsumsi Bagi Narapidana di Lapas dan Rutan
Riyan Firmansyah

Fakultas Hukum Universitas Syiah Kuala

Faisal A.Rani

Dosen Fakultas Hukum Universitas Syiah Kuala

Adwani Adwani

Dosen Fakultas Hukum Universitas Syiah Kuala
Abstract
Article 14 of the penal law regulates prisoners' rights, namely Health Service Rights and consumption in prisons and detention centers. The Correctional Law provides legal certainty for the obligation to provide optimal service so the aim of related serve achieved. Health and consumption services in Class II A Banda Aceh Lapas and Class II B Jantho Detention Centers shortage and ineligible. It's Health Service Rights and consumes inmate's centers. Indeed, the writer observed that health consumptions served at prison class II A Banda Aceh that inmates at class II B Jantho Inefficiency. This study aims to describe the fulfillment of basic rights in health services and consume Its influence and efforts them. Types of legal research and empirical juridical approaches or sociological. The data analysis technique used in this research is qualitative. It's used so that the writer tends under study. Based on observed, the writer knows that health served and consumption inefficient constitutes in facilities health boosted. Its still inadequate, indicated by claims about food and nutrition, Its Overcapacity, facilities and infrastructure, limited budgets, the substance of the rules the relationship between legal structures is inadequate, Efforts to increase claim internally and externally in the form of socialization, fighting for the budget through the legislature, optimally implementing inmates rules, then health serve and food proper.
UU pemasyarakatan pasal 14 salah satu nya mengatur tentang hak-hak narapidana yaitu Hak Pelayanan Kesehatan dan konsumsi di Lapas dan Rutan. Ada nya pasal 14 UU Pemasyarakatan tersebut memberikan kepastian hukum terhadap kewajiban memberikan pelayanan se optimal mungkin agar tujuan pemasyarakatan tercapai. Pada kenyataannya pelayanan kesehatan dan konsumsi yang penulis teliti baik di Lapas Klas II A Banda Aceh maupun Rutan Klas II B Jantho masih kurang memadai dan belum memenuhi standar yang ditetapkan. Penelitian ini bertujuan untuk menjelaskan dan menganalisis pemenuhan hak-hak dasar narapidana atas pelayanan kesehatan dan konsumsi, faktor-faktor yang mempengaruhinya, dan upaya peningkatan pemenuhannya. Jenis penelitian hukum dan pendekatan yuridis empiris, atau penelitian hukum sosiologis. Teknik analisis data yang digunakan dalam penelitian ini ialah data kualitatif, metode kualitatif ini digunakan agar penulis dapat mengerti dan memahami gejala yang diteliti. Berdasarkan hasil penelitian penulis diketahui bahwa pelayanan kesehatan dan konsumsi di Lapas masih belum efektif, terlihat dari sarana dan prasarana penunjang pelayanan kesehatan, frekuensi kunjungan tenaga kesehatan, dan anggaran yang tersedia. Konsumsi yang disajikan bagi narapidana masih kurang layak, terindikasi dari keluhan tentang makanan serta gizi yang kurang seimbang, kebersihan kurang diperhatikan. Faktor-Faktor yang mempengaruhi nya antara lain: Berupa over kapasitas di Lapas dan Rutan, sarana dan prasarana, anggaran yang terbatas, substansi aturan antara hubungan struktur hukum belum memadai, Upaya Peningkatan Pemenuhan nya secara internal maupun eksternal berupa sosialisasi, memperjuangkan anggaran melalui legislatif, dan optimal menjalankan aturan untuk pelayanan hak narapidana, baik pelayanan kesehatan  dan makanan yang layak.
Downloads
Download data is not yet available.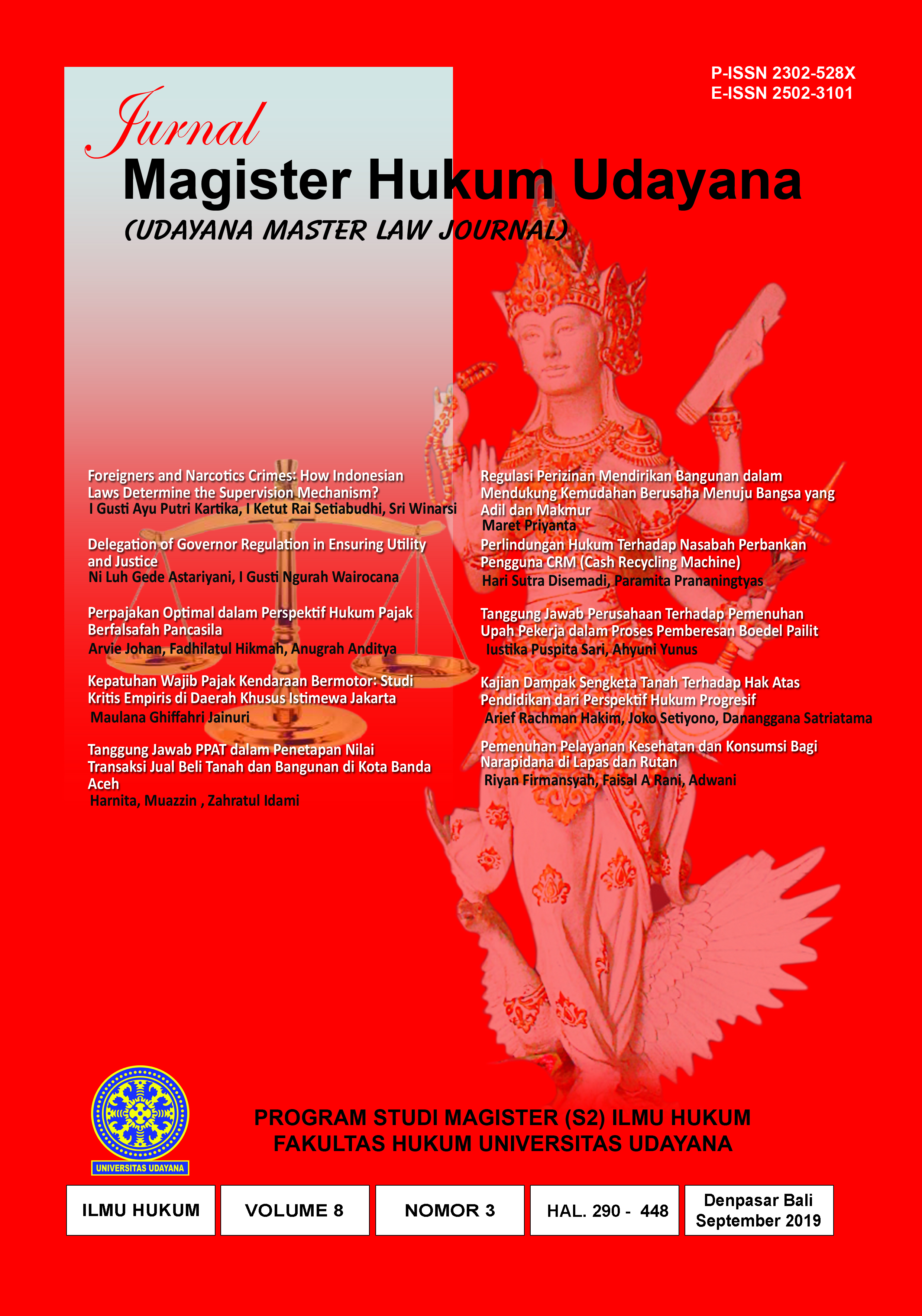 Jurnal Magister Hukum Udayana (Udayana Master Law of Journal) by Faculty of Law Udayana University is licensed under a Creative Commons Attribution-NonCommercial 4.0 International License.