PEMBERIAN BUAH PISANG, ISTIRAHAT PENDEK DAN PEREGANGAN MENURUNKAN KELUHAN MUSKULOSKELETAL, KELELAHAN DAN MENINGKATKAN PRODUKTIVITAS PEMANEN PENGGUNA ALAT EGREK PERKEBUNAN KELAPA SAWIT PT. SSD KALIMANTAN TIMUR
Yuhana Damantalm

Ketut Tirtayasa

i Putu Gede Adiatmika

Ida Bagus Adnyana Manuaba

I Dewa Putu Sutjana

Lilik Sudiajeng
Abstract
In cutting of fresh palm coconut by using of egrek tools have repeatition movement and need extra of muscle strength. The worker have exhaution experience, so sometimes they took a rest in working time. Using of muscle continously and unergonomic position of worker could lead musculosceletal problems. In order to balance of enough nutrient and proper worker's posture. The aim of this research to prove that consumption of banana, short rest and stretching in reducing of musculosceletal problems, exhaution and increasing of permanent palm coconut worker productivity in using of egrek tools.
The research was done in form of PT. SSD Berau, with treatment by subject design toward 16 workers sample. Period I (P0) of harvest process without intervention and period II (P1) of harvest process with intervention. Exhaution  was using 30 item of rating scale exhaution and productivity based on output and input comparison. Data tasted by t-paired test in testing of musculosceletal problem, exhaution and productivity difference in significant level ? = 0.05 before and after working. And t-independent test for difference between groups.
The result of research with intervention of musculoskeletal problems of period I before work 37.44 ± 1,21 and after 69.25 ± 2.24, period II before work 37.75 ± 1,13 and after 47,25 ± 4,95 decrease of 31.77%; exhaution period I before working 39.31 ± 1.35 and after 72.63 ± 1.50, period II before work 36.69 ± 1.62 and after 55.38 ± 1.78 decrease of 23.75%, productivity period I 0.51 ± 0.08 and period II 0.70 ± 0.06 increase of  38.40%. There was decreasing in musculoskeletal problems, exhaution and increase productivity with signifikan level (p <0.05).It can be concluded the giving of banana, short rest and stretching decrease musculoskeletal problems, exhaution and increase productivity of harvesters egrek tool user of palm oil plantation PT. SSD. It suggested to apply the interventions in oil palm plantations in reducing musculoskeletal problems, exhaution for increased productivity.
Downloads
Download data is not yet available.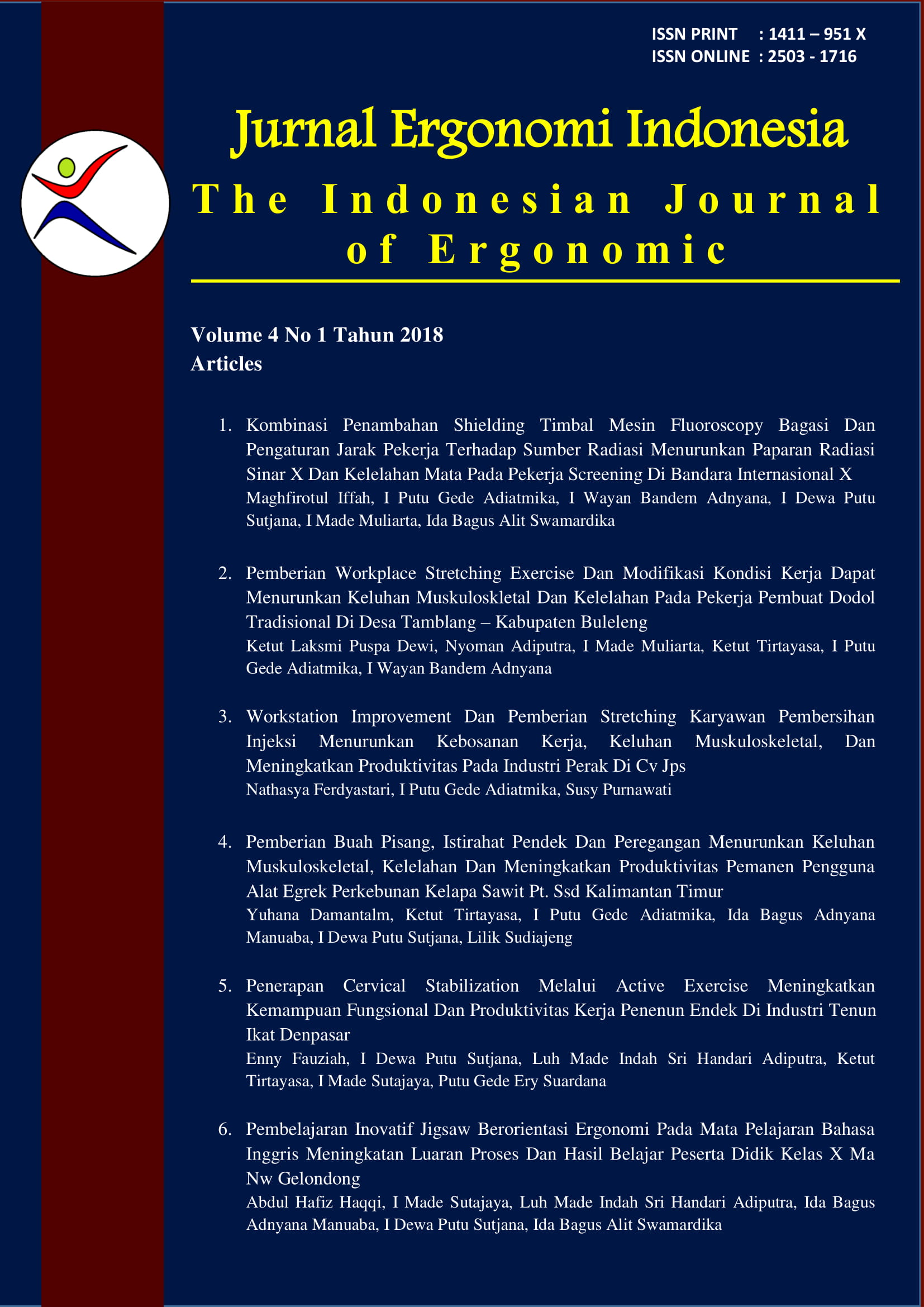 How to Cite
DAMANTALM, Yuhana et al. PEMBERIAN BUAH PISANG, ISTIRAHAT PENDEK DAN PEREGANGAN MENURUNKAN KELUHAN MUSKULOSKELETAL, KELELAHAN DAN MENINGKATKAN PRODUKTIVITAS PEMANEN PENGGUNA ALAT EGREK PERKEBUNAN KELAPA SAWIT PT. SSD KALIMANTAN TIMUR.
Jurnal Ergonomi Indonesia (The Indonesian Journal of Ergonomic)
, [S.l.], v. 4, n. 1, july 2018. ISSN 2503-1716. Available at: <
https://ojs.unud.ac.id/index.php/jei/article/view/41471
>. Date accessed: 24 sep. 2023. doi:
https://doi.org/10.24843/JEI.2018.v04.i01.p04
.
This work is licensed under a
Creative Commons Attribution 4.0 International License