WORKSTATION IMPROVEMENT DAN PEMBERIAN STRETCHING KARYAWAN PEMBERSIHAN INJEKSI MENURUNKAN KEBOSANAN KERJA, KELUHAN MUSKULOSKELETAL, DAN MENINGKATKAN PRODUKTIVITAS PADA INDUSTRI PERAK DI CV JPS
Nathasya Ferdyastari

I Putu Gede Adiatmika

Susy Purnawati
Abstract
Working conditions silverware in Bali still found few problems ergonomic especially processes injection cleaning. Static and monotonous working postures and inappropriate anthropometry work tools may cause musculoskeletal and boredom disturbances. The purpose of this research to prove workstation improvement and stretching in reducing boredom of work, musculoskeletal disorders and increasing productivity.
               The research has been conducted in silver industry at CV JPS Gianyar, with treatment by subject design toward 10 employees subjects. Period I (P0) injection cleaning process without any intervention. Period II (P1) the process of injection cleaning with work station improvement and giving stretching intervention. Work boredom, musculoskeletal complaint and work productivity the data between Period I and Period II. Analyzed with Paired Samples Test for differences of meaning between groups variable boredom of work, musculoskeletal disorders, working productivity to level of meaning ?=0,05.
The result of research showed that workstation improvement and giving stretching can reduce the boredom of work Period I 118.40±4.42; Period II 108.50±4.78; decrease of 8.4%. Reduce musculoskeletal complaint Period I before work 41.90±4.72 and after work 71.70±8.42; Period II before work 37.20±3.29 and after work 56.20±4.47; decrease of 21.61%. Increase productivity Period I 0.13±0.04 and Period II 0.19±0.06; increase of 46.15%. There was a decrease in boredom, musculoskeletal complaint, and increase productivity with significan level (p<0.05).
 The conclusion that the workstation improvement and giving stretching can reduce boredom, musculoskeletal complaint and increase work productivity of employees injection cleaning at silver industry CV JPS. So it is suggested to apply in the silver industry to reduce boredom and complaints effect to work process.
Downloads
Download data is not yet available.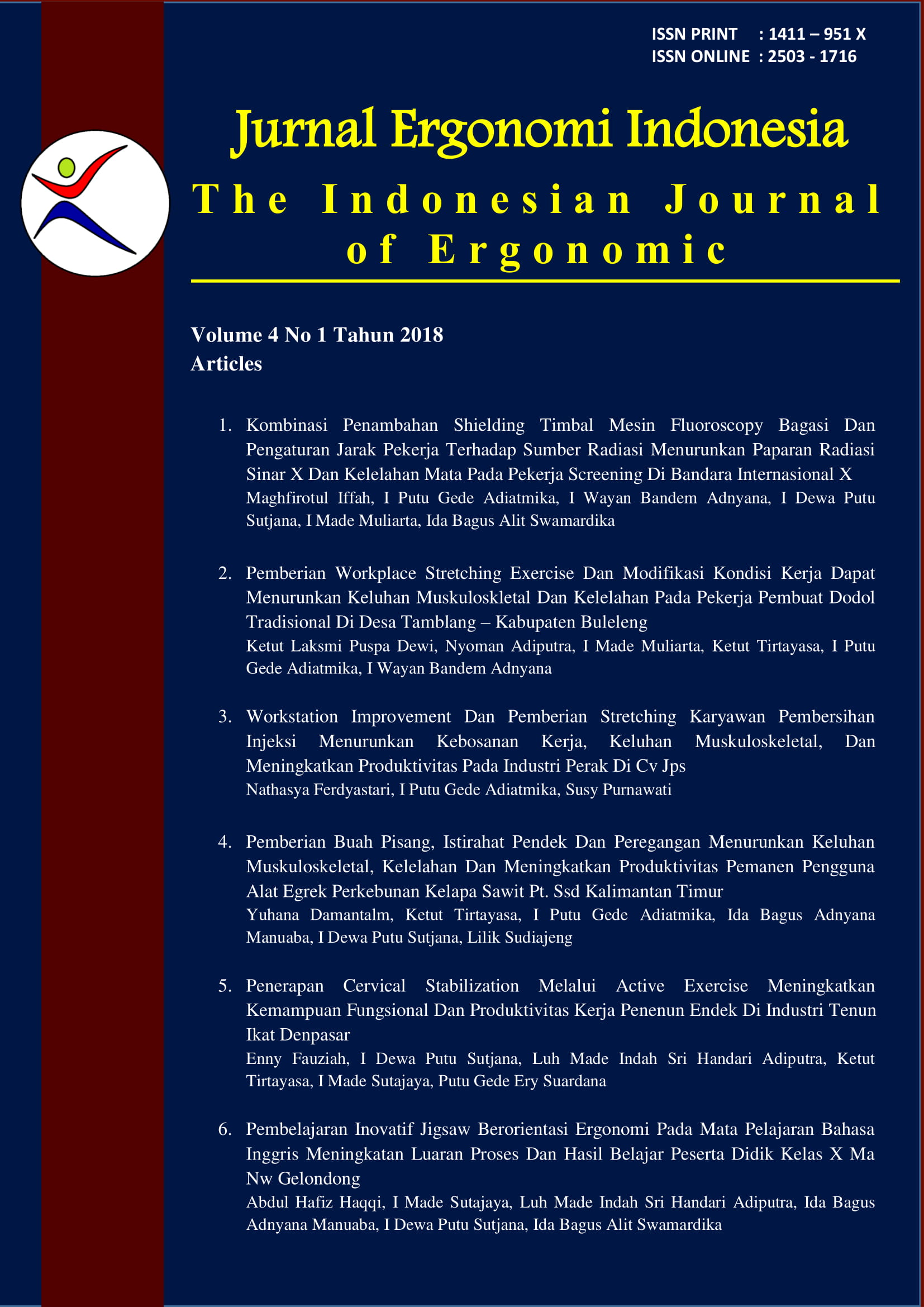 How to Cite
FERDYASTARI, Nathasya; ADIATMIKA, I Putu Gede; PURNAWATI, Susy. WORKSTATION IMPROVEMENT DAN PEMBERIAN STRETCHING KARYAWAN PEMBERSIHAN INJEKSI MENURUNKAN KEBOSANAN KERJA, KELUHAN MUSKULOSKELETAL, DAN MENINGKATKAN PRODUKTIVITAS PADA INDUSTRI PERAK DI CV JPS.
Jurnal Ergonomi Indonesia (The Indonesian Journal of Ergonomic)
, [S.l.], v. 4, n. 1, july 2018. ISSN 2503-1716. Available at: <
https://ojs.unud.ac.id/index.php/jei/article/view/41470
>. Date accessed: 24 sep. 2023. doi:
https://doi.org/10.24843/JEI.2018.v04.i01.p03
.
This work is licensed under a
Creative Commons Attribution 4.0 International License