PENGGUNAAN PAKAIAN DINAS HARIAN BERLENGAN PENDEK DAPAT MENINGKATKAN KENYAMANAN DAN KINERJA RADIOGRAFER DI RUMAH SAKIT UMUM PUSAT SANGLAH DENPASAR
I Made Purwa Damita

I Putu Gede Adiatmika

Luh Made Indah Sri Handari Adiputra
Abstract
Technological developments increase the clothing industry from a variety of materials, types of fabrics, clothing models used by various professions in the form of work uniforms or daily service clothing (PDH). The convenient use of PDH helps workers improve their performance. This study was conducted to determine the effect of long-sleeved and short-sleeved PDH on the comfort and performance of radiographers at Sanglah Hospital Denpasar. This research was carried out at radiology installation of Sanglah Denpasar Hospital, from May to June 2017. The design of this study was cross-design of two equal period subjects (treatment by subject and two period cross over pre and post-test group design) with a total sample of 16 people. The use of long-sleeved PDH as a control group, short-sleeved PDH as the treatment group. Measurements were performed pre and post on the comfort and performance of radiographers in terms of hand washing time and the number of patients that could be served. Comparison test on comfort and performance using Wilxocon Signed Ranks Test with p <0,05. The results showed that the application short-sleeved PDH increased the subjective comfort y 10.75 or 27.08% (p <0.05), improving the performance of decreasing the time duration score required by hand washing 0,87 or 34,12% p <0.05) and an increase in the number of patients who could be served by 6.31 or 53.98% (p <0.05).
The applicastion of short-sleeved PDH compared to long-sleeved PDH showed a difference of comfort and radiographer performance at radiology installation of Sanglah Hospital Denpasar. The next PDH manufacturing process for radiographers is recommended using short-sleeved PDH.
Downloads
Download data is not yet available.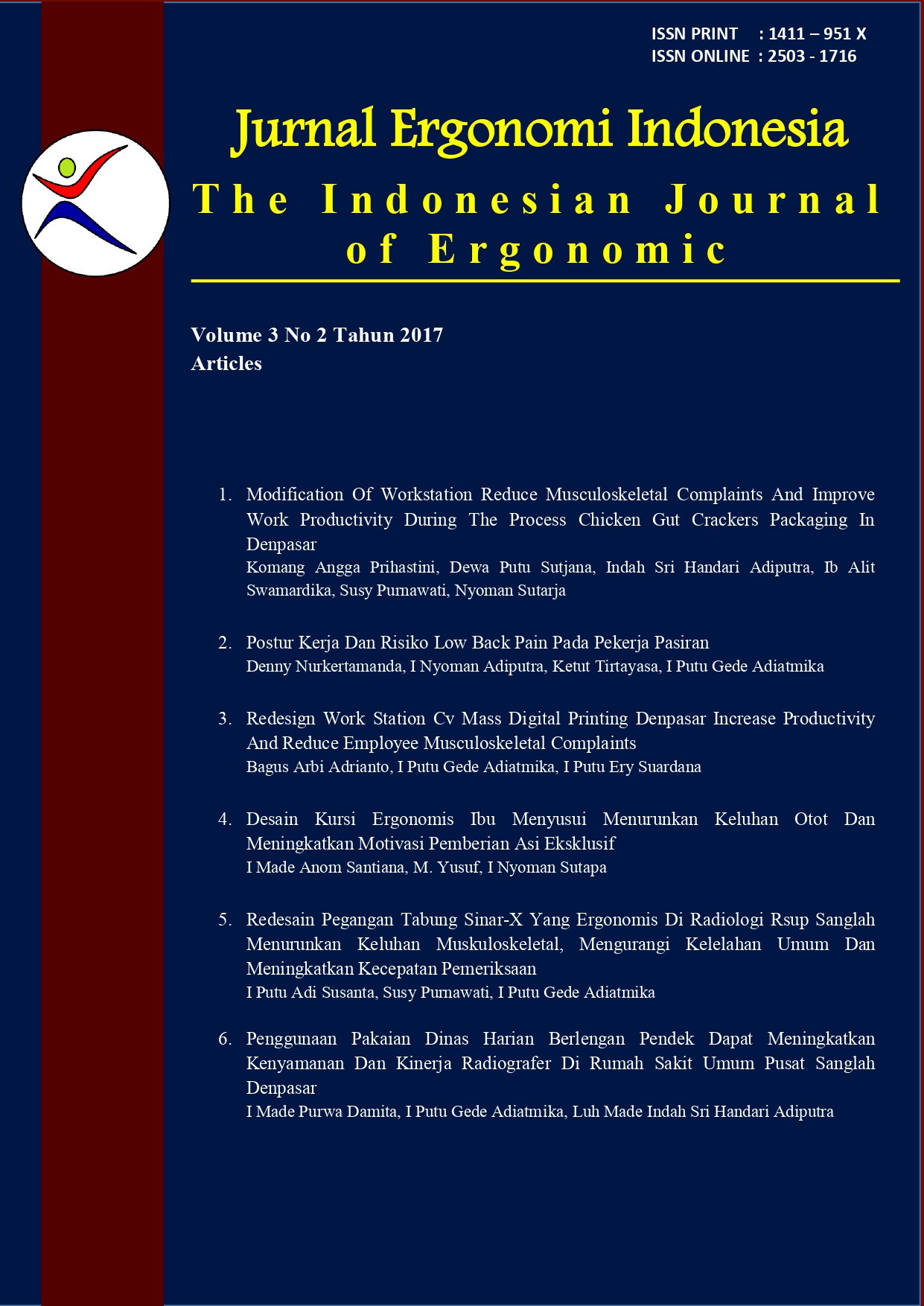 This work is licensed under a
Creative Commons Attribution 4.0 International License