RETURN ON ASSET, RETURN ON EQUITY, DAN EARNING PER SHARE BERPENGARUH TERHADAP RETURN SAHAM
Ni Putu Alma Kalya Almira

Universitas Udayana

Ni Luh Putu Wiagustini

Universitas Udayana
Abstract
Penelitian ini bertujuan untuk mengetahui pengaruh Return on Asset, Return on Equity, dan Earning Per share terhadap Return saham pada perusahaan Food and Baverages di Bursa Efek Indonesia periode 2015-2018. Populasi yang digunakan dalam penelitian ini adalah perusahaan Sub sektor Food and Baverages. Penelitian ini memakai sampling jenuh (Sensus) dengan jumlah sampel sebanyak 13 perusahaan. Regresi linear berganda merupakan metode yang digunakan untuk menganalisis data dalam penelitian ini. Hasil penelitian menunjukkan bahwa Return on Asset, Return on Equity dan Earning per Share berpengaruh positif signifikan terhada Return saham.
Kata Kunci  : Return On Asset, Return On Equity, Return Saham, Earning Per Share
Downloads
Download data is not yet available.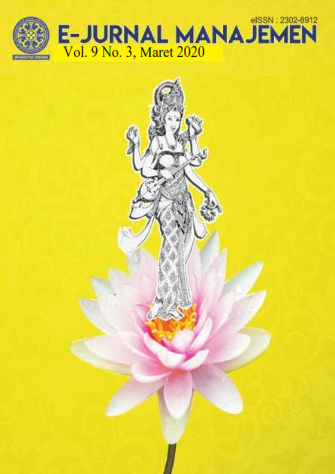 This work is licensed under a
Creative Commons Attribution 4.0 International License
.