Analysis On The Intrinsic Elements Of The Poem "A Red, Red Rose" By Robert Burns
Ni Made Sintha Wulandari

Udayana University

I Nyoman Tri Ediwan

Udayana University

A.A Sagung Shanti Sari Dewi

Udayana University
Abstract
Penelitian ini berjudul Analysis on the Intrinsic Elements of The Poem 'A Red,Red Rose' by Robert Burns.  Tujuan utama dari penelitian ini adalah untuk menganalisis unsur intrinsik yaitu pola suara (sajak, aliterasi dan asonansi),bahasa kiasan (simile dan personifikasi), diksi, makna konotatif dari puisi dan menganalisa pesan yang terdapat di dalam puisi. Sumber data dari penelitian ini diambil dari puisi A Red, Red Rose yang ditulis oleh Robert Burns. Data yang dikumpulkan dengan metode dokumentasi dan teknik pencatatan. Metode dan teknik analisis data yang digunakan adalah metode deskriptif kualitatif yang berdasarkan teori sastra yang diusulkan oleh Wallek and Warren (1995), dan Knickerbocker, K.L & H. Williard Reninnger (1963). Hasil penelitian menunjukan bahwa puisi ini berisi enam belas baris dan skema sajak abcbdefefgfghihi. Pada dasarnya, Burns membawa perasaan cinta dalam puisi ini. Dia mendedikasikan puisi ini untuk istrinya yang tercinta dalam hidupnya.Cintanya sungguh dalam dan kekal walaupun mereka terpisahkan.
Downloads
Download data is not yet available.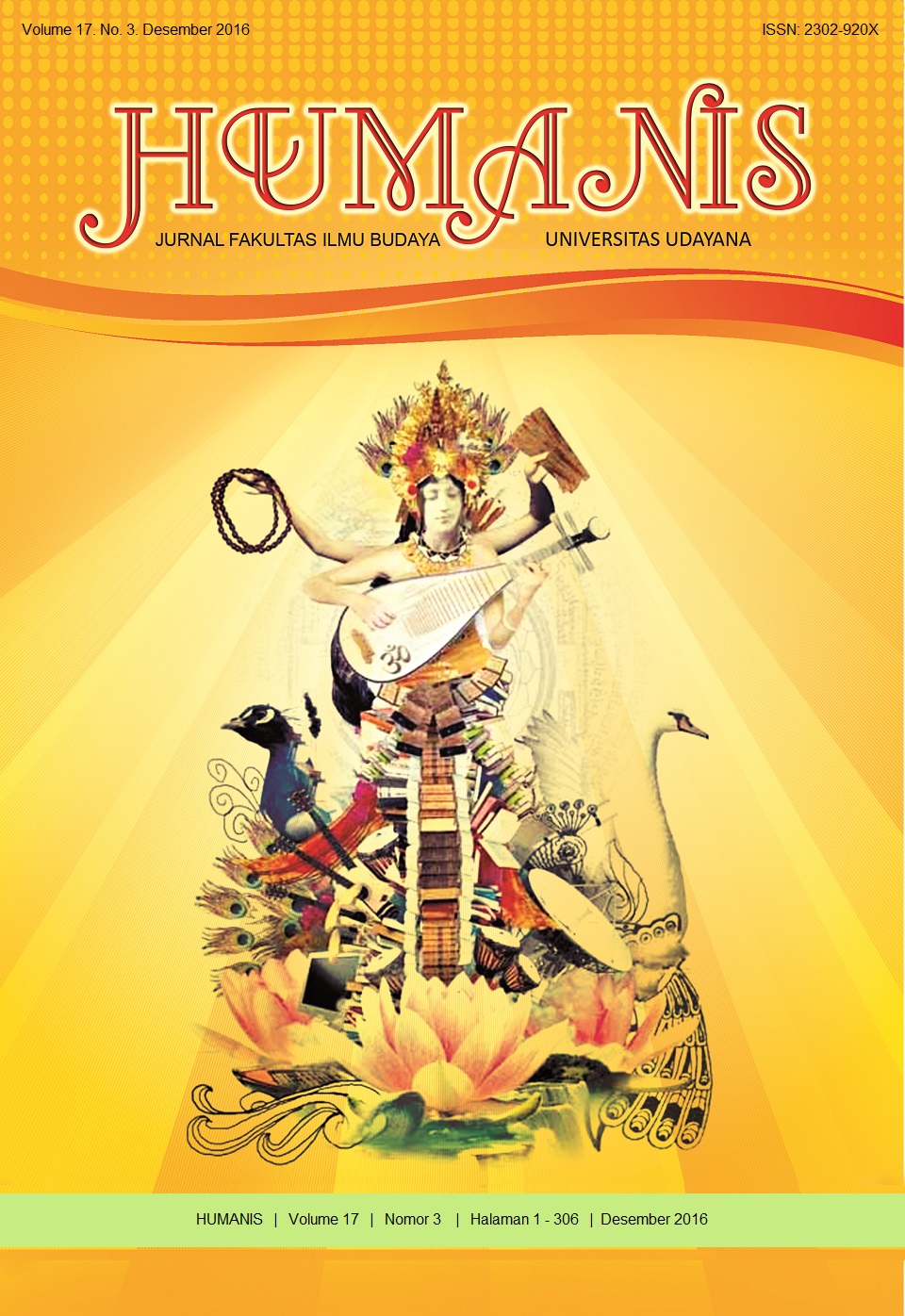 How to Cite
SINTHA WULANDARI, Ni Made; TRI EDIWAN, I Nyoman; SHANTI SARI DEWI, A.A Sagung. Analysis On The Intrinsic Elements Of The Poem "A Red, Red Rose" By Robert Burns.
Humanis
, [S.l.], v. 17, n. 3, p. 217-222, dec. 2016. ISSN 2302-920X. Available at: <
https://ojs.unud.ac.id/index.php/sastra/article/view/34658
>. Date accessed: 29 sep. 2023.
This work is licensed under a
Creative Commons Attribution 4.0 International License
.