INDONESIAN - ENGLISH CODE SWITCHING IN TORASHYNGU'S NOVEL "BEAUTY AND THE BEST"
Abstract
Judul tulisan ini adalah "Indonesian - English Code Switching In Torashyngu's Novel Beauty and the Best" terutama ditujukan untuk mengetahui fenomena dari alih kode yang digunakan oleh penulis di novel. Bidang ilmu ini diharapkan dapat menjawab dua pertanyaan secara langsung, yaitu tipe-tipe alih kode dan alasan dari penggunaan alih kode dalam novel "Beauty and the Best". Teori utama alih kode yang digunakan dalam tulisan ini yang dikemukakan oleh Appel dan Musyken (1987) dan teori-teori pendukung dikemukakan oleh Grosjean (1983), Wardhough (1986) dan Romaine (1998). Appel dan Musyken membedakan tiga tipe dari alih kode diantaranya: tag switching, inter-sential switching dan intra-sential switching. Sedangkan, alasan dari penggunaan alih kode dikemukakan oleh Grosjean yang terbagi menjadi sepuluh alasan alih kode.
Metode penelitian yang digunakan dalam pengumpulan data adalah penelitian kepustakaan. Penelitian kepustakaan digunakan karena sumber data penelitian ini diambil dari novel. Data dari tipe-tipe alih kode dianalisis melalui pemeriksaan dan dikategorikan masing-masing berdasarkan dari setiap tipe dan untuk alasan alih kode dianalisis melalui kuosioner yang mana dikirimkan ke penulis novel melalui e-mail. Dalam tulisan ini, penulis sudah memilih tujuh dari sepuluh alasan penggunaan alih kode yang di klasifikasikan oleh Grosjean.
Downloads
Download data is not yet available.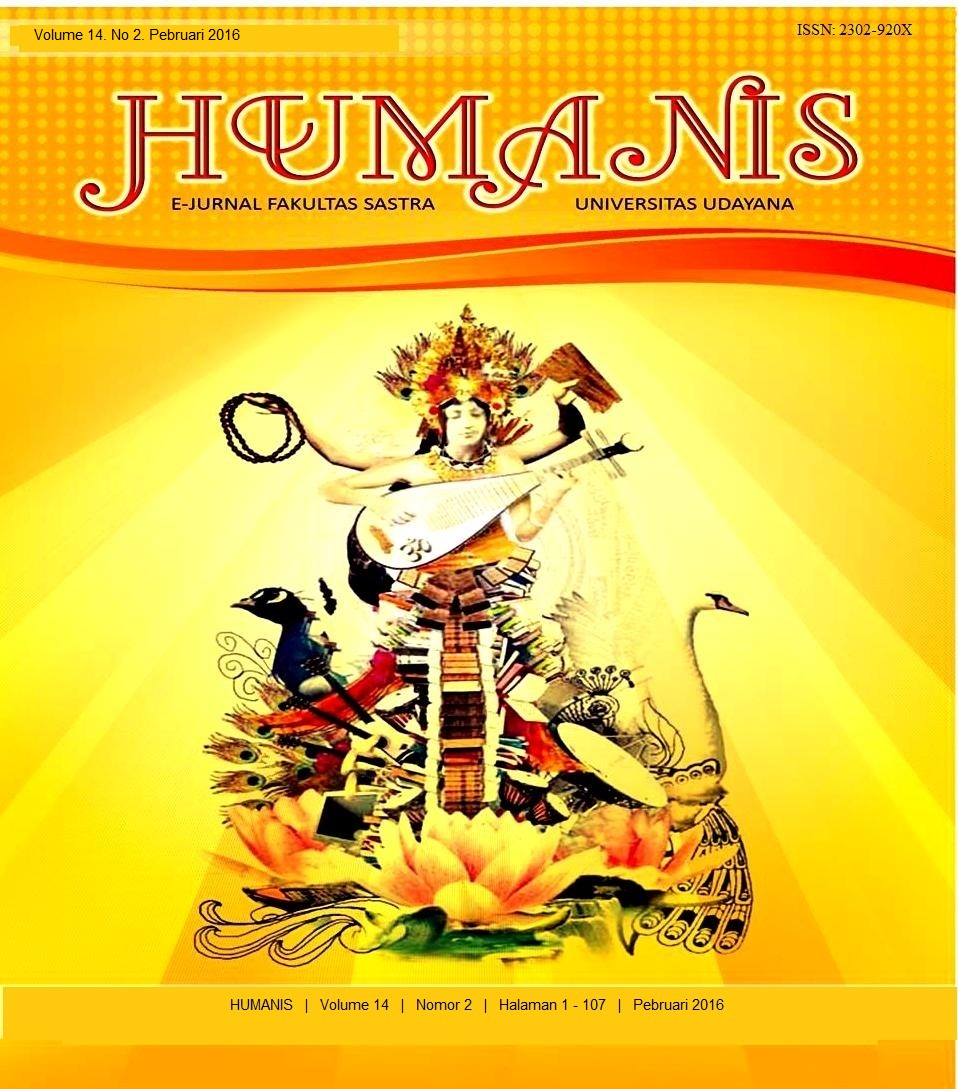 Keywords
Alih kode, dwi bahasa, campur kode
This work is licensed under a
Creative Commons Attribution 4.0 International License
.