CHARACTERIZATION, MORAL AND SOCIAL VALUES IN JONASSON'S NOVEL THE HUNDRED YEAR OLD MAN WHO CLIMBED OUT THE WINDOW AND DISAPPEARED
A. A. Ngurah Bagus Wira Udayana
Abstract
Judul penelitian ini adalah Karakterisasi, Moral dan Nilai Sosial dalam Novel The Hundred Year Old man Who Climbed Out The Window And Disappeared. Pembahasan penelitian ini difokuskan pada analisis metode karakterisasi digunakan untuk mengkarakterisasi karakter utama dan analisis nilai-nilai moral dan sosial tokoh utama dalam novel. Data penelitian ini diambil dari novel The Hundred Year Old man Who Climbed Out The Window And Disappeared ditulis oleh Jonas Jonasson. Ada dua teori dasar yang diterapkan dan dapat mendukung penelitian ini. Teori sastra yang berkaitan dengan karakterisasi dari Kenney (1966) dan teori nilai yang berkaitan dengan nilai moral dari Carol K. Sigelman (1995) dan Bernhardt (1952), nilai sosial dari Warren dan Roucek (1963). Teori akan digunakan untuk menyelesaikan masalah yang terkait dalam penelitian ini.
Dari analisis penelitian ini, dapat disimpulkan bahwa tokoh utama dalam novel ini adalah Allan Karlsson, seorang pria berusia seratus tahun. Allan digambarkan sebagai karakter kompleks karena karakternya digambarkan dari dua sisi buruk dan baik. Karakter perubahannya ketika ia tumbuh dari anak sampai ia menjadi dewasa. Penulis menggunakan metode diskursif untuk mengkarakterisasi karakter utama, Allan Karlsson. Ada banyak nilai-nilai moral dan sosial yang ditemukan dalam karakter Allan Karlsson. Dalam hidupnya, ia selalu dihadapkan ke arah sosial masalah dalam keluarganya, teman-temannya, di masyarakat dan isu-isu sosial di negara ini. Dari semua itu, Allan bisa menentukan sikapnya terhadap sesuatu yang baik dan sesuatu yang buruk. Allan, sebagai makhluk sosial, ia selalu berusaha untuk membantu orang lain dalam bukunya hidup, meskipun kadang-kadang ia membuat beberapa kesalahan, dia selalu berusaha untuk memperbaiki masalah sehingga semuanya akan kembali normal.
Downloads
Download data is not yet available.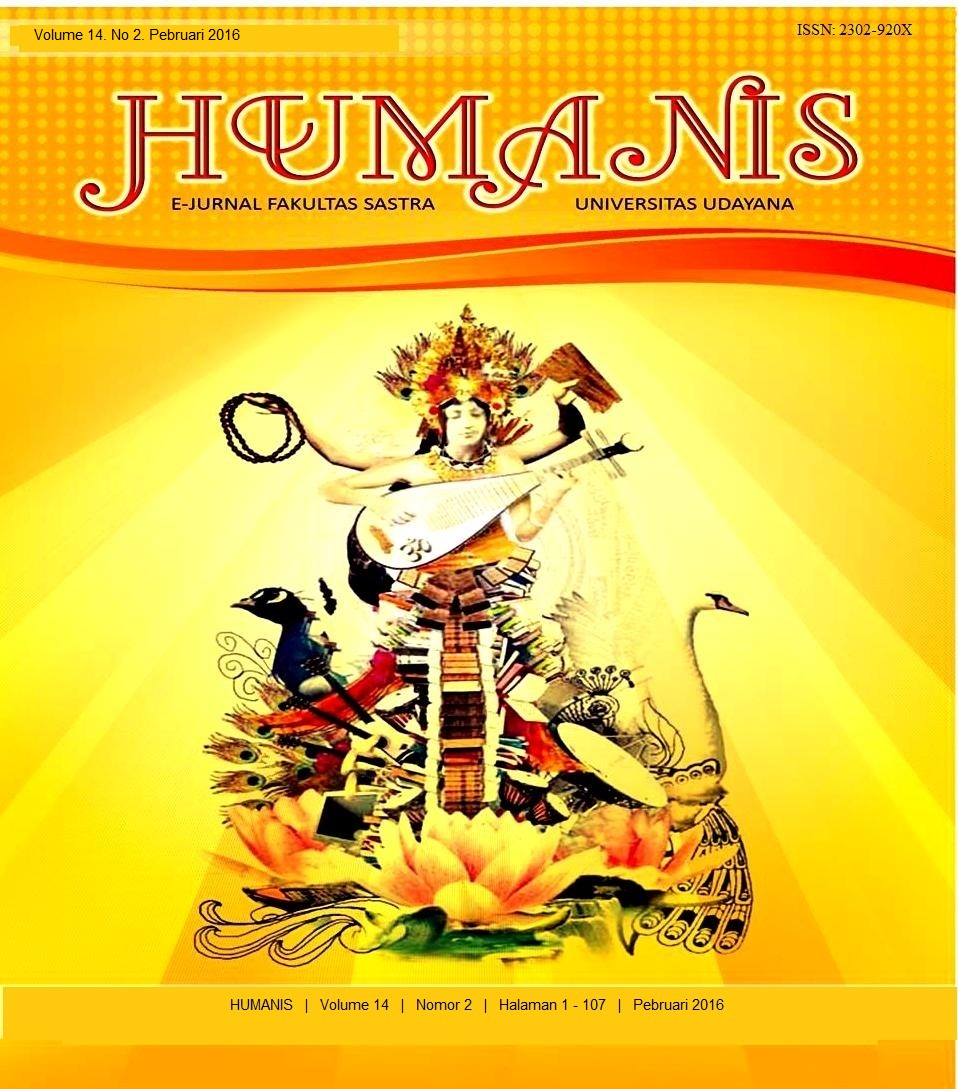 How to Cite
WIRA UDAYANA, A. A. Ngurah Bagus. CHARACTERIZATION, MORAL AND SOCIAL VALUES IN JONASSON'S NOVEL THE HUNDRED YEAR OLD MAN WHO CLIMBED OUT THE WINDOW AND DISAPPEARED.
Humanis
, [S.l.], june 2016. ISSN 2302-920X. Available at: <
https://ojs.unud.ac.id/index.php/sastra/article/view/19376
>. Date accessed: 03 apr. 2020.
Keywords
karakterisasi, nilai moral, nilai sosial, Novel
This work is licensed under a
Creative Commons Attribution 4.0 International License
.