Nyèn kal ngisidang bangkéné? Shifting Relations of Neighborliness and Family in Bali
Richard Fox

University of Victoria
Abstract
Balinese forms of social organization, collective labor and solidarity are gradually being transformed – and often displaced – by new social institutions and their attendant ideals, desires and pleasures. The rise of the nuclear family, as a new social ideal and institution, is one the more important developments in this connection. This essay examines rival conceptions of the family, and of household economy, that underpinned a debate that took place in a southerly Balinese ward over the provision of neighborly assistance during six-monthly odalan ceremonies. The analysis provides insight into how social and cultural transformation is understood and experienced at the level of day-to-day life.
Downloads
Download data is not yet available.
References
Fox, R. (2015) 'Why Do Balinese Make Offerings? On Religion, Teleology and Complexity'. Bijdragen tot de Taal-, Land- en Volkenkunde. 171(1): 29-55.

Fox, R. (2017) 'Of family, futures and fear in a Balinese ward: Some preliminary thoughts toward a new project'. Jurnal Kajian Bali. 7(1): 213-48.

Hobart, M. (1979) A Balinese Village and Its Field of Social Relations. PhD diss., University of London.

Hobart, M. (2011) 'Bali is a brand: a critical approach'. Jurnal Kajian Bali . 1(1): 1-26.

Hooykaas, C. (1973) Religion in Bali. E.J. Brill: Leiden.

Hooykaas, C. (1974) Cosmogony and Creation in Balinese Tradition. The Hague: Nijhoff.

Hull, T. (1997) "Fertility Decline in Indonesia: An Institutionalist Interpretation." International Family Planning Perspectives. 13(3): 90-5.

Hull, T.H. (2012). 'Fertility in Southeast Asia', Demographic Change in Southeast
Asia: Recent Histories and Future Directions. Pages 43–64. Ithaca, NY: Cornell Southeast
Asia Program Publications.

Hunter, T.M. (2010) 'Icons, Indexes, and Interpretants of a Balinese Ritual Artefact: The Pengajeg. In: Michaels, A. (ed.) Ritual Dynamics and the Science of Ritual. Vol. 4: Reflexivity, Media, and Visuality. Harrasowitz. Pages 505-36.

Jennaway, M. (2002) Sisters and Lovers: Women and Desire in Bali. Lanham: Rowman & Littlefield Publishers.

Jones, G.W., C.H. Leng & M. Mohamad (2009) Muslim-Non-Muslim Marriage: Political and Cultural Contestations in Southeast Asia. Singapore: Institute of Southeast Asian Studies.

Lovric, B.J.A. (1987) Rhetoric and Reality: The Hidden Nightmare; Myth and Magic as Representations and Reverberations of Morbid Realities. Unpublished Dissertation, University of Sydney.

Nakatani, A. (1995) Contested Time: Women's Work and Marriage in Bali. Unpublished Dissertation, University of Oxford.

Newland, L. (2001) "The Deployment of the Prosperous Family: Family Planning in West Java." Feminist Formations. 13(3): 22-48.

Parker, L. (2003) From Subjects to Citizens: Balinese Villagers in the Indonesian Nation-State. Copenhagen: NIAS Press.

Picard, M. (1996) Bali: Cultural Tourism and Touristic Culture. Singapore: Archipelago.

Shiraishi, S. (1997) Young Heroes: The Indonesian Family in Politics. Ithaca, NY: Cornell University Press.

Situmorang, A. (2011). 'Delayed Marriage among Lower Socio-economic Groups in an Indonesian Industrial City', in: Gavin W. Jones, Terence H. Hull and Maznah Mohamad (eds), Changing Marriage Patterns in Southeast Asia: Economic and Socio-cultural Dimensions. Pages 83–98. New York: Routledge.

Smith-Hefner, N.J. (2019) Islamizing intimacies: Youth, sexuality, and gender in contemporary Indonesia. Honolulu: University of Hawai'i Press.

Utomo, A.J., A. Reimondos, I.D. Utomo, P.F. McDonald & T.H. Hull (2016). 'Transition into Marriage in Greater Jakarta: Courtship, Parental Influence, and Self-choice Marriage'. Southeast Asia Research. 24(4):492–509.

Vickers, A. (1989) Bali; A Paradise Created. Berkeley & Singapore: Periplus Editions.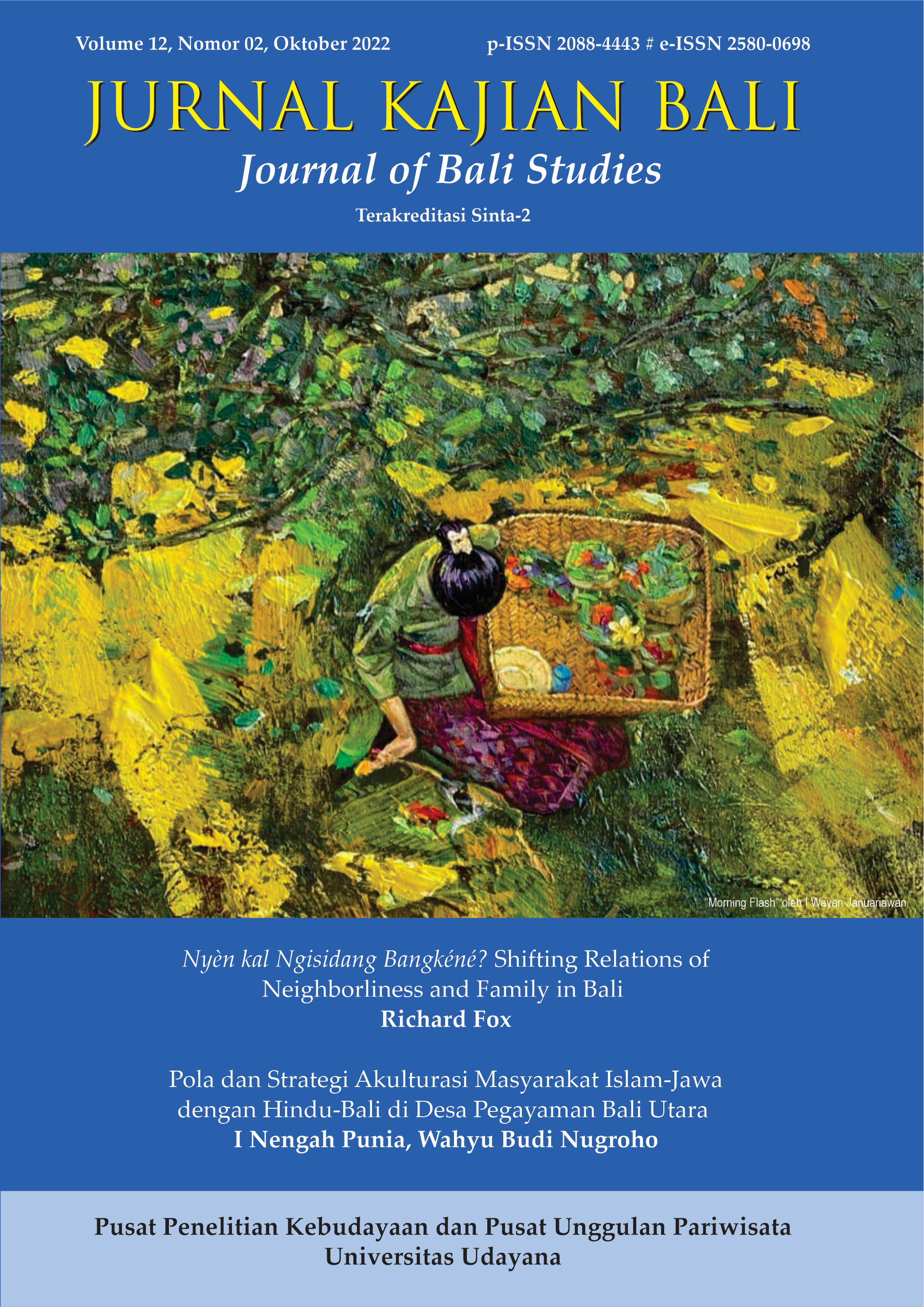 This work is licensed under a Creative Commons Attribution 4.0 International License.