Power and religion: Geertz position of present-day Bali
Ni Wayan Radita Novi Puspitasari

Universitas Udayana Denpasar
Abstract
This article analyzes the changes of religious - political power relations from the mid of 1950's to present-day Bali. Anthropologist Geertz stated that Balinese Hinduism is a "superstition", "rhetoric" and "state cult" that had been applied in the Negara as a theatre state. Within the conception of Hinduism by referring to the relation between the Divine God -Tri Murti and Tri Hita Karana, the Balinese society is believed in the relation between Gods, the people and its environment. Although in the post-colonial era, Balinese people are maintaining the power existence of the local kingdoms, mainly the system of warna. Through the accumulation of charisma, Geertz provided a concept that Negara was basically a state created by honor and ceremony. Thus, the democratic governmental system of Indonesia hardly reach the political arena within the Balinese society. As a result, through the self-awareness and the notion on equality, the Sudra could establish their role as an influential Balinese personage.


Downloads
Download data is not yet available.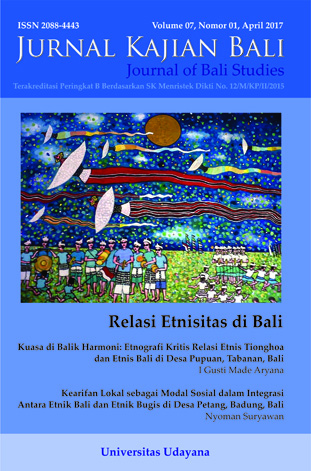 Keywords
the existence of power; religion; accumulation of charisma; negara; local tradition
This work is licensed under a
Creative Commons Attribution 4.0 International License
.