Kearifan Lokal sebagai Modal Sosial dalam Integrasi Antara Etnik Bali dan Etnik Bugis di Desa Petang, Badung, Bali
Nyoman Suryawan

IKIP Saraswati Tabanan
Abstract
Petang village that is administratively located in Badung regency keep its own uniqueness. In their communities who are largely Hindu, was found the Bugis Muslim citizens who live in harmony and peace up to now. So powerful built brotherly relations between the different ethnic cause them more familiar with the term behave Braya call. Writing this article aims in addition to knowing about the existence of ethnic Bugis in Angantiga, also understand the forms of local wisdom that can integrate between ethnic Bugis and ethnic Balinese. Data were collected through participant observation, in-depth interviews, and documentation. They were analysed by descriptive qualitative approach. The results showed that the close brotherhood relations between ethnic Balinese and ethnic Bugis in Angantiga cannot be separated from the historical factors related to the royal role (Puri) Carangsari that provides a place for residents in the area Bugis. In addition, integrating other factor is the marriage between citizens, cultural adoption, as well as good local knowledge associated with the value or social network that is implemented as a foundation or guidelines in their interaction with one another.
Downloads
Download data is not yet available.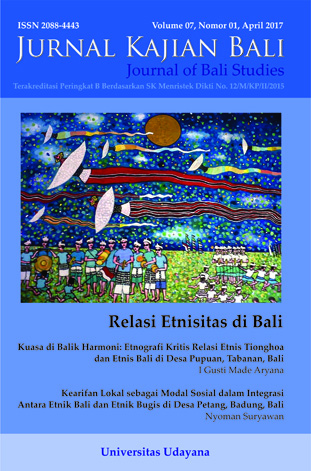 Keywords
local knowledge; social capital; integration; ethnic
This work is licensed under a
Creative Commons Attribution 4.0 International License
.