Interaksi Sosial Antarumat Beragama di Perumahan Bumi Dalung Permai Desa Dalung, Kuta Utara, Badung
Abstract
Abstract
Bumi Dalung Permai is an housing complex built in the early 1990s in Badung Regency. Accredited member of anBumi Dalung Permai public buldingt set of background,it is an the people of heterogen and multicultur, theybe possessed of different set of background etnick, joboccupation, level in society, tradition and religion. The living dynamics interfaith in Bumi Dalung Permai public bulding relatived settlement by agreement. The living dynamics Bumi Dalung Permai public bulding have two. The living dynamics intern that is the same interfaith, conflict and cooperation will it do. Conflict and cooperation proceed from different set an understating of religion. The living dynamics extern have enthusiasm united and tolerance. Conflict take palace beetween Hinduism with Muslims proceed from different set of interest. Conflict solution by medition and negotiationally so that conflictget muffied. Social interaction beetween the membersof religious community in Bumi Dalung Permai publicbulding in a general manner go well and harmonic, by means of celebration ritual ceremony and tradition, socialactivity, tradisi ngejot adaption be in possession conformitywith, symbols that is to be a means by members of religious community with the result that communication device, public area available as interaction area which is all accredited member of an association in a together manner although communitation.
Downloads
Download data is not yet available.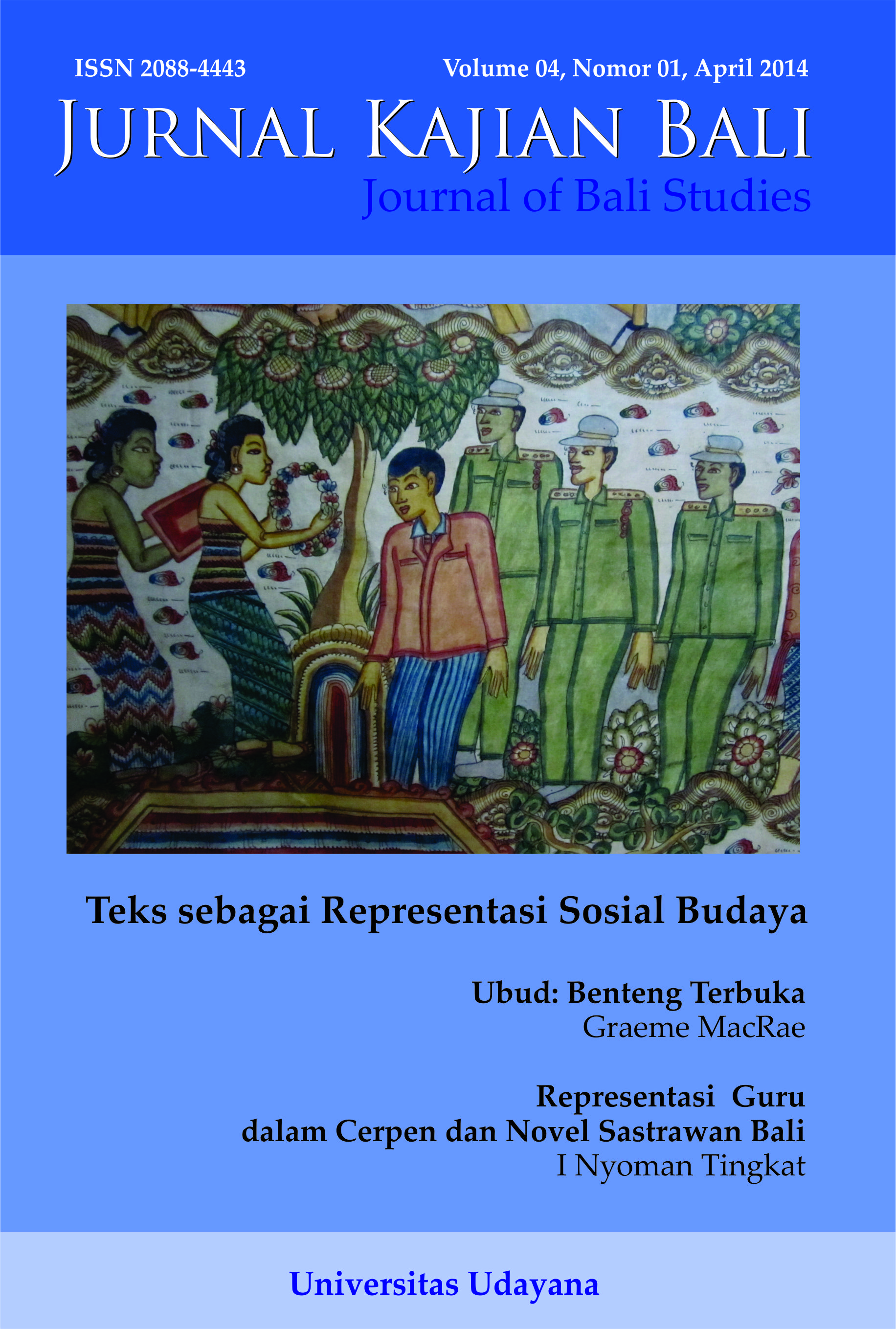 How to Cite
ALIFFIATI, Aliffiati. Interaksi Sosial Antarumat Beragama di Perumahan Bumi Dalung Permai Desa Dalung, Kuta Utara, Badung.
Jurnal Kajian Bali (Journal of Bali Studies)
, [S.l.], v. 4, n. 1, june 2014. ISSN 2580-0698. Available at: <
https://ojs.unud.ac.id/index.php/kajianbali/article/view/15715
>. Date accessed: 04 oct. 2023.
Keywords
social dynamics, social interaction, conflict

This work is licensed under a Creative Commons Attribution 4.0 International License.