STRATEGI PENGEMBANGAN USAHA PRODUKSI TEMPURA IKAN PADA SKALA USAHA RUMAH TANGGA (STUDI KASUS TEMPURA IKAN X KOTA DENPASAR, BALI)
Nur Zaenab Mentari Wirawan

Mahasiswa Jurusan Teknologi Industri Pertanian, Fakultas Teknologi Pertanian Unud

Agung Suryawan Wiranatha

Dosen Jurusan Teknologi Industri Pertanian, Fakultas Teknologi Pertanian Unud

Amna Hartiati

Dosen Jurusan Teknologi Industri Pertanian, Fakultas Teknologi Pertanian Unud
Abstract
The objectives of this study were to analyze the internal and external conditions, formulate the strategy and determine the priority strategy for business development of Tempura Fish X. Analysis of business development strategies was using a matrix SWOT (Strengths, Weakneses, Oppurtunities, and Threats), Quantitative analysis using EFE, IFE and IE matrix, and strategy priority analysis was using TOPSIS (Technique for Order of Preference by Similarity to Ideal Solution. The results show that there are 5 strengths, 5 weaknesses, 4 opportunities and 2 threats. The IFE matrix analysis value (Internal Factor Evaluation) is 2.96 and the EFE (External Factor Evaluation) matrix is ??3,006. The value indicates a moderate position on the IE matrix (Internal External). The strategy proposed are to develop a strategy consisting of intensive strategy (market penetration, market development, and product development), and integrative strategies (backward integration, forward integration and horizontal integration). Based on SWOT analysis there are 8 alternative strategies that can be recommended to development Tempura fish X business. TOPSIS analysis results with the value of the proximity of each alternative to the ideal solution is 1,00 namely expand the market by selling products to small restaurants, school cafeteria, and also food stalls.
Keywords: Business development strategy, tempura fish, SWOT, TOPSIS
Downloads
Download data is not yet available.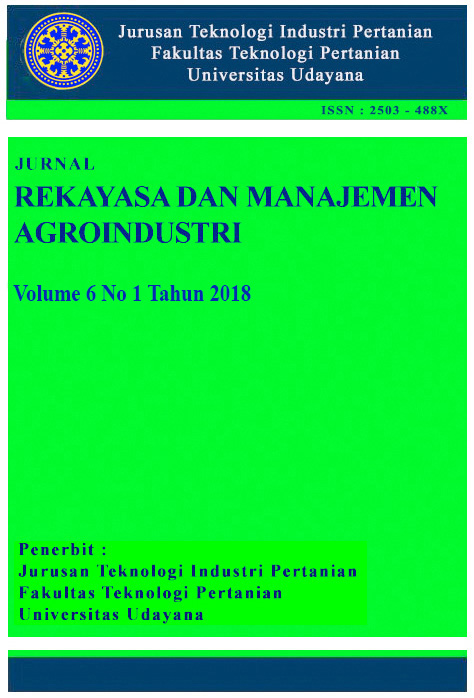 Ciptaan disebarluaskan di bawah Lisensi Creative Commons Atribusi-BerbagiSerupa 4.0 Internasional.
Seluruh artikel di Jurnal ini dapat disebarluaskan atas tetap mencantumkan sumber yang syah. Identitas judul artikel tidak boleh dihilangkan. Penerbit tidak bertangggung jawab terhadap naskah yang dipublikasikan. Isi artikel menjadi tanggung jawab Penulis.