PENGARUH JENIS PELARUT PADA METODE MASERASI TERHADAP KARAKTERISTIK EKSTRAK Sargassum polycystum
Irena Savitri

Mahasiswa Jurusan Teknologi Industri Pertanian, Fakultas Teknologi Pertanian Unud

Lutfi Suhendra

Dosen Jurusan Teknologi Industri Pertanian, Fakultas Teknologi Pertanian Unud

Ni Made Wartini

Dosen Jurusan Teknologi Industri Pertanian, Fakultas Teknologi Pertanian Unud
Abstract
Sargassum polycystum is one of the type of brown algae that has potential as an antioxidant and natural dye. The aims of this study were to know the effect of solvent type to the characteristic of Sargassum polycystum extract on maseration method and to determine the best solvent for Sargassum polycystum extract on total phenol, total carotenoids, and color intensity. The experiment in this study used Randomized Block Design with single factor. The solvent's type factor consisting of 5 solvent, namely methanol, ethanol, acetone, isopropyl alcohol, and ethyl acetate. The experiments are grouped into 4 groups based on the time of implementation, in order to obtain 20 units of experiments. Objective variables observed are rendement, total phenol content, total carotenoids content, and color intensity. The result showed that the type of solvent affected significantly (P<0,01) on rendement, total phenol, total carotenoid, brightness level (L*), and yellowish level (b*), but did not affect on redness level (a*). Ethyl acetate is the best solvent to  produce Sargassum polycystum extract with 0,91% rendemen, 2,61 mgGAE/100g total phenol content, total carotenoid content about 0,23%, and color intensity with brightness level (L*) 5,17, redness level (a*) -3,00 and yellowish level (b *) 37,28.
Keywords:solvent, extract characteristic, Sargassum polycystum.
Downloads
Download data is not yet available.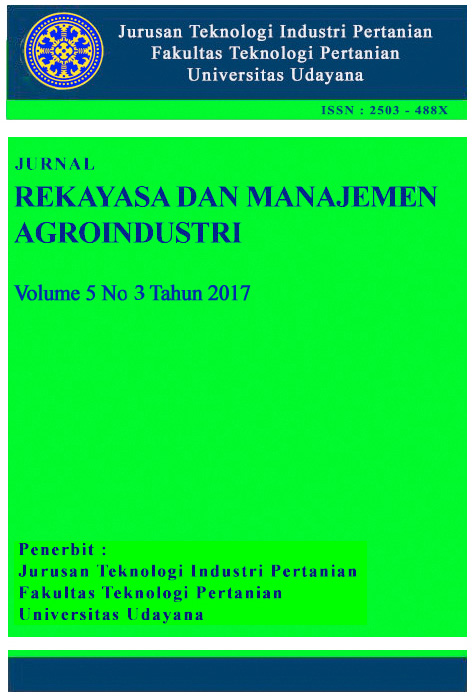 How to Cite
SAVITRI, Irena; SUHENDRA, Lutfi; WARTINI, Ni Made. PENGARUH JENIS PELARUT PADA METODE MASERASI TERHADAP KARAKTERISTIK EKSTRAK Sargassum polycystum.
JURNAL REKAYASA DAN MANAJEMEN AGROINDUSTRI
, [S.l.], v. 5, n. 3, p. 93-101, nov. 2017. ISSN 2503-488X. Available at: <
https://ojs.unud.ac.id/index.php/jtip/article/view/35504
>. Date accessed: 28 oct. 2021.

Ciptaan disebarluaskan di bawah Lisensi Creative Commons Atribusi-BerbagiSerupa 4.0 Internasional.
Seluruh artikel di Jurnal ini dapat disebarluaskan atas tetap mencantumkan sumber yang syah. Identitas judul artikel tidak boleh dihilangkan. Penerbit tidak bertangggung jawab terhadap naskah yang dipublikasikan. Isi artikel menjadi tanggung jawab Penulis.