KARAKTERISTIK BIOPLASTIK ALGINAT DARI RUMPUT LAUT Ulva lactuca (TINJAUAN SUHU DAN LAMA GELATINISASI)
Ni Luh Gede Sari Dewi

Mahasiswa Jurusan Teknologi Industri Pertanian, Fakultas Teknologi Pertanian, UNUD

Bambang Admadi

Dosen Jurusan Teknologi Industri Pertanian, Fakultas Teknologi Pertanian, UNUD

Amna Hartiati

Dosen Jurusan Teknologi Industri Pertanian, Fakultas Teknologi Pertanian, UNUD
Abstract
The objectives of the research were to know the effect of temperature and duration of gelatinization against bioplastic characteristic of seaweed Ulvalactuca, also to know the appropriate level off temperature and duration of gelatinization to produce good characteristic of bioplastic Ulvalactuca. This study used a randomized block group factorial design. The first factor is temperature of gelatinization which tried were 60 ± °C, 70 ± °C, and 80 ± °C. The second factor of gelatinization duration consists of 3 levels ie 5, 10, and 15 minutes bath Experiment performed hearts 2 Group that sotamed 18 Unit experiment variable. Observed variables of biodegradability, bioplastic thickness, volume bioplastic development, water vapor absorption, and transformation of air vapor / vapor water permeability (WVP). The results showed that the temperature and duration of gelatinization and its interaction did not have a real effect on air absorption and air vaporization transformation, but the temperature of gelatinization had an effect on the thickness, the bioplastic development volume and the biodegradation strength The gelatinization temperature of 80  1 ° C and 5 Minutes gelatinization time alginate bioplastic From seaweed Ulva lactuca Best with characteristics: The presenase of mass reduction as much as 0,37 %, water vapor transformation with mass increase about 0,0182  g / cm², thickness 0,050 mm, bioplastic volume development 10,45%, and water vapor absorption 3,23% / minute. 
Keywords:bioplastic,Ulvalactuca, temperature and duration of gelatinization
Downloads
Download data is not yet available.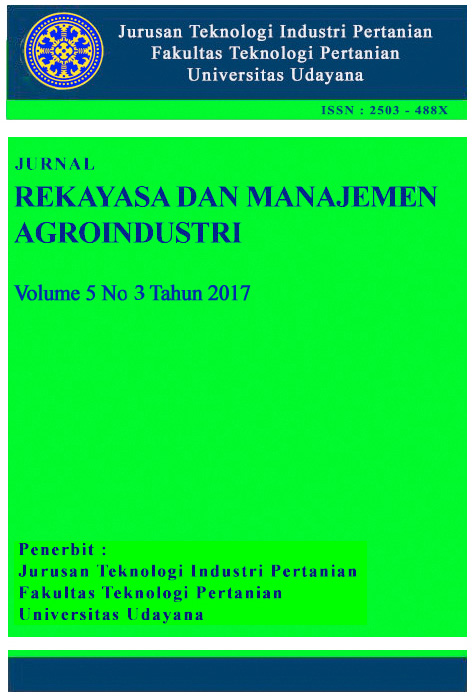 How to Cite
SARI DEWI, Ni Luh Gede; ADMADI, Bambang; HARTIATI, Amna. KARAKTERISTIK BIOPLASTIK ALGINAT DARI RUMPUT LAUT Ulva lactuca (TINJAUAN SUHU DAN LAMA GELATINISASI).
JURNAL REKAYASA DAN MANAJEMEN AGROINDUSTRI
, [S.l.], v. 5, n. 3, p. 66-73, nov. 2017. ISSN 2503-488X. Available at: <
https://ojs.unud.ac.id/index.php/jtip/article/view/35255
>. Date accessed: 25 feb. 2021.

Ciptaan disebarluaskan di bawah Lisensi Creative Commons Atribusi-BerbagiSerupa 4.0 Internasional.
Seluruh artikel di Jurnal ini dapat disebarluaskan atas tetap mencantumkan sumber yang syah. Identitas judul artikel tidak boleh dihilangkan. Penerbit tidak bertangggung jawab terhadap naskah yang dipublikasikan. Isi artikel menjadi tanggung jawab Penulis.