PENGARUH LAMA PERENDAMAN DAN PEREBUSAN TERHADAP RESIDU INSEKTISIDA BERBAHAN AKTIF KLORPIRIFOS DAN NILAI NUTRISI KACANG PANJANG (Vigna sinensis)
R. Ag. Ay. Ag. Bayu Chandraliawathy

JURUSAN TEKNOLOGI INDUSTRI PERTANIAN FAKULTAS TEKNOLOGI PERTANIAN UNIVERSITAS UDAYANA

I. G. A. Lani Triani

JURUSAN TEKNOLOGI INDUSTRI PERTANIAN FAKULTAS TEKNOLOGI PERTANIAN UNIVERSITAS UDAYANA

Nyoman Semadi Antara

JURUSAN TEKNOLOGI INDUSTRI PERTANIAN FAKULTAS TEKNOLOGI PERTANIAN UNIVERSITAS UDAYANA
Abstract
The aims of the research were to determine the effect of soaking  and boiling time on the
chlorpyrifos  residu level  and the nutrition value,  especially Vitamin C and crude fiber of long bean
(Vigna sinensis). The other objective of the research was to find out the right soaking and boiling time
to reduce chlorpyrifos  residu and produce the good nutrition  of long bean. The randomized block
design was used in the experiment which the factorial pattern of the experiment was done with two
factors, namely soaking time and boiling time. The result showed that the interaction treatment of
soaking and boiling time influenced the chlorpyrifos  residu  and the nutrition value of long bean. The
soaking time for 10 minutes and boiling time for 5 minutes could decrease the  level of chlorpyrifos to
0,0427 ppm  from  0,2364 ppm  of fresh  long bean. The vitamin C and crude fiber  content of the long
bean were 41,72 mg/g and 1,55% respectively. The color, texture, and the taste of the long bean were
dark green, soft, and the panelist were still like the product.

Keywords: chlorpyrifos residu, long beans, soaking, boiling, vitamin C, and crude fiber.
Downloads
Download data is not yet available.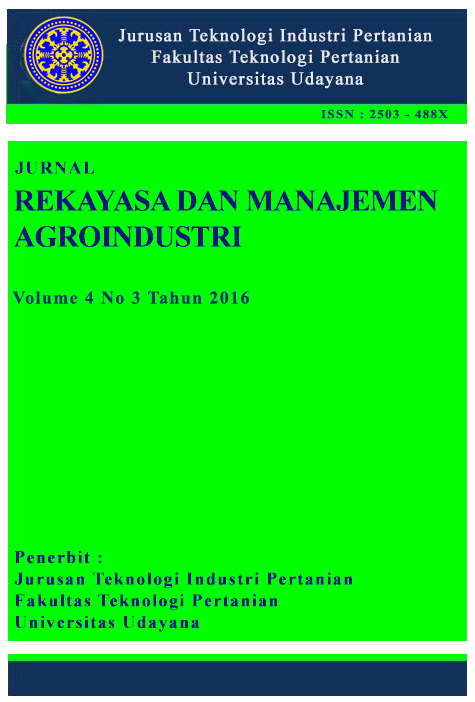 How to Cite
BAYU CHANDRALIAWATHY, R. Ag. Ay. Ag.; LANI TRIANI, I. G. A.; SEMADI ANTARA, Nyoman. PENGARUH LAMA PERENDAMAN DAN PEREBUSAN TERHADAP RESIDU INSEKTISIDA BERBAHAN AKTIF KLORPIRIFOS DAN NILAI NUTRISI KACANG PANJANG (Vigna sinensis).
JURNAL REKAYASA DAN MANAJEMEN AGROINDUSTRI
, [S.l.], v. 4, n. 3, p. 7 - 16, dec. 2016. ISSN 2503-488X. Available at: <
https://ojs.unud.ac.id/index.php/jtip/article/view/25589
>. Date accessed: 25 june 2021.

Ciptaan disebarluaskan di bawah Lisensi Creative Commons Atribusi-BerbagiSerupa 4.0 Internasional.
Seluruh artikel di Jurnal ini dapat disebarluaskan atas tetap mencantumkan sumber yang syah. Identitas judul artikel tidak boleh dihilangkan. Penerbit tidak bertangggung jawab terhadap naskah yang dipublikasikan. Isi artikel menjadi tanggung jawab Penulis.