Effect of Fungal Inoculation to Resin Content on Gaharu Plants (Gyrinops Versteegii (Gilg.) Domke)
I Made Mega

Department of Agroecotechnologi, Faculty of Agriculture, Udayana University, Denpasar, Bali 80232, Indonesia

I Wayan Nuarsa

Department of Agroecotechnologi, Faculty of Agriculture, Udayana University, Denpasar, Bali 80232, Indonesia
Abstract
One of the commodities of non-timber forest products (NTFPs) is agarwood sapwood which has high economic value as an export commodity, as well as a good source of income for the community. Agarwood sapwood is an aromatic substance in the form of a lump that is found between wood cells in a variety of distinctive shapes and colors and has a resin content (mastic). Resin is a secondary metabolite compound produced by agarwood plants due to injury or infection by microbes. One of the microbes that infects the agarwood plant is a variety of fungi. This study aims to obtain a type of fungi that is effective in the formation of resin compounds in agarwood plants. This research is a field experiment with randomized block design. The treatments that experimented were mushroom inoculation, namely: J0 (without fungal inoculation), JF (Fusarium solani mushroom inoculation), JR (inoculation of Rhisopus sp), JT (inoculation of Trichoderma sp). Each treatment was repeated 4 times. Parameters observed were: sap color, sap smell, infection width and length, and resin content in sapwood (%). Data were analyzed statistically by variance test (ANOVA). If the treatment has a significant effect, followed by a BNT test at the level of 5%. The results showed that the treatment of fungi inoculation significantly affected the width of the infection and the sap content of sapwood, while the other parameters had no significant effect. The best treatment was obtained in JT  (inoculation of mushroom Trichoderma sp.) with the results in the form of sap with: the color of the sap ranged from brown to blackish brown; fragrant aroma, infection length (2.39 cm) and infection width (1.11 cm), and resin content of 7.92%.
Downloads
Download data is not yet available.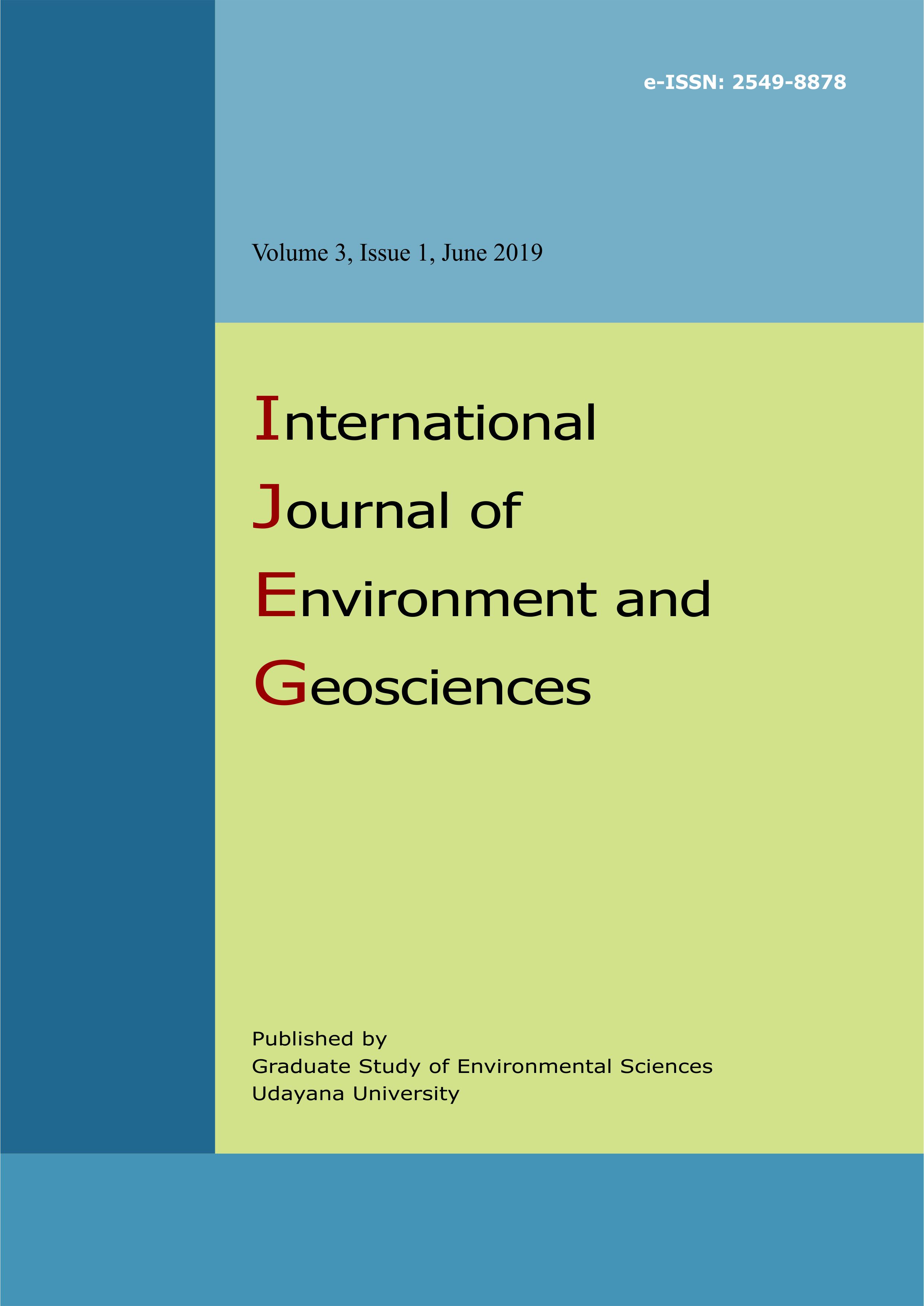 Authors who publish with this journal agree to the following terms:
All articles published by International Journal of Environment and Geosciences (IJEG) and Graduate Study of Environmental Sciences, Udayana University are made available under an open access license worldwide immediately. This means everyone has free and unlimited access to the full-text of all articles published in International Journal of Environment and Geosciences (IJEG), and everyone is free to re-use the published material given proper accreditation/citation of the original publication. Open access publication is supported by authors' institutes or research funding agency by payment of a comparatively article processing charge for accepted articles (See Author Fees). International Journal of Environment and Geosciences (IJEG) and Graduate Study of Environmental Sciences, Udayana University publish articles under the Creative Commons Attribution License.
Authors are able to enter into separate, additional contractual arrangements for the non-exclusive distribution of the journal's published version of the work (e.g., post it to an institutional repository or publish it in a book), with an acknowledgement of its initial publication in this journal.
Authors are permitted and encouraged to post their work online (e.g., in institutional repositories or on their website) prior to and during the submission process, as it can lead to productive exchanges, as well as earlier and greater citation of published work (See The Effect of Open Access).