KAJIAN PENGHEMATAN AIR IRIGASI PADA METODE SYSTEM OF RICE INTENSIFICATION (SRI) DAN tEKNIK IRIGASI BERSELANG (MGENYATIN) PADA BIDUDAYA PADI (STudi Kasus di Subak Sigaran)
I Kadek Andrie Prasetya

Jurusan Teknik Pertanian, Fakultas Teknologi Pertanian, Universitas Udayana

I Wayan Tika

Jurusan Teknik Pertanian, Fakultas Teknologi Pertanian, Universitas Udayana
Abstract
This research was conducted to compare the reducing of irrigation water from some cultivation, cultivation model were System of Rice Intensification method (SRI), ngenyatin technique and the conventional cultivation, as well as compared the productivity of rice plants cultivation. This research consists of four treatments with three repetitions, which is conventional treatment, SRI method, Ngenyatin technique, and the combination of SRI method and Ngenyatin technique. Parameters that observed in this research were: the needs of irrigation water, the reducing of irrigation water each treatments compared to K0, the weight of clumps, the seeds weight per clump, the stalks length, the seeds amount per stalk, the amount of productive seeds, the rice weight per clump, the percentage of rice based on its amount, the percentage of rice based on its weight, the weight of 100 grains and the result rice plants production. The research results show significant differences with cultivation technique between the treatments that influence to the thrift of irrigation water in every treatments and influence to the rice plants productivity. K3 treatment that applied the SRI method that combined with Ngenyatin system which is the best treatment by minimize the using of irrigation water up to 58% compared than K0 treatment that applied conventional planting and produced 8.85ton/ha productivity compared with other treatments.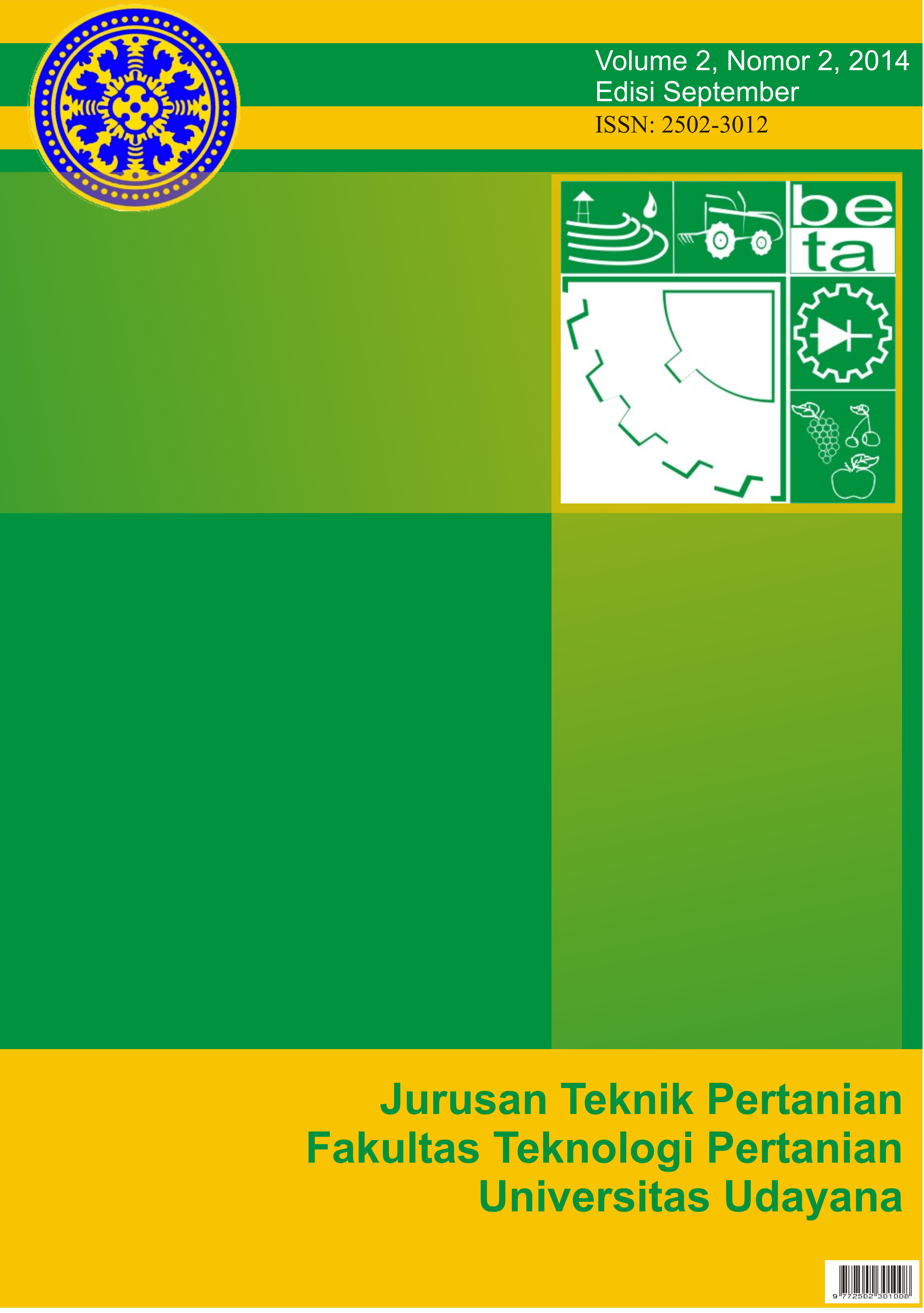 How to Cite
PRASETYA, I Kadek Andrie; TIKA, I Wayan. KAJIAN PENGHEMATAN AIR IRIGASI PADA METODE SYSTEM OF RICE INTENSIFICATION (SRI) DAN tEKNIK IRIGASI BERSELANG (MGENYATIN) PADA BIDUDAYA PADI (STudi Kasus di Subak Sigaran).
Jurnal BETA (Biosistem dan Teknik Pertanian)
, [S.l.], v. 2, n. 2, aug. 2014. ISSN 2502-3012. Available at: <
https://ojs.unud.ac.id/index.php/beta/article/view/16650
>. Date accessed: 21 apr. 2019.
Keywords
SRI, irigasi Berselang, Ngenyatin