SIKAP DAN MOTIVASI PRAMUWISATA BALI BERBAHASA KOREA TERHADAP WISATAWAN KOREA SELATAN KE BALI
Putu Yolanda Yuniari

Program Studi Industri Perjalanan Wisata, Fakultas Pariwisata, Universitas Udayana

I Ketut Suwena

Program Studi Industri Perjalanan Wisata, Fakultas Pariwisata, Universitas Udayana

I Gusti Putu Bagus Sasrawan Mananda

Program Studi Industri Perjalanan Wisata, Fakultas Pariwisata, Universitas Udayana
Abstract
Bali has an attractive spot for South Korean tourists who are traveling to see their beautiful sceneries. Based on visitor statistics report as a result, the number of South Korean tourists has decreased significantly, and make an impact to tour guides in Bali. Tour guide becomes one of important profession to promote Bali as a tourist destination. The objectives of this research are to recognize a Korean tour guide's attitude towards South Korean tourists in Bali and the motivation that makes them survived in this industry. This research applies a qualitative descriptive analysis method with Likert scales. Its samples have chosen by purposive sampling with the amount of 100 tour guides in Bali. Data collection techniques are conducted using observation, questionnaires, interviews, literature studies, and documentation. The results of the research are divided into three indicators namely, cognitive, affective, conative and it shows from attitude variable, the indicator dominates with very agree statement is few of South Korea tourists who visit Bali with score 4.11. Meanwhile, in motivation variable are divided into two indicators namely pull and push factor. The results are tour guides becomes an activity to support their family is a pull factor and there is job opportunity become a tour guide is a push factor indicator.
Downloads
Download data is not yet available.
References
Anonim. Undang Undang tentang Kepariwisataan, UU No. 10 Tahun 2009. Jakarta: Direktorat Jenderal Hukum dan HAM.
Azwar, Saifudin. 2010. Sikap Manusia Teori dan Pengukurannya. Yogyakarta: Pustaka Pelajar.
"Banyaknya Wisatawan Mancanegara yang Datang Langsung ke Bali Menurut Kebangsaan, 2014-2018", (2 September, 2019), (bali.bps.go.id), Tersedia: https://bali.bps.go.id/statictable/2018/02/09/27/jumlah-wisatawan-mancanegara-yang-datang-langsung-ke-bali-menurut-kebangsaan-2013-2017.html (diakses: 5 Mei 2019)
Pitana, & Diarta, 2003. Pengantar Ilmu Pariwisata. Yogyakarta.
Suwena, Widyatmaja, 2010. Pengetahuan Dasar Ilmu Pariwisata. Denpasar:Udayana University Press.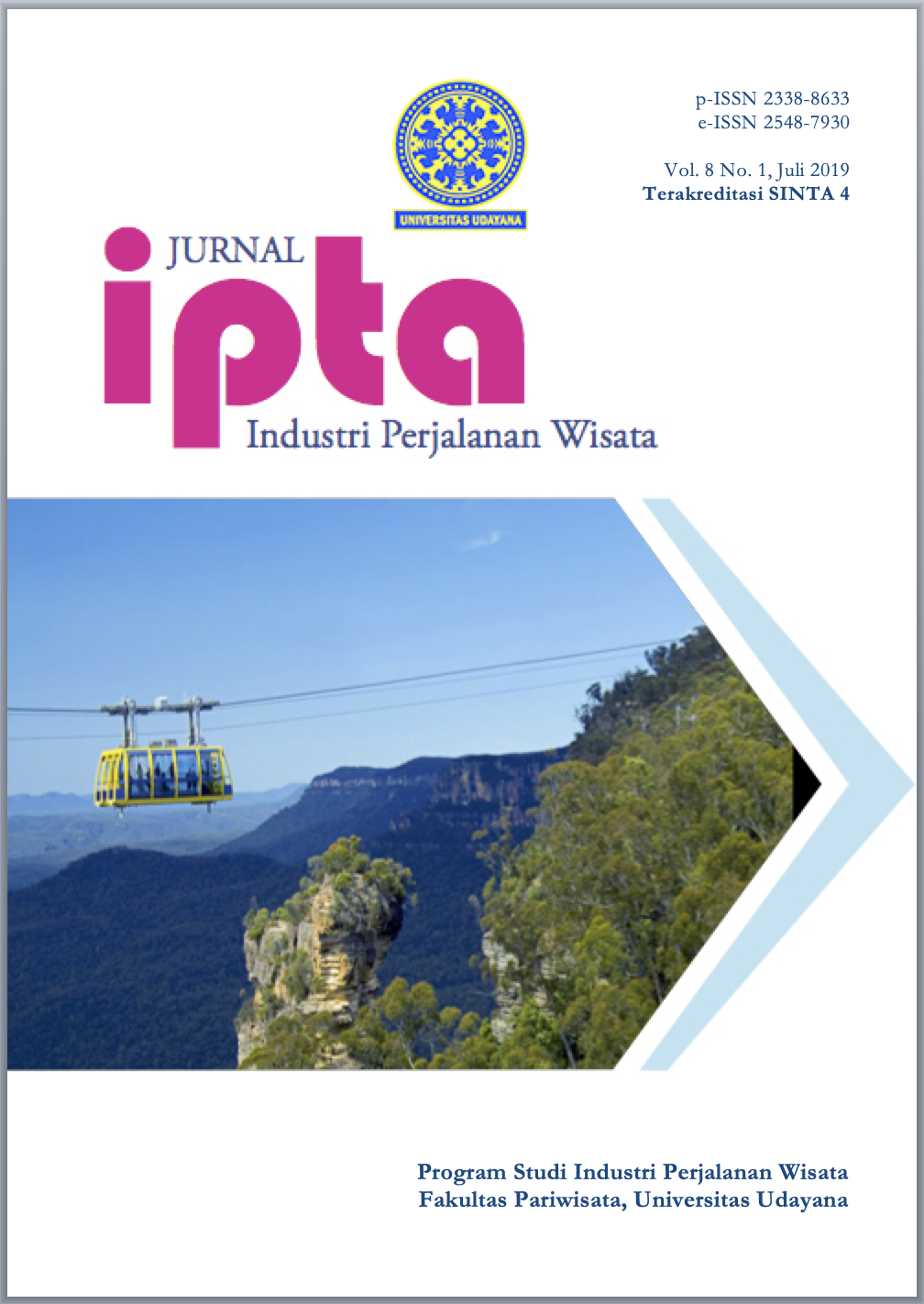 This work is licensed under a Creative Commons Attribution-ShareAlike 4.0 International License.