RESPONSE OF PURPLE SWEET POTATO (Ipomoea batatas L.), NONI (Morinda citrifolia L.), AND BETLE (Piper betle L.) LEAVES ADDITIONAL IN DIETS ON PERFORMANCE OF BALI DUCK
Trisnadewi A. A. A. S.

Fakultas Peternakan Universitas Udayana

T. G. B. Yadnya

Fakultas Peternakan Universitas Udayana

A. A. P. P. Wibawa

Fakultas Peternakan Universitas Udayana

I M. Mudita

Fakultas Peternakan Universitas Udayana
Abstract
The experiment was carried out to study the response of additional leaves of purple sweet potato (Ipomoea batatas
L.), noni (Morinda citrifolia L.) and betle (Piper betle L.) in diets on performance of bali duck. The experiment
used completely randomized design with four treatments consists of control diet A (diet without leaves), diet B (diet
containing with purple sweet potato leaf, diet C (diet containing noni leaf), and diet D (diet containing beetle leaf).
Each treatment conducted with three replications and each replications consist of five ducks. The variables observed
were feed consumption, antioxidant consumption, body gain, and FCR and of bali ducks. Feed consumption of bali
ducks in treatment B, C and D were significantly lower, however, the antioxidant consumption significantly higher
than control diet. In contrast, body weight gain in treatments B, C and D increased significantly but decreased FCR
compared to treatment A. The treatments of B, C, and D can increase the carcass weight, and carcass percentage
significantly. These were offered to bali ducks could increase percentage of meat and bone but significantly decrease
fat of carcass including their skin for bali ducks fed with A (control treatment). It can concluded that the leaves of
purple sweet potato, noni, and betle leaf in diets improved the performance and carcass of bali ducks.
Downloads
Download data is not yet available.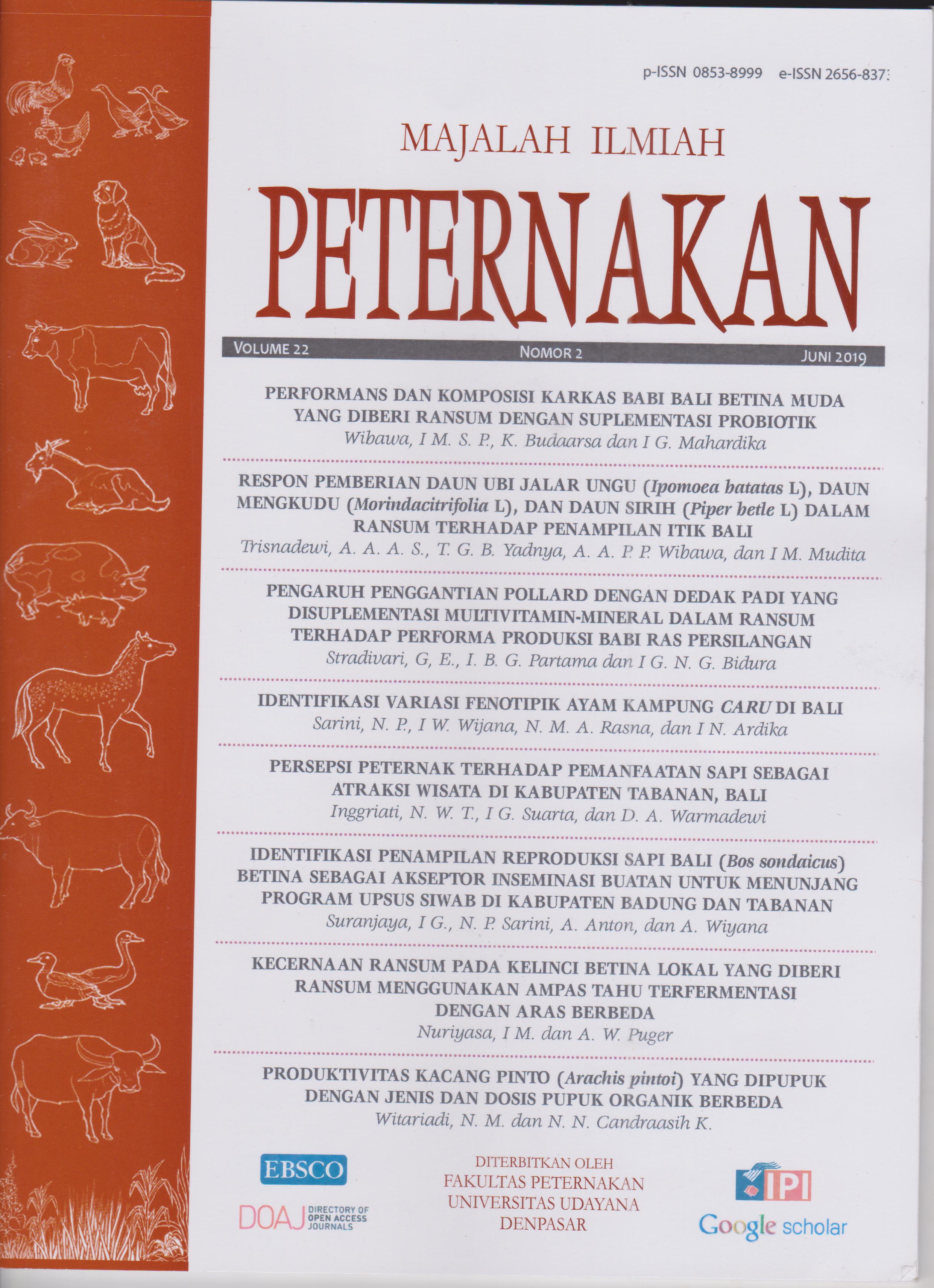 This work is licensed under a
Creative Commons Attribution 4.0 International License
.