OPTIMASI SUMBER DAYA ALAM MELALUI TEKNOLOGI TEPAT GUNA DALAM BIDANG BISNIS UNTUK MASYARAKAT DUSUN PATEH KECAMATAN SELAT KABUPATEN KARANGASEM
OPTIMASI SUMBER DAYA ALAM MELALUI TEKNOLOGI TEPAT GUNA DALAM BIDANG BISNIS UNTUK MASYARAKAT DUSUN PATEH KECAMATAN SELAT KABUPATEN KARANGASEM
I.G.K. Sukadana

I.G.N.P. `Tenaya

I.M. Astika
Abstract
Pateh and Wates Kaja hamlets are located on the hillside slopes. 180 family heads mostly live from
agriculture. Unavailability of clean water in both villages, low public awareness on health and environmental
hygiene, low community productivity, waterfall Jaga Satru not yet organized and published as a tourist
attraction, the selling rate of salak Bali is low. Program achievements is, increasing public health with
adequate clean water, cleanliness of the environment and counseling clean and healthy lifestyle. Increase
public knowledge with the availability of reading books and the reading room facilities. Increased
community productivity. Cost efficiency through assistance and introduction of hydram pump technology.
Results of Activities is clean water system in Pateh hamlet with hydram pump method has been realized, the
evaluation results show the amount of water that is compiled to the location of 43,200 liters / day. Every
person needs water every day 80 liters / day then enough for 540 people or 108 families. Clean water system
gravity method in Wates Kaja hamlet has been done well and water distribution more evenly. Livestock health services achievement of 30 cattle. Reforestation of 100 coconut tree daksina has been done in the
waterfall environment. Publication activity Jaga Satru waterfall tour with balihoo method has been done and
foreign tourist visits have increased by 100%. Environmental hygiene activities featuring 3 pieces of waste
bins to collect inorganic waste. Making Master Plant tour waterfall keep 100% done.
Downloads
Download data is not yet available.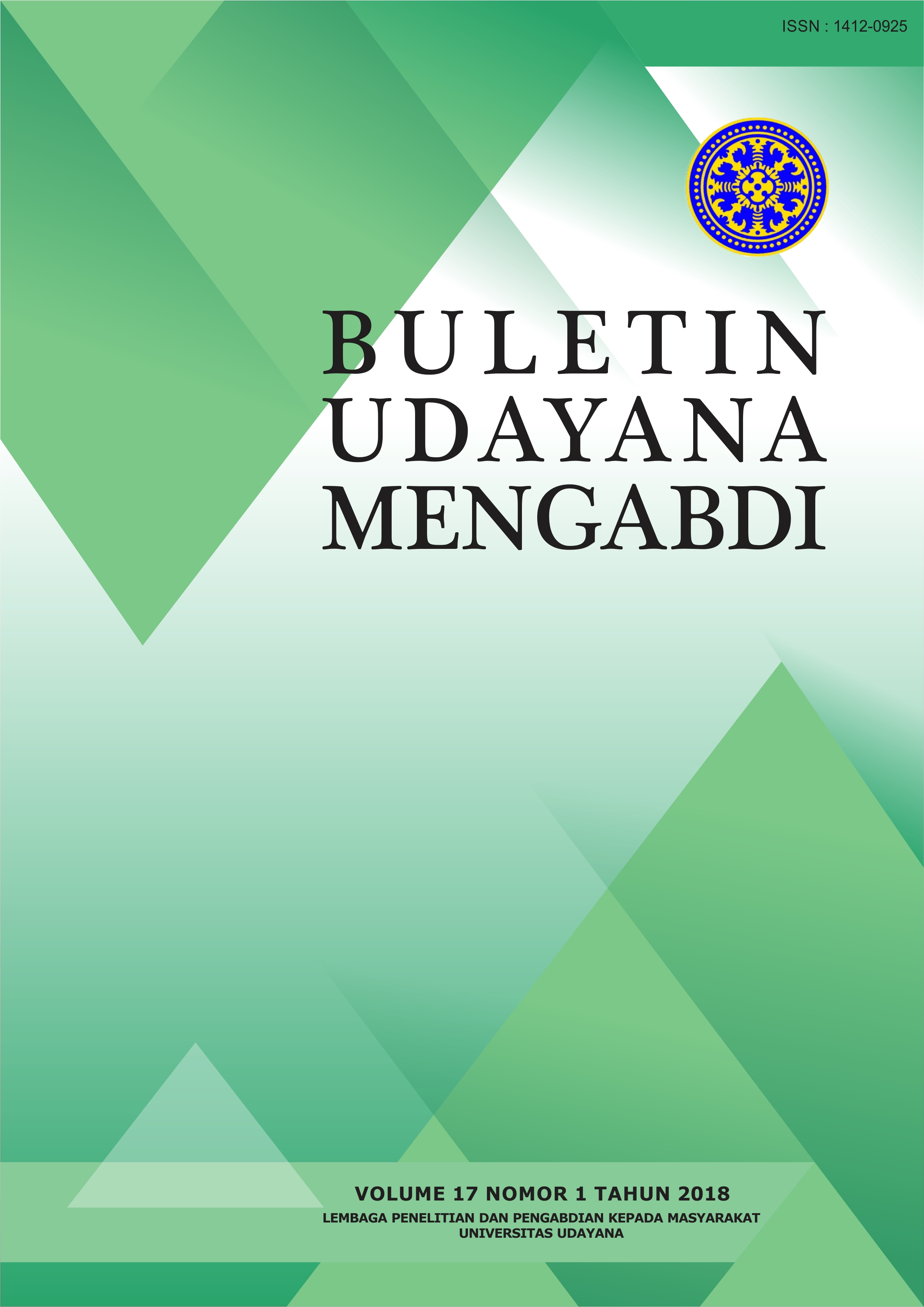 This work is licensed under a Creative Commons Attribution-ShareAlike 4.0 International License.