PENERAPAN TEKNOLOGI SILASE RANSUM KOMPLIT DALAM UPAYA MENGATASI KEKURANGAN PAKAN PADA MUSIM KEMARAU DI DUSUN GELIANG DESA PEMPATAN
PENERAPAN TEKNOLOGI SILASE RANSUM KOMPLIT DALAM UPAYA MENGATASI KEKURANGAN PAKAN PADA MUSIM KEMARAU DI DUSUN GELIANG DESA PEMPATAN
I.G.L.O. Cakra

B.R.T. Putri

I.K. Budaarsa

N.M.S. Sukmawati

A.A.P.P. Wibawa
Abstract
Pempatan village located at 600-1100 m altitude with annual rainfall average 2000-2500 mm and minimum
temperature 270C and maximum 360C. Generally, the basic livelihood of the Pempatan villagers is from
cattle livestock. Forage production in the dry season is very low and tend to shortage of forage, while in the
rainy season is excess of forage. The feeding only from fresh forage, where the existence of forage depend on
the season, so in the dry season generally shortage of forage and could decrease the cattle productivity. Based
on the problems it is necessary to explanation about technology of complete ration of silage to effort the
shortage of feed in the dry season at Geliang, Pempatan Village. The community services activity attend by
25 people, 16 people from the breeder, and the rest from the students. Based on the results of community
services activity and interviews with the livestock groups found that Geliang Lestari group has potential to
develop, it could be seen from the seriousness of the participants to attend the community services and the
feed demonstrations with well understood and accepted. In this activity, was introduced complete ration
silage and demonstrated the offering for cattle. Based on the results of the community services activity, it
could be concluded that bali cattle is possible for developing in Geliang Lestari Sustainable Livestock Group.
The development of the livestock population must be followed by supplies of feed through the processing
and storage in complete ration silage.
Downloads
Download data is not yet available.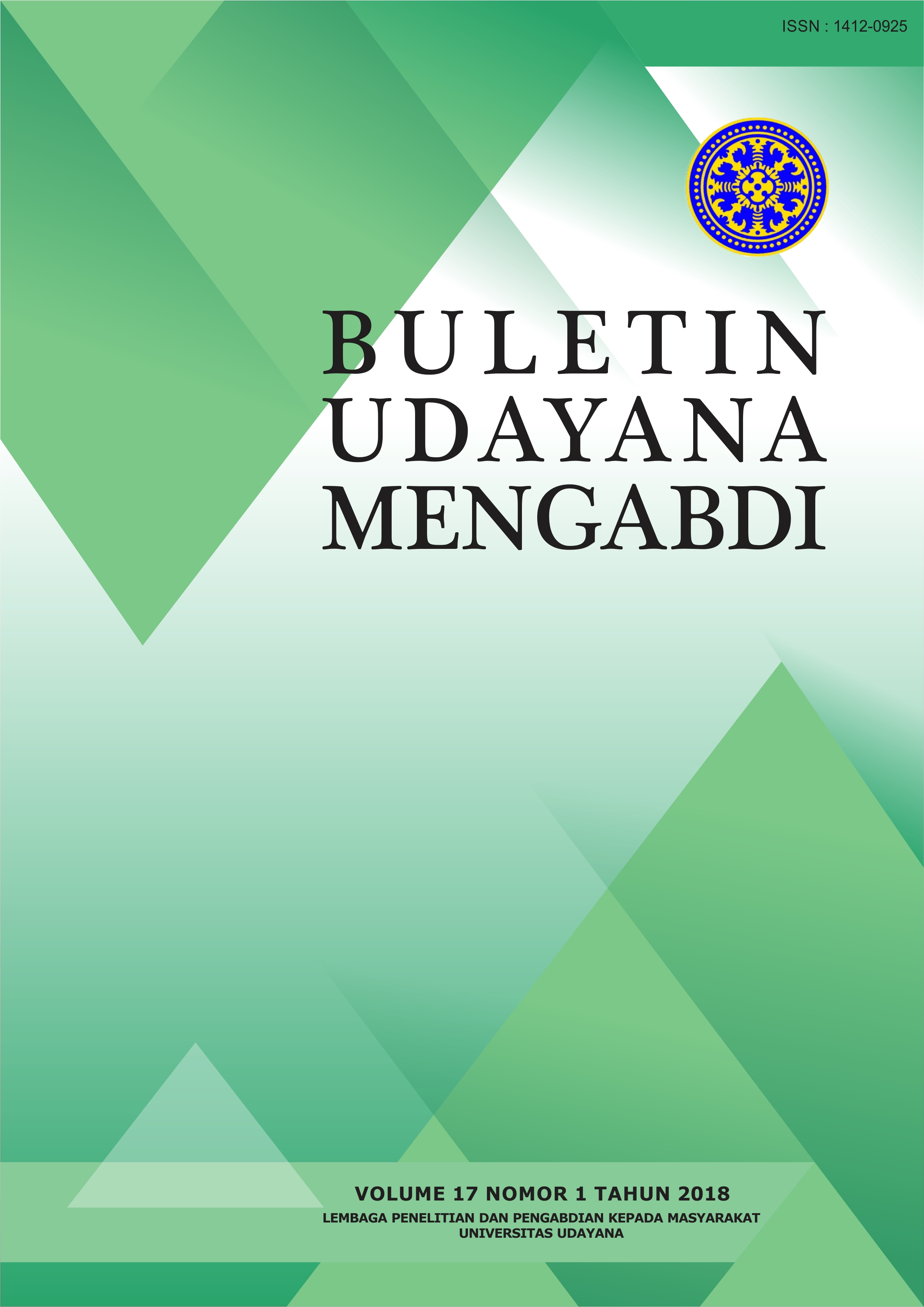 This work is licensed under a Creative Commons Attribution-ShareAlike 4.0 International License.