MODIFICATION OF WORKSTATION REDUCE MUSCULOSKELETAL COMPLAINTS AND IMPROVE WORK PRODUCTIVITY DURING THE PROCESS CHICKEN GUT CRACKERS PACKAGING IN DENPASAR
Komang Angga Prihastini

Magister Ergonomi Fisiologi Kerja Unud

Dewa Putu Sutjana

Indah Sri Handari Adiputra

IB Alit Swamardika

Susy Purnawati

Nyoman Sutarja
Abstract
Chicken gut crackers are foods that are sold in many restaurants and stalls. The process of making chicken gut crackers is through several stages, such as washing, frying and packing. In those processes, there are some ergonomic problems, especially in the packaging process. The packaging process is done by sitting on the short chair with bent body position and cause discomfort. To overcome these problems then the sitting work attitude is changed based on the anthropometry of workers that refers to the principle of ergonomics.               The study was conducted in March 2017. The design of this study used the treatment by subject design involving 10 samples. Intermediate intervals before treatment and after treatment were given washing out for two days. The study was conducted in home industry located at West Teuku Umar Street. The measured data were the workload seen from the work pulse, enhancement in musculoskeletal complaints recorded with Nordic Body Map questionnaire and work productivity.
               The results showed that decreased of musculoskeletal complaints by 17.30% (p<0.05), and increased of the productivity by 39.35% (p<0.05). The decrease of work intensity and musculoskeletal complaints can increase the quality of workers' health and increase the workers' productivity.
               Based on the discussion, it can be concluded that the use of chairs and tables according to anthropometry can reduce workload, musculoskeletal complaints, and increase work productivity. So that can be expected to the packaging workers to use the better chairs and tables can minimize the complaints caused by the work process.
Downloads
Download data is not yet available.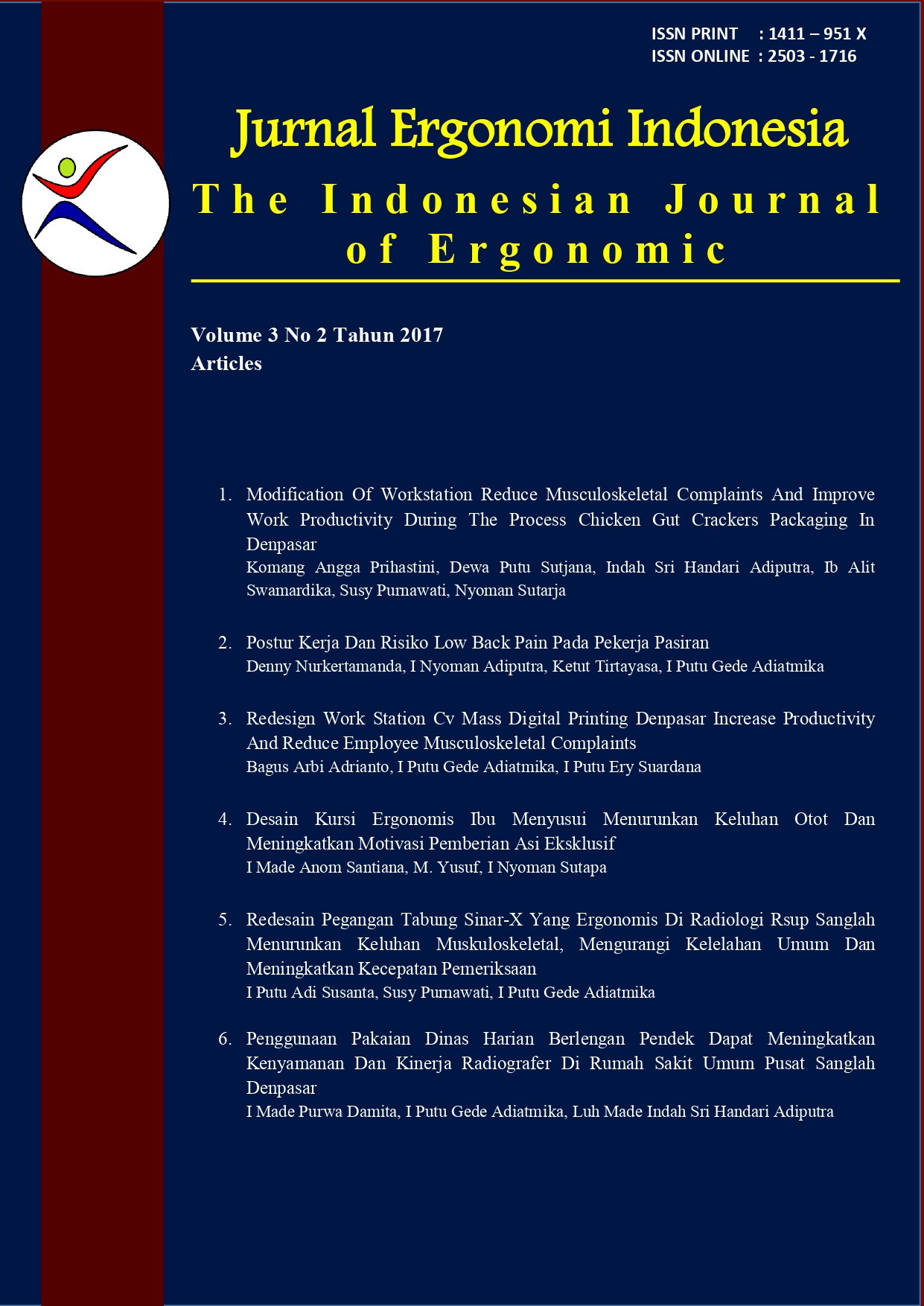 This work is licensed under a
Creative Commons Attribution 4.0 International License