UJI VIABILITAS SERBUK SARI SECARA In-Vitro KELAPA (Cocos nucifera L."Rangda") DENGAN WAKTU DAN SUHU PENYIMPANAN YANG BERBEDA
Sista Nirmala

Jurusan Biologi FMIPA Universitas Udayana, Kampus Bukit Jimbaran, Bali

Eniek Kriswiyanti

AA. Ketut Darmadi
Abstract
This aims of the research was to determine the structure and pollen viability of Rangda
Coconut
(Cocos nucifera L. "Rangda") stored at different time and temperatures. Pollen samples
were collected from Gianyar, Klungkung and Negara. The experiment was conducted at the
Laboratorium of Forensic and the Laboratorium of Plant Development and Structure, Udayana
University, from October 2012 to January 2013. Pollen structure was analyzed with acetolyse
method, while pollen viability was analyzed in-vitro. The results showed that the structure of the
pollen of "Rangda" coconut was circular, media, monosulcate, Subferoidal-Prolat, Sferoidal.
Pollen viability of "Rangda" coconut was low (less than 3%). Pollen stored in the freezer has the
best viability, which continually increased until the 2nd weeks, then declined after that, whie
pollen viability stored at room temperature tend to decline up to the fourth weeks.
Keywords: structure, viability, pollen, time, storage
Downloads
Download data is not yet available.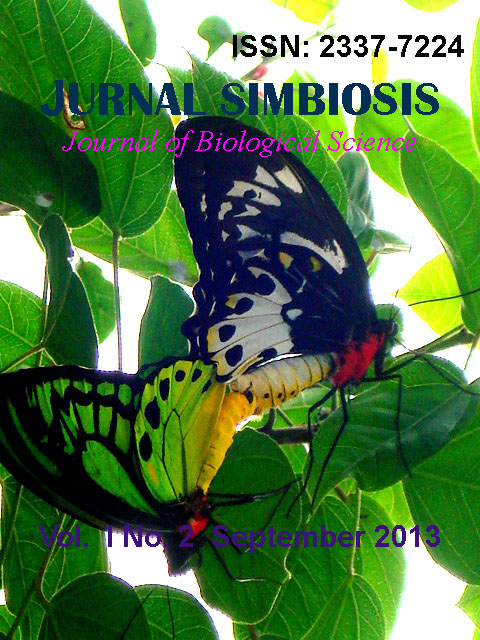 How to Cite
NIRMALA, Sista; KRISWIYANTI, Eniek; DARMADI, AA. Ketut. UJI VIABILITAS SERBUK SARI SECARA In-Vitro KELAPA (Cocos nucifera L."Rangda") DENGAN WAKTU DAN SUHU PENYIMPANAN YANG BERBEDA.
SIMBIOSIS
, [S.l.], dec. 2013. ISSN 2656-7784. Available at: <
https://ojs.unud.ac.id/index.php/simbiosis/article/view/7709
>. Date accessed: 09 july 2020.

This work is licensed under a Creative Commons Attribution 4.0 International License.