APLIKASI FMA DAN PUPUK KANDANG TERHADAP PRODUKSI DAN KUALITAS RUMPUT GAJAH (Pennisetum purpureum Schum)
- Khalidin

Dosen Fakultas Pertanian, Universitas Jabal Ghafur

Iskandar Mirza

Peneliti BPTP Aceh

Abdul Azis

Peneliti BPTP Aceh
Abstract
The objectives of the study were to evaluate effects of arbuscular mycorrhiza fungi (AMF) and manure on production and quality of the elephant grass. The experiment used a factorial randomized completely block design, consisting of two factors: AMF and manure, with three replications. AMF consisted of two levels, i.e. without AMF and with AMF 10 g hole-1, while manure consisted of 0, 15, 30, and 45 tons ha-1. Results showedthat the best combination for crude proteinandcrude fibergrass at age of 50 days after planting was found at without AMF and 15tons ha-1of animal manure. Manure of45 tonsha-1produced higher elephantgrass production than that of30tons ha-1, 15tons ha-1, andwithoutmanure.


Downloads
Download data is not yet available.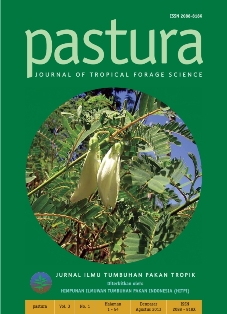 Keywords
arbuscular mycorrhizal fungi, manure, elephant grass.