PRODUKSI BAHAN KERING, KOMPATIBILITAS BIOLOGIS DAN KUALITAS  TANAMAN CAMPURAN RUMPUT BENGGALA (Brachiaria decumbens) DAN CENTRO (Centrosema pubescens)
Muhammad Rusdy

Fakultas Peternakan Universitas Hasanuddin Jl.Perintis Kemerdekaan Km. 10 Makassar No.HP. 130878533,
Abstract
The objectives of this experiment to determine dry matter yield, biological compatibility and  quality of guinea grass (Panicum maximum)- centro (Centrosema pubescens) mixtures planted at different population. Population of guinea grass planted were 4, 3, 2, 1 and 0 plants/pot combined with 0, 1, 2, 3, 4 and 0  of centro/pot. The plants were fertilized with phosphate fertilizer at the doses of 0, 100 and 200 kg P2O5/ha and harvested at interval of 30, 45 and 90 days. Results of experiment showed that dry matter yields of mixed plant were higher than those of guinea grass or centro planted as monoculture. Guinea grass was compatible when planted with centro because their relative yield totals > 1. With increasing centro planting population and decreasing harvest interval,  relative feed value and relative forage quality increased. Based on fibre content and quality, the quality of guniea grass and centro, both planted as sole crops and mixture are categorized as low to medium.


Downloads
Download data is not yet available.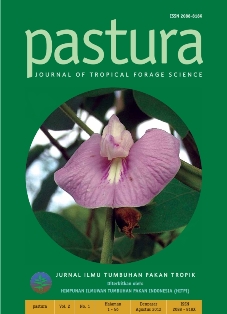 Keywords
Brachiaria decumbens, Centrosema pubescens, planting proportion, harvested interval, phos- phate fertilization, productivity, fibre content.