STRATEGI PEMASARAN BALI APOLLO DIVE AND WATER SPORT UNTUK MENINGKATKAN KUNJUNGAN WISATAWAN
Vicky Fatahilah Sani

Program Studi Industri Perjalanan Wisata, Fakultas Pariwisata, Universitas Udayana

Ni Putu Eka Mahadewi

Program Studi Industri Perjalanan Wisata, Fakultas Pariwisata, Universitas Udayana

Putu Agus Wikanatha Sagita

Program Studi Industri Perjalanan Wisata, Fakultas Pariwisata, Universitas Udayana
Abstract
Bali Apollo Dive & Water Sport is a company that provides various types of activities and water sports in Tanjung Benoa. Along with the development of tourism in Bali, the interest of tourists to carry out water sport activities is increasing so that many stakeholders have established a water sport tourism business which makes competition between water sport companies tight, therefore this phenomenon is the background of this research The data collection methods used in this study were observation, interviews, documentation, literature studies and the distribution of internal and external questionnaires to 150 respondents who used the Bali Apollo Dive & Water Sport water sport tour package as well as to the Bali Apollo Dive & Water Sport and academics. Tourism. The results of the study The results of the study using 17 internal environmental sub-indicators and 11 external environmental sub-indicators, then obtained 14 strength factors, 3 weakness factors, 8 opportunity factors and 3 threat factors. Based on the results of data processing on external internal factors/IFAS EFAS Bali Apollo Dive & Water Sport, it is known that the total value of IFAS is 3.17 and the total value of EFAS is 2.31, indicating the position of the Bali Apollo Dive & Water Sport water sport package is in cell VIII, namely Conglomerate Growth and Diversification Strategy. In this position, the strategy used by Bali Apollo Dive & Water Sport in marketing water sport packages requires a growth strategy through strategic emphasis on financial synergies rather than product marketing synergies.
Downloads
Download data is not yet available.
References
Kotler dan Keller, 2007. Manajemen Pemasaran, Edisi 12, Jilid1, PT. Indeks, Jakarta.
Kotler, Amstrong. 2001. Prinsip-prinsip Pemasaran, Edisi keduabelas, Jilid 1. Jakarta: Erlangga.
Kusmayadi dan Endar Sugiarto. 2000. Metodologi Penelitian dalam Bidang Kepariwisataan. Jakarta: PT. Gramedia Pustaka Utama.
Kusmayadi dan Sugiarto, 2000.Data Kuantitatif. Jakarta: Balai Pustaka.
Lupiyoadi, Rambat. 2001. Manajemen Pemasaran Jasa. Jakarta: PT. Selemba Embat Patria.
Nazir, 2005. Studi Kepustakaan. Yogyakarta: Andi.
Philip Kotler, 1997, Manajemen Pemasaran Analisis Perencanaan Implementasi dan Koneral, Jilid I, Penerbit PT Prenhallindo, Jakarta.
Rangkuti, Freddy. 2002. Analisis SWOT Teknik Membedah Kasus Bisnis. Jakarta: Gramedia Pustaka Utama.
Sugiyono. 2007. Metode Penelitian Kuantitatif, Kualitatif dan Research and Design. Bandung: Alfabeta.
Tjiptono, Fandy. 2002. Strategi Pemasaran. Yogyakarta: Penerbit Andi.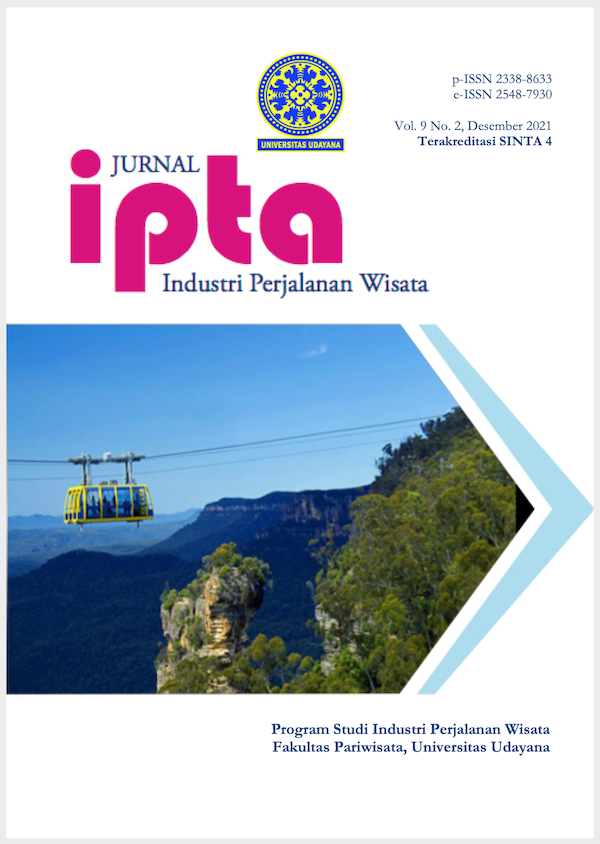 This work is licensed under a Creative Commons Attribution-ShareAlike 4.0 International License.