Boosting Methods For Dengue Incidence Rate Prediction in Bandung District
Fhira Nhita

Telkom University

Didit Adytia

School of Computing, Telkom University

Aniq Atiqi Rohmawati

School of Computing, Telkom University
Abstract
Dengue infections are among the top 10 diseases that cause the most deaths worldwide. Dengue is a severe global threat and problem, especially in tropical countries like Indonesia. The Indonesian Ministry of Health also stated that dengue is as dangerous as COVID-19. One of the preventive actions that can be taken is by controlling vectors (the Aedes aegypti mosquito) where weather factors influence their breeding. In this study, the prediction of dengue incidence rate is carried out using three boosting methods i.e., Extreme Gradient Boosting, Adaptive Boosting, and Gradient Boosting. The data used are monthly data of dengue incidence rate and weather data. The case study used is Bandung district, West Java Province, Indonesia. The important issues that is investigated in this study is to find the weather parameters that have the most influence on IR and gradually improve the prediction model through three test scenarios. From the test results, the weather parameter that has the most influence on the next month's IR is temperature. Meanwhile, the best training data length is five years (2016-2020). Finally, the best prediction model achieved by AdaBoost method with value of Root Mean Square Error and Correlation Coefficient for testing data (January-December 2021) are 0.55 and 0.95, respectively.
Downloads
Download data is not yet available.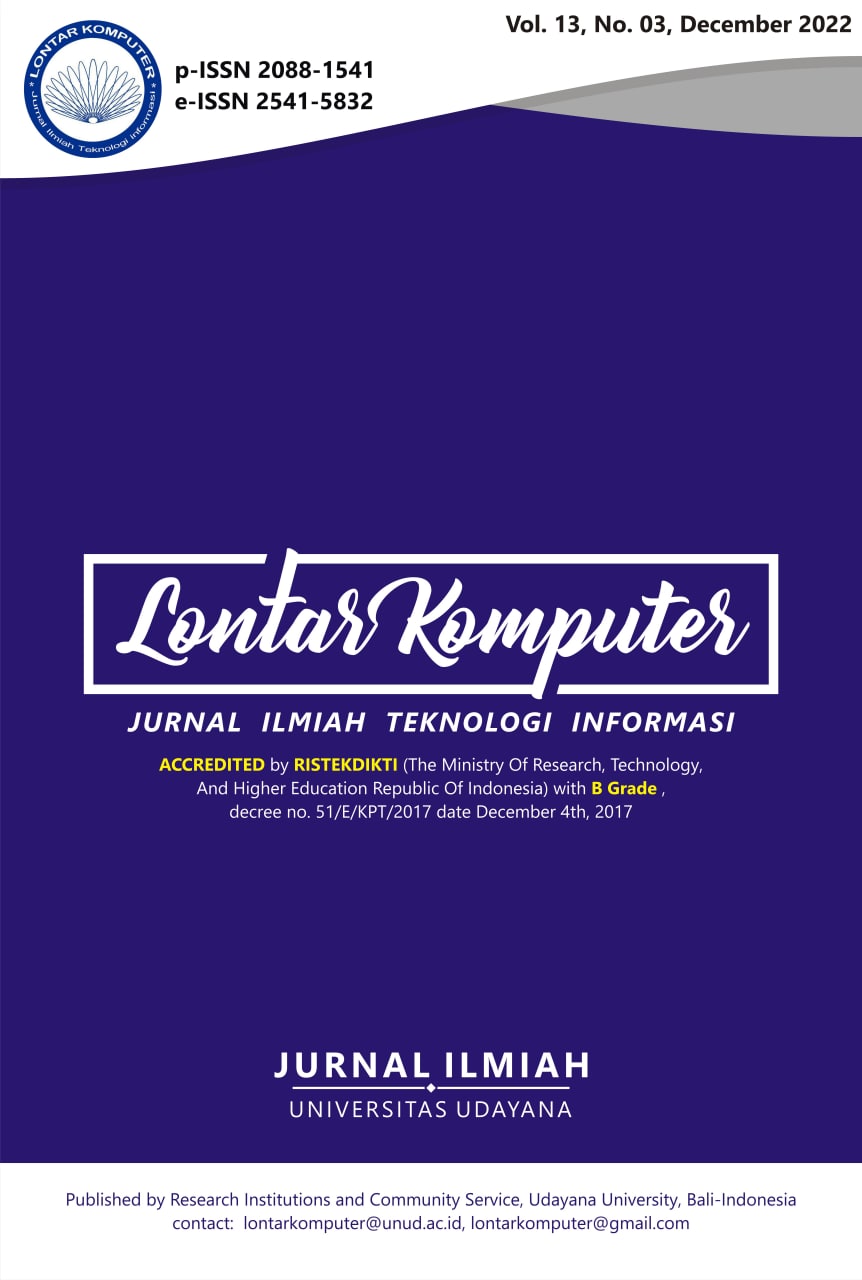 This work is licensed under a Creative Commons Attribution 4.0 International License.
The Authors submitting a manuscript do so on the understanding that if accepted for publication, the copyright of the article shall be assigned to Jurnal Lontar Komputer as the publisher of the journal. Copyright encompasses exclusive rights to reproduce and deliver the article in all forms and media, as well as translations. The reproduction of any part of this journal (printed or online) will be allowed only with written permission from Jurnal Lontar Komputer. The Editorial Board of Jurnal Lontar Komputer makes every effort to ensure that no wrong or misleading data, opinions, or statements be published in the journal.
This work is licensed under a Creative Commons Attribution 4.0 International License.