Rancang Bangun STIKI Class Facilities E-Complaint
Ni Kadek Ariasih

STIMIK STIKOM INDONESIA

I Made Gede Sri Artha

STIMIK STIKOM INDONESIA
Abstract
STMIK STIKOM Indonesia is one of the institutions in the field of computer-based education. In order to support the effectiveness of the implementation of teaching and learning activities that take place, it is need a service that support the availability of adequate class facilities and complaints services if there are constraints on facilities in the classroom. So far, the management of complaints complaints against classroom facilities or in the labarotorium which is handled by the Household Management Section is still on manua basis. In terms of record and handle complaints it is required information system which called STIKI Class Facilities E-Complaint. This system can assist the Household Management Section in monitoring complaints from the condition of existing room facilities if experiencing problems and also can improve the quality of service in handling complaints. The software development process model used is prototype and Web-based model with PHP and MySQL database.
Downloads
Download data is not yet available.
References
[1] L. Fajarita et al., "Analisa Dan Perancangan Sistem Informasi Penanganan Keluhan," in Sentika, 2015, pp. 231–236.
[2] I. D. Joni and I. K. Sandika, "Sistem Informasi Manajemen sebagai Alat Pengelolaan Penelitian Dosen," Lontar Komput. J. Ilm. Teknol. Inf., vol. 7, no. 1, pp. 51–60, 2017.
[3] Basri and J. Devitra, "Analisis Dan Perancangan Sistem Informasi Pengelolaan Arsip Berbasis Web (Studi Kasus: Pada Komisi Pemilihan Umum (KPU) Kabupaten Tebo)," J. Manaj. Sist. Inf., vol. 2, no. 1, pp. 227–243, 2017.
[4] I. B. Gamaswara, O. Sudana, and N. M. I. Marini, "Perancangan Sistem Informasi Manajemen Modul Layanan Pada Rumah Sakit," Lontar Komput. J. Ilm. Teknol. Inf., vol. 6, no. 3, pp. 163–174, 2015.
[5] G. S. Reddy, R. Srinivasu, S. R. Rikkula, and V. S. Rao, "Management Information System To Help Managers For Providing Decision Making In An Organization," Int. J. Rev. Comput., pp. 1–6, 2009.
[6] H. Jogiyanto, Analisis & Desain Sistem Informasi : Pendekatan Terstruktur, Pertama. ANDI OFFSET, 1990.
[7] R. M. Jr, "Sistem Informasi Manajemen," in Jilid 2, Bahasa Ind., Sukardi Hardi, Ed. Jakarta: PT. Prenhallindo, 1996, p. 30.
[8] R. Dewi, "PELANGGAN DI PT TELEKOMUNIKASI INDONESIA Tbk," vol. 2012, no. semnasIF, pp. 52–58, 2012.
[9] Nugroho Adi, Perancangan dan Implementasi Sistem Basis Data. Yogyakarta: CV. ANDI OFFSET, 2011.
[10] Pressman Roger S, Rekayasa Perangkat Lunak. Yogyakarta: CV. ANDI OFFSET, 2002.
[11] S. R. Herdajanti and L. Erawan, "Rancang Bangun Situs Web Pengumpul Berita Dari Situs E-Government Menggunakan Teknologi RSS," Techno.COM, vol. 13, no. 3, pp. 179–188, 2014.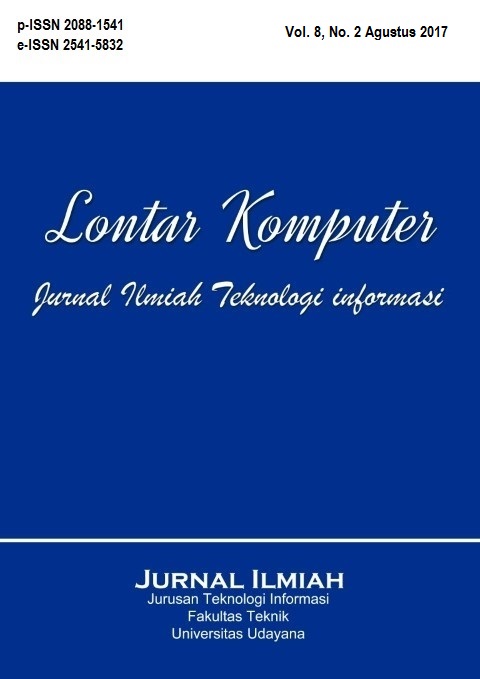 Keywords
pelayanan,keluhan,fasilitas kelas
The Authors submitting a manuscript do so on the understanding that if accepted for publication, copyright of the article shall be assigned to Jurnal Lontar Komputer as publisher of the journal. Copyright encompasses exclusive rights to reproduce and deliver the article in all form and media, as well as translations. The reproduction of any part of this journal (printed or online) will be allowed only with a written permission from Jurnal Lontar Komputer. The Editorial Board of Jurnal Lontar Komputer make every effort to ensure that no wrong or misleading data, opinions or statements be published in the journal.

This work is licensed under a Creative Commons Attribution 4.0 International License.