ALASAN DAN HAMBATAN PENYAJIAN BUAH LOKAL DALAM OPERASIONAL HOTEL BERBINTANG DI SANUR
I Gusti Agung Diah Adelianie

Program Studi Magister Kajian Pariwisata Universitas Udayana
Abstract
Indonesian tourism development is strongly supported by awide range of sectors one of which being the agricultural asa supplier of local fruits which become tourist consumptionprocessed into foods and beverages that have high sales value.This article discusses the dominant type of local fruits served inoperations of five-star hotels in Sanur tourism area, the reasonfor the hotel to serve local fruits, and the obstacles experiencedin serving them. The study used mix marketing theory andthe theory of consumer decision-making attitude. The studywas conducted by purposive sampling method with the studysites of seven star hotels in Sanur. Data were collected throughobservation, interviews, and by distributing 80 questionnairesfilled out by the hotels. The study reveals that the dominantfruits served in hotel operations are fruits that did not dependon the season and are selected based on factors including ofquality, continuity, price, serving variation, and policy wherethe dominant factor of this study was that of quality. This studyconcludes that there is a need for the cooperation betweenfarmers, suppliers, hotels and the government in maximizingthe absorption of local fruits at five-star hotels in Sanur.
Downloads
Download data is not yet available.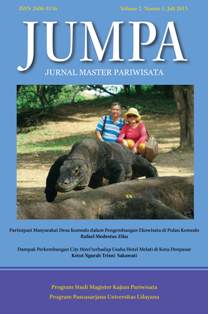 Keywords
local fruits, serving local fruits, Sanur tourism area, non-seasanol fruit, fruit protection regulation.