HUBUNGAN GANGGUAN TIDUR DENGAN KELELAHAN PADA SISTEM KERJA BERGILIR (SHIFT) MALAM TERHADAP KARYAWAN MINIMARKET 24 JAM DI KOTA DENPASAR
I.G.A. NADYA WULANDARI

Program Studi Pendidikan Dokter Fakultas Kedokteran Universitas Udayan

LUH MADE INDAH SRI HANDARI ADIPUTRA

Bagian Faal Program Studi Pendidikan Dokter Fakultas Kedokteran Universitas Udayana
Abstract
In this globalization era, all people are required to work, on other side, demand for services also increased so that some companies use a shift work and divided the shift into morning shift and night shift to improve services. This study, researcher wanted to determine the relationship of sleep disorders with fatigue in the working rotating shift especially at night.This study used a cross sectional analytic study. The subject of this study are the 24-hour minimart employees in Denpasar. The results will be presented in tabular form in the auxiliary correlation with SPSS 17.0 for data processing.There is a significant relationship between sleep disturbance and fatigue level subjects (p = 0.024). Positive r values indicate sleep disturbances and fatigue has a comparable relationship.From the results of this study, so it is advisable for each company to give more attentionto work shift patterns according to the ergonomics of work to reduce fatigue and accidents.
Downloads
Download data is not yet available.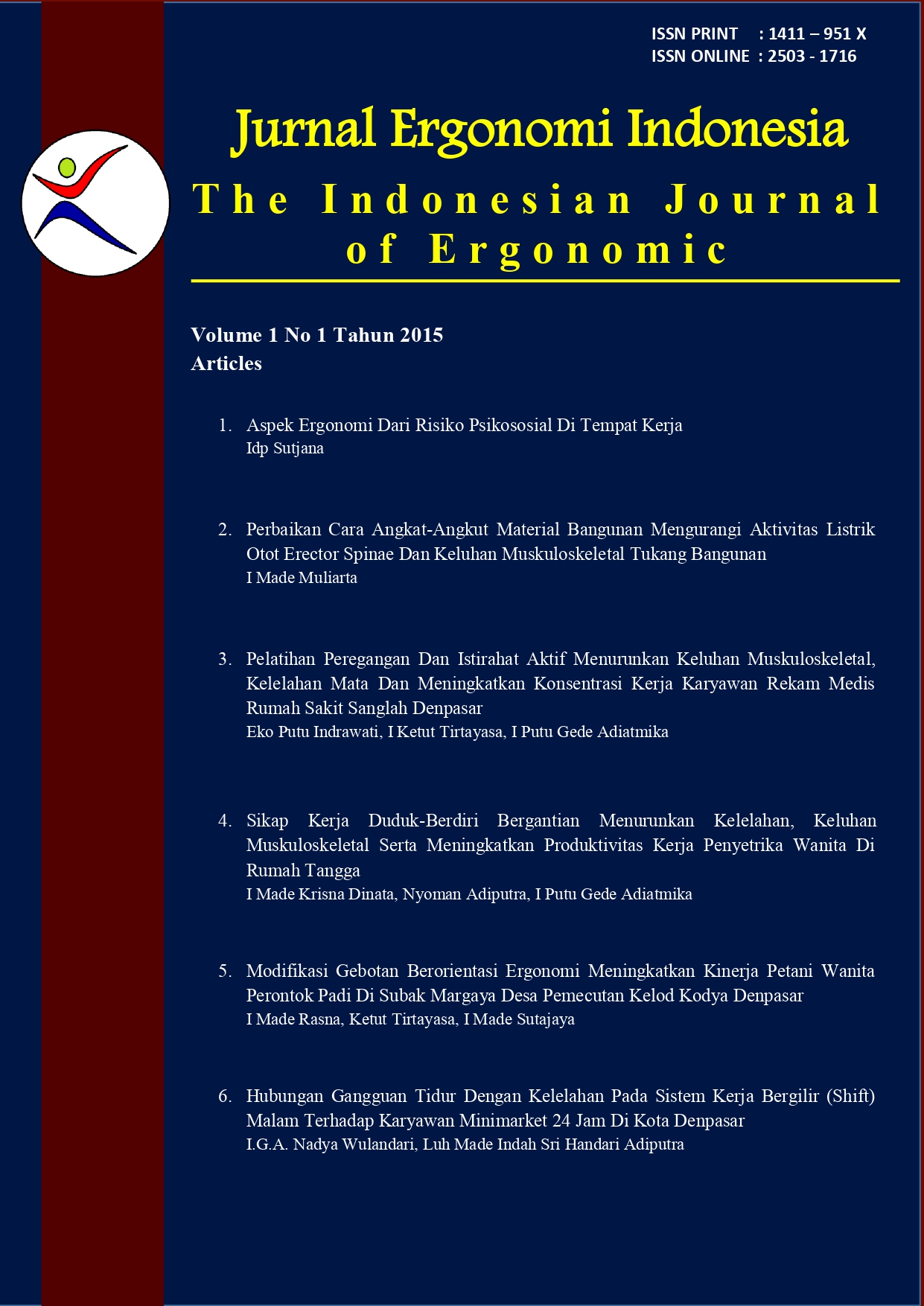 Keywords
shift work, sleep disorder, fatigue.
This work is licensed under a
Creative Commons Attribution 4.0 International License