PELATIHAN PEREGANGAN DAN ISTIRAHAT AKTIF MENURUNKAN KELUHAN MUSKULOSKELETAL, KELELAHAN MATA DAN MENINGKATKAN KONSENTRASI KERJA KARYAWAN REKAM MEDIS RUMAH SAKIT SANGLAH DENPASAR
Eko Putu Indrawati

Program Studi Magister Ergonomi-Fisiologi Kerja Universitas Udayana Denpasar

I Ketut Tirtayasa

Program Studi Magister Ergonomi-Fisiologi Kerja Universitas Udayana Denpasar

I Putu Gede Adiatmika

Program Studi Magister Ergonomi-Fisiologi Kerja Universitas Udayana Denpasar
Abstract
Currently, the department of medical recording of Sanglah hospital have utilizedcomputerization system. So must of the medical the record of patiens was organized by the devices. Some of physical complaint always felt by operator computer, especially on their neck, shoulder, arm, wrist, hand and eyes that could be annoyed the quality and productivity of the employees. The stretching training and active rest should be done to the employees of the department of medical recording of Sanglah hospital decreasing all of the complaints and could be increasing their the work concentration. Has the studies to the sample subjek an employees BMR, sampel were 20 people  give treatmentinmy form training stretching and active rest. Variabel measure is complait musculoskeletalm eye fatique and concentration work. Resul treatmen betwen before working and after work for the Periodic I and Periodic II compared and analyzed statistically.In PI, the average score of musculoskeletal disorder is 77.36, eye fatigue is 67.90, and the work concentration which cover : speed 26.03, accuracy 18.01, and constancy 7,22. Mean while, in PII the average of score musculoskeletal disorder is 45.56, eye fatigue is 52.25, and the work concentration which cover : speed 15.00, accuracy 13.50, and constancy 6.23. According to that score could be knowing that the stretching training and active rest was decrease musculoskeletal disorder about 71.98%, eye fatigue 46.73% and the work concentration which cover : speed 80.06%, accurancy 61.89%, and constancy 40.08%. Which is in statistic this study was significantly p<0,05Therefore, could be concluded that stretching training and active rest decreasing musculoskeletal disorder and eye fatigue, and increasing the work concentration of BRM employees of Sanglah hospital. By doing so, that stretching training and active rest advisably to starts to be implemented in order to all of work activities of BMR employees of the hospital because the evident could be able to decrease musculoskeletal disorder, eye fatigue, and in order to increase employees" the work concentration
Downloads
Download data is not yet available.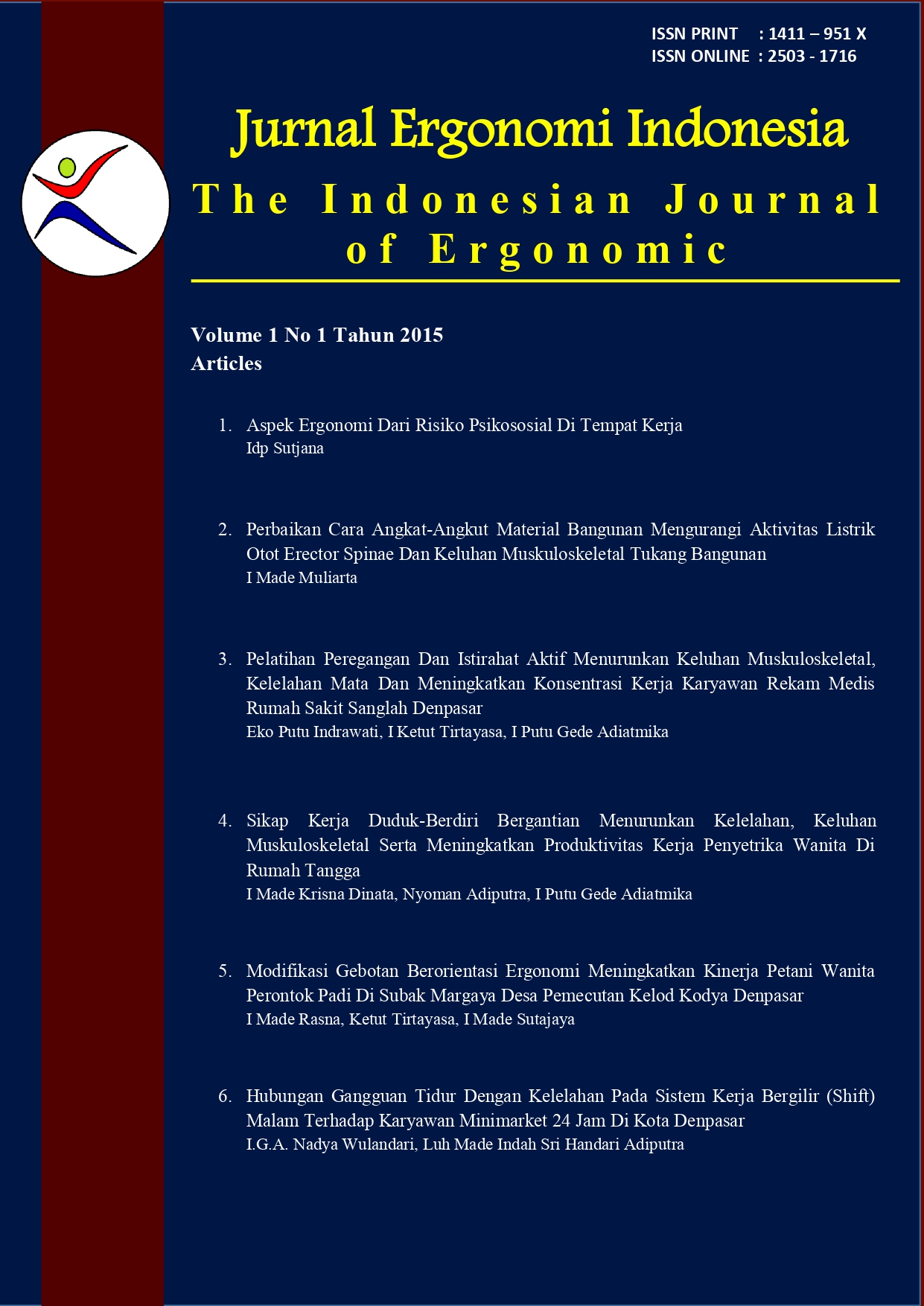 How to Cite
INDRAWATI, Eko Putu; TIRTAYASA, I Ketut; ADIATMIKA, I Putu Gede. PELATIHAN PEREGANGAN DAN ISTIRAHAT AKTIF MENURUNKAN KELUHAN MUSKULOSKELETAL, KELELAHAN MATA DAN MENINGKATKAN KONSENTRASI KERJA KARYAWAN REKAM MEDIS RUMAH SAKIT SANGLAH DENPASAR.
Jurnal Ergonomi Indonesia (The Indonesian Journal of Ergonomic)
, [S.l.], v. 1, n. 1, feb. 2015. ISSN 2503-1716. Available at: <
https://ojs.unud.ac.id/index.php/jei/article/view/12025
>. Date accessed: 03 mar. 2021. doi:
https://doi.org/10.24843/JEI.2015.v01.i01.p03
.
Keywords
Stretching Training, Active Rest Decreasing, Musculoskeletal Disorder, Eye Fatigue, the Work Concentration of Medical Recording Employees of Sanglah Hospital of Denpasar
This work is licensed under a
Creative Commons Attribution 4.0 International License