Current Issue
Vol 2 No 2 (2023): Jurnal DIKSHI
Articles
Abstract views: 133,

PDF downloads: 193

Abstract views: 55,

PDF downloads: 57

Abstract views: 41,

PDF downloads: 56

Abstract views: 27,

PDF downloads: 47

Abstract views: 28,

PDF downloads: 50

Abstract views: 39,

PDF downloads: 41

Abstract views: 32,

PDF downloads: 39

Abstract views: 30,

PDF downloads: 116

Abstract views: 192,

PDF downloads: 109

Abstract views: 37,

PDF downloads: 34

Abstract views: 25,

PDF downloads: 34

Abstract views: 26,

PDF downloads: 85

Abstract views: 53,

PDF downloads: 99

Abstract views: 27,

PDF downloads: 57
View All Issues
---
| | | |
| --- | --- | --- |
| Journal title | : | DIKSHI (Diskusi Ilmiah Komunitas Hubungan Internasional) |
| Initials | : | hi |
| Online ISSN | : | 2828-1853 |
| Editor-in-chief | : | Putu Ratih Kumala Dewi, S.H., M.Hub.Int. |
| Publisher | : | Department of International Relations, Faculty of Social and Political Udayana University |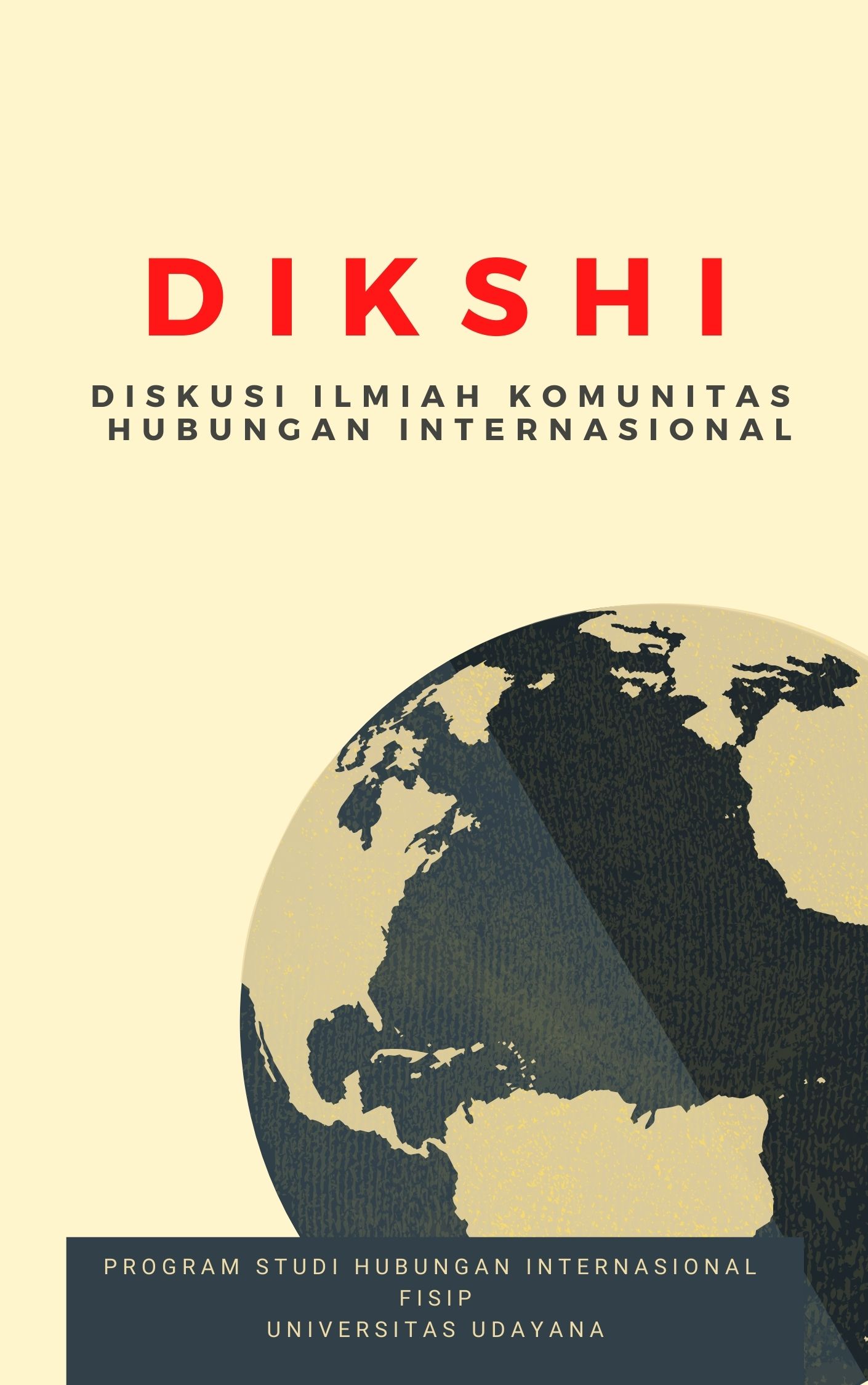 ---
DIKSHI (Diskusi Ilmiah Komunitas Hubungan Internasional) is a journal published by Department of International Relations, Faculty of Social and Political Udayana University as a platform dedicated to a better understanding of international issues that aims to craft alternatives in international studies.
DIKSHI focuses on publishing original research articles related to international and global studies, international relations, international development, diplomacy, global political economy, global politics, local and global relations, regional politics, international organization and other relevant topics.
As it aims to provide better and alternative understanding in international studies, DIKSHI welcomes researchers, academicians, professionals, and students to submit their original works. DIKSHI accepts articles written in English or Bahasa Indonesia.
For more information, please contact dikshiunud@gmail.com