p-ISSN 2541-0857.  e-ISSN 2407-392X
Deep praise to the God has been expressed as his blessing during setting up E-Journals of  TOURISM published by School of  Posgraduate Studies Udayana University, Denpasar, Bali.   E-Journal is a scientific journal or intellectual magazine that can be accessed through electronic transmission.  E-Journal is a special form of an electronic document, which has the purpose of providing material for academic research and studies, as well as journal articles formatted in traditional print journals.
Increasing the number of e-journals available as an open access journal, does not require a subscription and offer free full-text articles and reviews for all. Individuals of electronic journal articles can be found online for free: the working paper file and  personal homepages. Some commercial journals  find a way to offer free materials. They may offer their initial issue or problem-free, and then charge there after. Some give part of their book review for free. Others offer the first few pages of each article for free.
This E-Journal is very important as a media of communication and information of research and study on tourism development. This journal is intended for researchers, intellectuals, academicians, and observers who are interested in tourism development. All the published articles are reviewed by peer reviewers.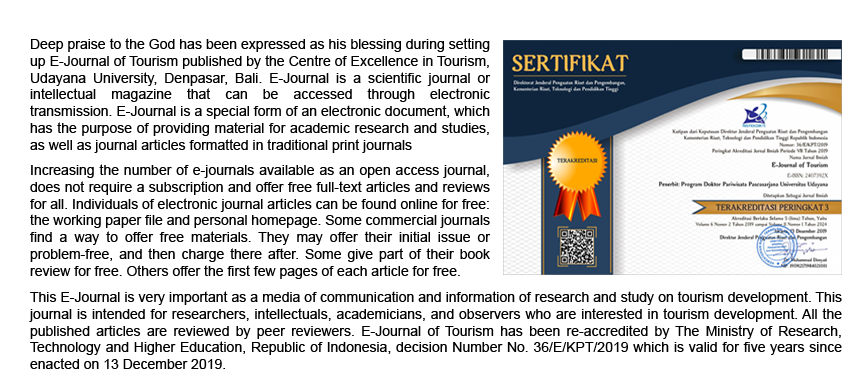 Vol.4. No.1. (2017): March 2017
Table of Contents
Articles
| | | |
| --- | --- | --- |
| | Cláudia Henriques, Manuela Guerreiro, Júlio Mendes | |
| | | |
| --- | --- | --- |
| | Ilham Junaid, Herry Rachmat Widjadja, Hamsu Hanafi | |
| | | |
| --- | --- | --- |
| | Yannice Luma Marnala Sitorus, Arief Rosyidie, Suhirman . | |
| | | |
| --- | --- | --- |
| | I Gede Sutarya, I Nyoman Sirtha | |
| | | |
| --- | --- | --- |
| | I Nyoman Gede Astina, I Komang Gde Bendesa, Agung Suryawan Wiranatha | |