PENGEMBANGAN WISATA TEMATIK BERBASIS KULINER DI DESA WISATA SERANGAN
I Made Trisna Semara

Institut Pariwisata dan Bisnis Internasional

AA. Ayu Arun Suwi Arianty

Institut Pariwisata dan Bisnis Internasional
Abstract
Serangan Village is one of the tourist villages in Denpasar City. Serangan Tourism Village faces quite tough tourism challenges. The challenge is not maximizing local products as a tourist attraction. The purpose of this research is to develop the concept of culinary-based thematic tourism in Serangan Tourism Village. The development of the thematic tourism concept is expected to encourage the development of Serangan Village as a tourist village by developing local food to become a tourist attraction. This concept is able to respond to global tourism trends and as a preservation of local cultural values. So that a tourist attraction will appear in the form of a culinary tour with the characteristics of Serangan Village or Bali in general. The research method uses a qualitative descriptive approach.
Downloads
Download data is not yet available.
References
Hernández-Rojas, R. D., & Alcocer, N. H. (2021). The role of traditional restaurants in tourist destination loyalty. PLoS ONE, 16(6 June 2021), 1–19. https://doi.org/10.1371/journal.pone.0253088
Indonesia, K. L. N. R. (2020). Rencana Strategis Kementerian Luar Negeri 2020-2024. Kementerian Luar Negeri Republik Indonesia.
Jannah, D. N., Septemuryantoro, S. A., & Putri, R. (2020). Pengembangan Potensi Wisata Kuliner Situasi Covid-19 Simpang Lima Kota Semarang. 22(1), 344–352.
Kusuma, B., Wijaya, B. K., & Mariani, W. E. (2021). Dampak pandemi covid-19 pada sektor perhotelan di Bali. Warmadewa Management and Business Journal (WMBJ), 3(1), 49–59. https://doi.org/https://doi.org/10.22225/wmbj.3.1.2021.49-59
Laba, I. N., Semara, I. M. T., & Tunjungsari, K. R. (2018). Dampak Terpaan Informasi Media Digital terhadap Perkembangan Pariwisata dan Perilaku Masyarakat Bali. Jurnal Kajian Bali (Journal of Bali Studies), 8(2), 177–196. https://doi.org/https://doi.org/10.24843/JKB.2018.v08.i02.p11
Nugraha, I. G. P., & Agustina, M. D. P. (2021). Strategi Pengelolaan Desa Wisata Serangan Dalam Mewujudkan Destinasi Wisata Yang Berkualitas. Widya Manajemen, 3(2), 178–185. https://doi.org/https://doi.org/10.32795/widyamanajemen.v3i2.1738
Oka, I. M. D., Winia, I. N., & Sadia, I. K. (2018). Pemetaan potensi pariwisata dalam mendukung pengembangan pariwisata di Desa Serangan. Bhakti Persada Jurnal Aplikasi IPTEKS, 4(1), 47–54. https://doi.org/http://dx.doi.org/10.31940/bp.v4i1.854
Palupi, S., & Abdillah, F. (2019). Pedoman Pengembangan Wisata Kuliner. Jakarta: Kementerian Pariwisata Republik Indonesia.
Putri, H. P. J., & Manaf, A. (2013). Faktor–faktor keberhasilan pengembangan desa wisata di Dataran Tinggi Dieng. Teknik PWK (Perencanaan Wilayah Kota), 2(3), 559–568.
Sari, I. M., Sembiring, V. A., & Wicaksono, H. (2019). Pengembangan Wisata Kuliner Berbasis Bahan Pangan Lokal Sebagai Daya Saing Di Desa Wisata Sakerta Timur. Jurnal Ilmiah Pariwisata, 24(3), 208–218.
Shofi'unnafi, S. (2022). ANALISIS DESKRIPTIF DESA WISATA RELIGI MLANGI BERBASIS KOMPONEN 3A (ATRAKSI, AKSESIBILITAS, AMENITAS) PARIWISATA. KOMUNITAS, 13(1), 69–85. Retrieved from https://journal.uinmataram.ac.id/index.php/komunitas/article/view/4833
Sunaryo, N. A. (2019). Potensi Wisata Kuliner Di Indonesia : Tinjauan Literatur. Seminar Nasional INOBALI 2019, 235–242.
Truong, D., Liu, R. X., & Yu, J. J. (2020). Mixed methods research in tourism and hospitality journals. International Journal of Contemporary Hospitality Management.
Wiranatha, A., Suhanda, A., Lipman, G., DeLacy, T., Buckley, G., & Law, A. (2012). Green Growth 2050 Roadmap for Bali sustainable tourism development.
Yoeti, O. A. (1993). Pengantar Ilmu Pariwisata. Bandung: Angkasa Raya.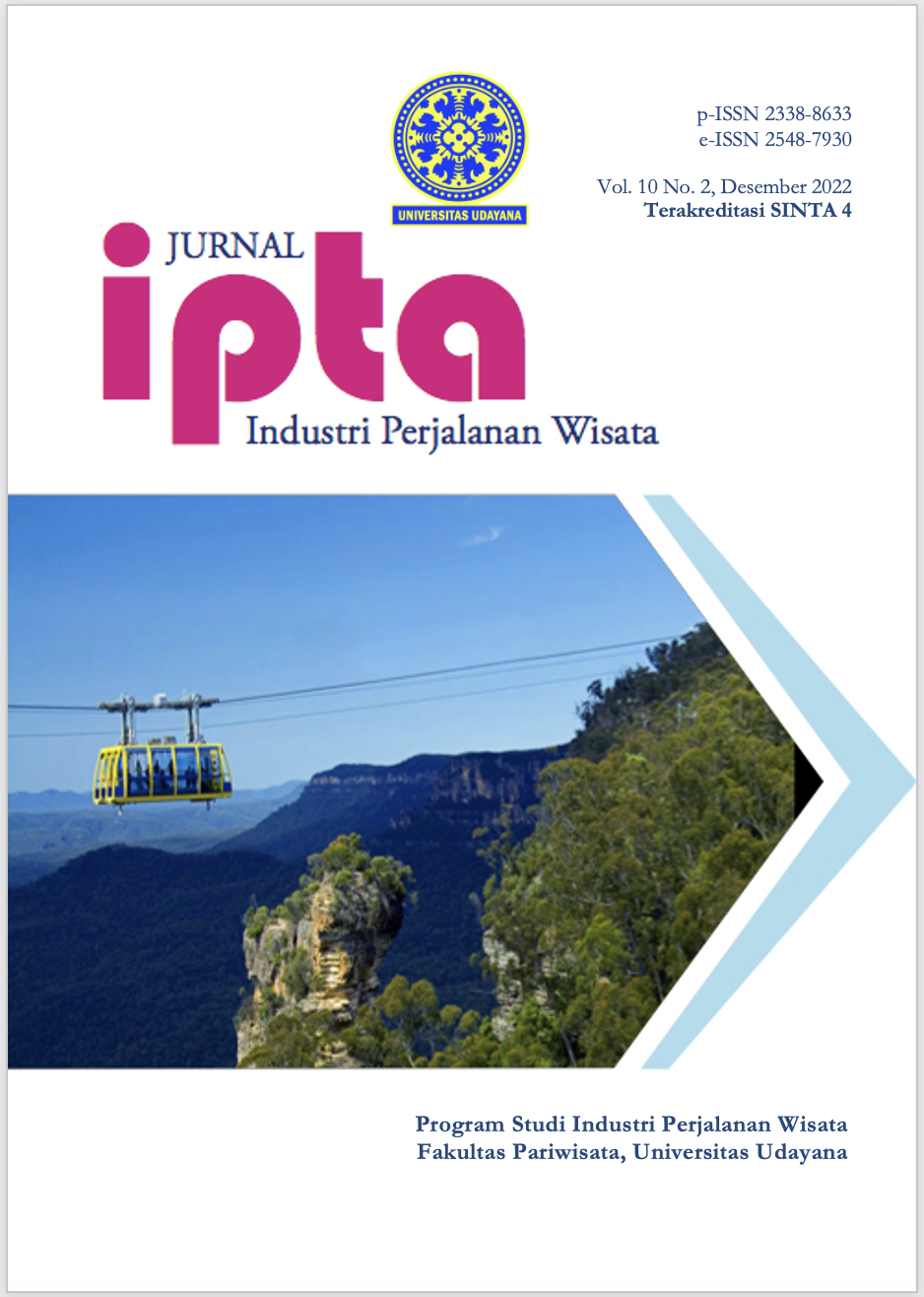 This work is licensed under a Creative Commons Attribution-ShareAlike 4.0 International License.