QUALITY OF FEMALE BALI DUCK MEAT FED DIET CONTAINT FERMENTED PAPAYA LEAF MEAL
SITI N. W.

Fakultas Peternakan Universitas Udayana

I N. S. SUTAMA

Fakultas Peternakan Universitas Udayana

N. M. S. SUKMAWATI

Fakultas Peternakan Universitas Udayana

I N. ARDIKA

Fakultas Peternakan Universitas Udayana
Abstract
The research objective was to know the effect of fermented papaya leaf meal in diet to quality of female bali duck meat. The design used was Completely Randomized Design with 3 treatments and 5 replicates, each treatment used 2 female bali duck on the age of 12 weeks. The 3 treatments were levels of fermented papaya leaf meal i.e. 0%, 8% and 16% for treatment A, B, and C respectively. Variables observed were diminishing cook meat, water holding capacity, pH, water content, protein content, fat content and dry matter content. The research results showed that water content, diminishing cook and pH of the treatments A, B and C were non significantly different (P>0.05). Di- minishing row meat of the treatment B was significantly higher (P<0.05) but, its water holding capacity was lower significantly different (P<0.05) than the A and C. Meat protein content of the treatment C was higher significantly (P<0.05) but, its muscular fat was lower significantly (P < 0.05) compare to the treatments A and B. From the re- sults of the study it can be concluded that the addition of fermented papaya leaf meal at the level of 8%-16% in the ration can improve the quality of the meat of female bali ducks aged 26 weeks.
Downloads
Download data is not yet available.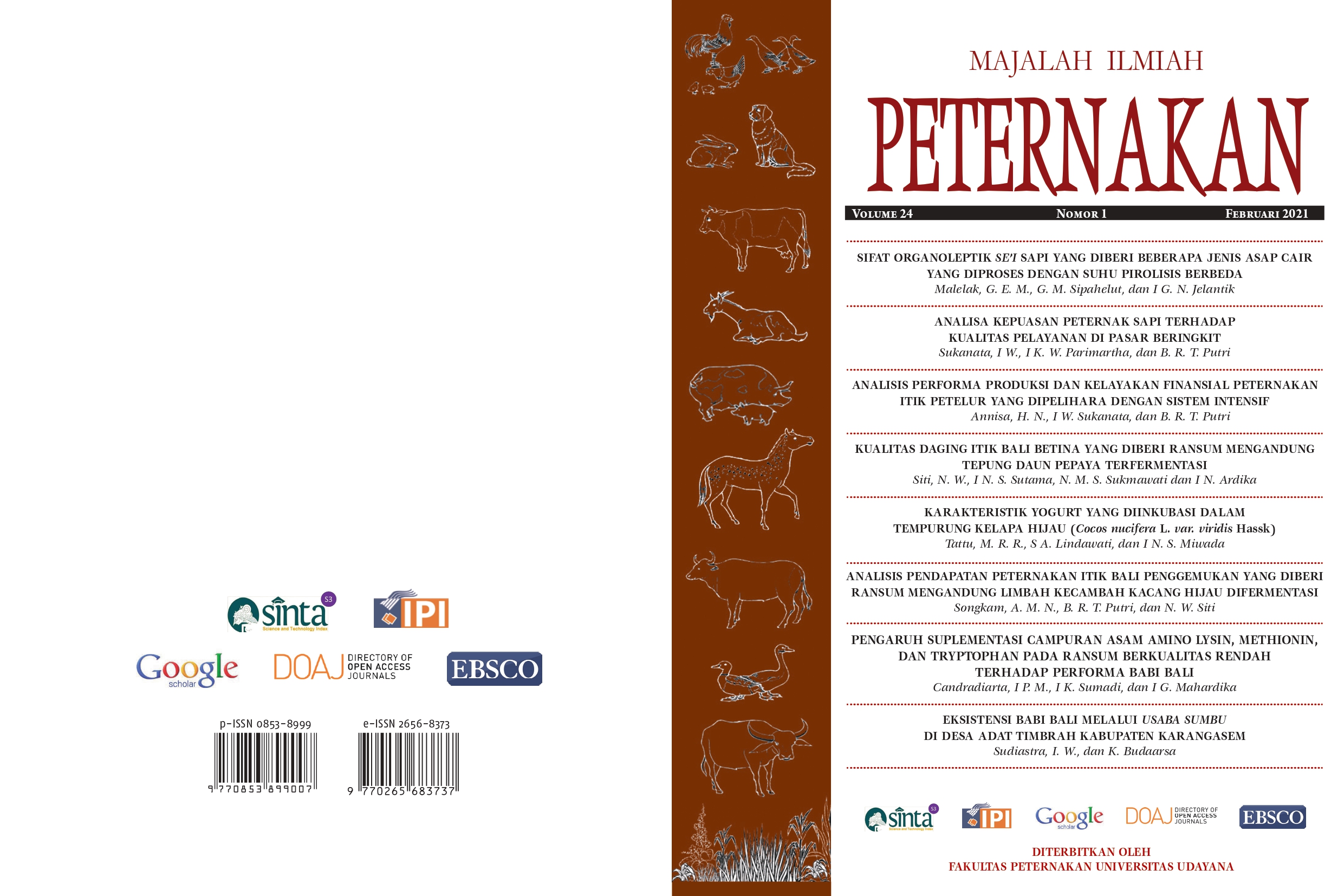 This work is licensed under a
Creative Commons Attribution 4.0 International License
.